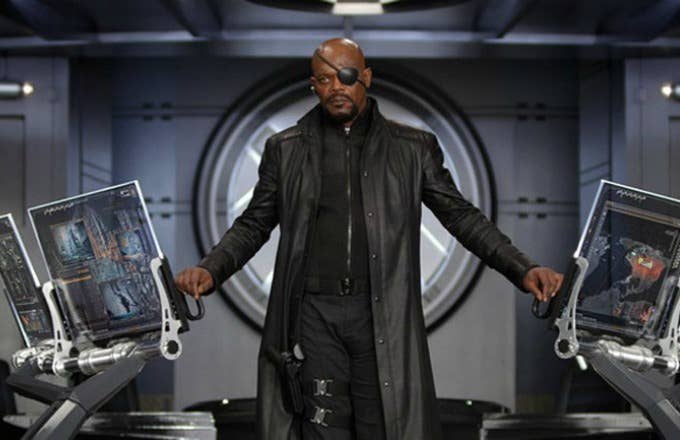 Marvel's upcoming Black Panther will features an all-star lineup of black actors, from Chadwick Boseman and Michael B. Jordan, to Lupita Nyong'o and Forest Whitaker. After all, the hotly anticipated film will finally tell the origin story of Marvel's most prominent black superhero, so a diverse cast is to be expected.
But despite Marvel's notable attempt to add some much needed diversity to the MCU, some fans wondered why Samuel L. Jackson's Nick Fury wasn't part of the impressive ensemble. Well, it looks like Jackson wondered the same thing. While speaking to We Got This Covered, Jackson revealed his displeasure at not being included in Marvel's latest franchise.
"I asked them, 'So you're doing Black Panther and the only black character in the Marvel Universe is not showing up?' And they're like, 'Nick Fury is not in Wakanda!'" Jackson explained. If you happen to be a Black Panther neophyte, Wakanda is the fictional African country from where Black Panther originates, and apparently it's out of Fury's jurisdiction.
Jackson it seems, wasn't having it. "How can he not know the other black superhero on the planet? How the hell does that work? But they just said, 'No you're not in that one.'"
There's only one way to solve this: Give Nick Fury his own movie.