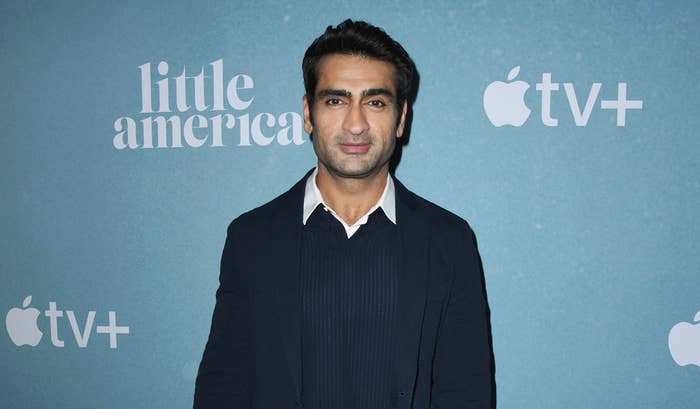 Kumail Nanjiani does not have a twin brother. He wasn't cloned in a lab. There are no holograms, at least as far as I know. So what's the secret to the prolific three-year run that began with 2017's Oscar-nominated The Big Sick, included the conclusion of his star-making turn in Silicon Valley and will crest in November when Marvel's The Eternals officially makes him a household name?
Multi-tasking, of course. 
Case in point: When I spoke to Nanjiani over the phone last week, he had just walked off the London set of Eternals, the aforementioned superhero space saga that will see the newly swoll former standup attempt to save the galaxy alongside the likes of Angelina Jolie, Brian Tyree Henry, and Salma Hayek.  And while I had no choice but to ask Nanjiani about his internet-breaking thirst trap, the real reason for our chat was his excellent new show, Little America, which is currently streaming on Apple TV+.
Co-created with his wife Emily V. Gordon, Alan Yang, and showrunner Lee Eisenberg, the slice-of-life anthology series consists of eight episodes, each one exploring a different facet of the immigrant experience in America. Nanjiani is uniquely suited to help tell such stories, he himself having immigrated from his native Pakistan when he was just 18-year-old. "My first two weeks in America were the loneliest two weeks of my life, to this day," he says of his introduction to the country he now calls home. "Suddenly everyone looks different, everyone sounds different, everyone eats differently. It's a completely alien world. " And in an era when the U.S. government is openly waging war on immigrants, Little America—despite being intentionally apolitical—seems perfectly suited for the moment. 
Here's Nanjiani on the making of Little America, teaming up with the world's biggest tech company, and life inside the Marvel Cinematic Universe.
I found the themes you explore in Little America are universal and would work just as well 20 years ago as they do now. But do you think they're particularly suited for this moment, when our government has openly waged war on immigrants?
I think it's more of what you said. We wanted to keep the show very, very apolitical. That was one of the things we decided right from the beginning, that we didn't want to make any overt political statements. We just wanted to tell interesting human stories with varying stakes and varying tones, and hopefully, that's what the show is. Anything else that people bring to it, that's for them to make those connections themselves. 
How did you go about finding the real-life immigrant stories depicted in the show?
We worked with Epic magazine, and they had researchers and journalists who had been compiling these stories for a book. And at some point they decided it would be a good show, so they contacted us and asked if we would want to be attached to it, produce it, do whatever we can to get it made, because it's a show about immigrants, so by design it's not going to have a big, flashy cast. We loved the idea, but they're the ones who found the stories. For Season 2 we're compiling them from a lot of different sources. Producers run into someone and say, "Hey, this is an interesting story that could be good." So we're just trying to cast a wider net.
Is it your hope that the show has the power to change someone's perspective on immigration, and was that one of the goals when you set out to make it?
Honestly, I don't think anybody's changed their perspective on anything since the '90s. That's really how I see it. People have never been more formed in their beliefs no matter what they are. To think that our tiny little show is going to change anybody's mind would be arrogant. It would be nice if somebody who's on a certain side of the immigrant debate watched the show and saw something in themselves, or saw someone who looks and sounds different from them, and that made them feel something, that would be nice. But again, it feels arrogant to try and even hope for that. 
A major theme of the show is loneliness, and what it feels like being a stranger in a new place. Did you feel that kind of loneliness when you first came to America?
Yeah, definitely. And now we're in an era where it's not only about overcoming those challenges, but it's also the challenge of people not wanting you around, and having a negative reaction to your very existence. That sort of loneliness, that feeling adrift, that there's no one around that you can connect to, is something I've definitely gone through.
There's a notable lack of famous people in this show, especially compared to Apple's other early offerings. Was that an artistic choice, or something that came down to budget? What was your thinking behind that?
We wanted to have actors who are authentic to the characters they were playing, and unfortunately I can't think of any Nigerian immigrants who are movie stars. I can't think of any Ugandan immigrants who are movie stars. I can't think of any Iranian immigrants who are movie stars. So that's unfortunately the way that it is. 
Ultimately, it was much more satisfying to find people that perhaps mainstream audiences weren't as familiar with. And I think all of them are worthy of carrying massive movies on their own or leading their own TV shows, because they led our episodes and they were absolutely fantastic. It was much more satisfying to find these people who are extremely talented and worthy of being in front of the camera.
Why did you choose to work with Apple, which had absolutely no track record in television when you signed on with them?
I think that was the exciting part about it. It's a global show so we wanted it to travel all over the world. A lot of people have access to Apple products, so we knew that we could potentially have a global audience, one that would be interested in the show. It was exciting that we'd be in the first wave of shows, too. We ended up being in the second wave, but the idea of being one of the first shows out on a new platform was exciting, and Apple really took a chance on a show about immigrants with no stars, and with idiosyncratic storytelling. They said, "We want to support you and we're not going to get in the way of making the show. We want to help you make exactly the show you want to make," and they've been fantastic partners through the entire process. 
When Stuber was coming out you said that you never in a million years thought you would be an action hero. Now you're starring in a superhero movie and are kind of at the pinnacle of movie stardom. Are you still shocked by your career arc or do you just look in the mirror and think "Yeah, I'm a fucking superhero." 
Wow. First of all, I disagree with you saying I'm at the pinnacle of movie stardom.
But you're in a Marvel movie, which one can argue is the top of the mountain in many ways.
Yeah, but I don't really look at it like an arc or anything. I feel very excited that I get to do these kinds of movies. I'm very excited that I get to be in a Marvel movie, and it's the kind of movie I never thought I'd be in, playing the kind of part I never thought I'd get to play, so it's really, really exciting. But I'm still shooting it, so I don't want to pat myself on the back or sit back and say, "look at all this stuff." For me, it's always like, "finish the job you have, once it's done, let's see what else you can do next. If you find something exciting, work on that, and when that's finished, look at the next thing." So I don't really look at it like an arc. We did Little America, and as we were wrapping that, we started shooting the last season of Silicon Valley, and as I finished that I was going back and forth between that and Eternals, and once Eternals is done, we're going to go back to the second season of Little America. So I just sort of look at the current job and the next job and that's it.
Speaking of Eternals, you certainly look the part as everyone now knows. Were you shocked at what a commotion that image made?
It really did make a commotion, huh? I was extremely shocked. I did not expect that to happen. It was right before Christmas, and I was like, "who knows how I'm going to look after Christmas?" So I just took some pictures and honestly, I worked out for a year almost every day and dieted every single day. It had just been so much work so I was like, "I want to have a memory of this, so that I can look at it and say at some point I looked like that." I have never looked like that before and I may never look like that again, so I took a picture and uploaded it. I was actually on set shooting Eternals, and I checked an hour later, and it had some likes and I'm like, "okay fine." And then an hour later, suddenly it was everywhere. I remember just going on my Twitter feed and just seeing my torso over and over and over. I couldn't scroll one screen without seeing it. How can anybody expect that to happen?
What did your standup buddies text you? What did Pete Holmes say?
It was very nice! He said, "you accomplished something that 99 percent of people never do so congratulations." Anybody who knows me knows how much I worked for this and how important it was to me to get there, and it's hard because you really don't know if you're going to end up looking how you want to look or how you envisioned in your head. If I'm acting in a movie and I'm shooting a scene in two days and I get a new script, I can cram, get it memorized, take all night and go shoot it. It's not the right way to do it but it is possible. With this, you can't cram. You have to start months in advance. Pete was very proud of me, he knows I've been a complete bore talking about this for the past year so at least for me, it was worth it. 
As a person of color who also happens to be an Oscar nominee, I have to ask what you thought about this year's lack of diversity with the Oscar nominations. Were you disappointed after a couple years of what seemed like progress?
I haven't really followed it too much because I've been so busy shooting and we're almost done so now it's really the grind. John Cho and Issa Rae are good friends of mine, so I was excited about them announcing the nominations. I think ultimately what needs to happen is diverse stories, and people who are telling them on camera and behind the camera—they just need to have more opportunities for diverse stories and diverse points of view starring diverse people.
Hopefully, that will ultimately lead to a situation where these award shows recognize them with an egalitarian process that is a little more fair. It's also weird for me to follow the Oscars because it makes me feel like, "Oh, a couple of years ago we were nominated," and not that I'm bummed out but I'm like, "Oh, that was fun!"