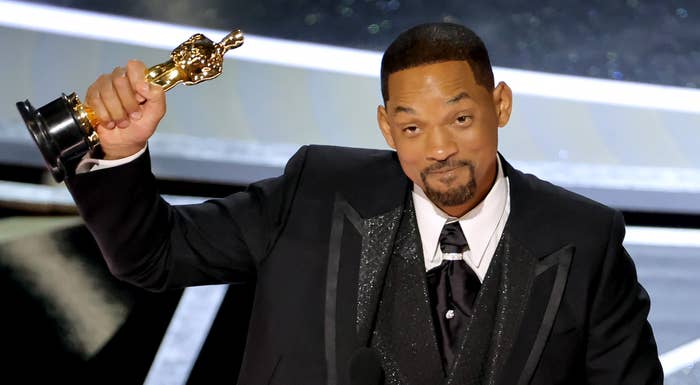 As we close in on the one-year anniversary of Will Smith's infamous Oscars slap, it seems the actor has made peace with the controversial moment.
On Tuesday, Smith shared a video on TikTok in which he appears to poke fun at last year's Academy Awards, which were highlighted by the KingRichard starstriking Chris Rock before returning to his seat and shouting at the comedian to "keep my wife's name out your fucking mouth." 
The TikTok sees Smith listening to a post by user @missmoneyworking, in which she shares how you can discover what inanimate objects think of you.
"I'm gonna tell you something fucking crazy," she explains. "This is literally—it sounds insane, but it will change your life. And by change your life, I mean it will make your life so much more interesting and fun."
The user continues, "Did you know, you can pick any object, look at it and ask it what it thinks of you. So, for example, you can pick up a pen and ask it how it sees you or what it thinks of you, and you will get an answer in your mind from your intuition. You can ask your car what it thinks of you. You can even ask money what it thinks of you."
With a puzzled look, Smith grabs the Oscar trophy he won last year for Best Actor, and gives it a concerning glance, ultimately unable to ask the question.
Back in July, Will took to his channels to discuss the incident for the first time since sharing his initial apology statement days after the slap. 
"I was fogged out by that point," he said in the video below. "It's all fuzzy. I've reached out to Chris and the message that came back is that he's not ready to talk and when he is, he will reach out. So I will say to you, Chris, I apologize to you. My behavior was unacceptable and I'm here whenever you're ready to talk."
Will added, "There is no part of me that thinks that was the right way to behave in that moment. There's no part of me that thinks that's the optimal way to handle a feeling of disrespect, or insults."
Smith went on to apologize to Rock's mom and family (including brother Tony Rock), saying he didn't realize "how many people got hurt" by the moment.
Elsewhere in the world of somehow-still-happening slap references, actor Richard E. Grant (Loki, Game of Thrones) co-hosted the BAFTAs in London this week and opened by telling the audience, "Nobody on my watch gets slapped tonight—except on the back."