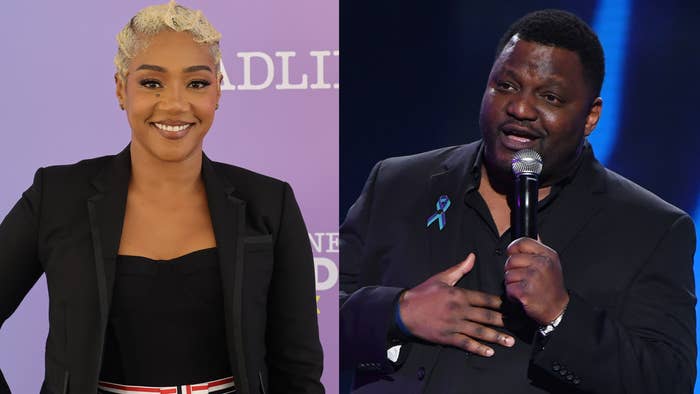 The woman who recently accused Tiffany Haddish and Aries Spears of child sex abuse in connection with a 2013 Funny or Diesketch filed a motion to dismiss the lawsuit.
TMZ reports the accuser, identified only as Jane Doe in her Los Angeles Superior Court suit, asked the judge to dismiss the case with prejudice. The 22-year-old's request was granted, and the lawsuit has been formally dropped. 
"My family and I have known Tiffany Haddish for many years, and we now know that she would never harm me or my brother or help anyone else do anything that could harm us," the woman said in a statement. "We wish Tiffany the best and are glad that we can all put this behind us."
Jane Doe and her 15-year-old brother, going by John Doe, sued Haddish and Spears for intentional infliction of emotional distress, gross negligence, sexual battery, sexual harassment, and sexual abuse of a minor. Jane and John alleged the comedians recruited them to take part in sexually explicit skits in separate incidents when both were minors.
Haddish subsequently addressed the accusations in a statement on Instagram, noting the material in question was "intended to be comedic" at the time, although she now regrets having been a part of it.
News of the lawsuit getting dropped arrives two weeks after Jane Doe called on Los Angeles County District Attorney George Gascón to "immediately arrest and prosecute" Haddish and Spears. According to the Daily Beast, Jane reportedly sent a letter to the D.A.'s office, which stated that she and her brother were "prepared to speak with investigators and prosecutors" about the allegations at the heart of the lawsuit.
"This matter's breadth and complexity require your jurisdictional powers and resources to tackle and end the stream [of] depravity committed by Haddish and Spears," the letter said.
Now that Jane and John Doe's suit has been dismissed with prejudice, the complaint cannot be refiled.