UPDATED 8/4, 9:30 p.m. ET: Kai Cenat is reportedly facing several charges after the streamer's promoted givaway on Twitch turned chaotic in NYC. Police said Friday evening that Cenat will be charged with at least two counts of inciting a riot and unlawful assembly, along with a few other charges.
NYPD Chief of Department Jeffrey Maddrey said in a press conference that the event was not sanctioned by police.
"Our Entertainment Unit, I think we have to reach out to some of our influencers and ask them to be responsible with this, to help us with this," Maddrey said. "If we knew about this, we could've had the barriers out here, we could've had police officers out here, we could've did this orderly, they could've gave whatever gifts they had for the young people away. I encourage this. We want our young people to come to events like this. It just can't be, hey, this is what we're doing, it's a free-for-all. We see this is the outcome, and we cannot have these outcomes."
See original story below.
Reigning Streamer of the Year winner Kai Cenat was at the center of a chaotic scene in New York City's Union Square after he promoted a giveaway on Twitch.
NBC reports Cenat was taken into custody on Friday afternoon by law enforcement, though it's unclear whether the Twitch star was officially arrested or detained. CBS wrote that the 21-year-old was brought in "for questioning" and "did not have a permit for the event or preplan it with police."
NYPD Chief Jeffrey Maddrey "said authorities filled a city bus filled with arrestees," NBC adds.
Maddrey told the press that Kai Cenat could be charged with inciting a riot. "Officers were attacked, we were crushed. ... I personally observed young people having panic attacks, anxiety attacks. People were suffering out here," the chief said.
Cenat advertised earlier this week that he would be giving away, per CNN, "PlayStation 5s, microphones, keyboards, webcams, gaming chairs, headphones and giftcards from a truck."
The promo resulted in a sprawling crowd of fans hoping to get their hands on what the streamer had promised, which forced the NYPD to activate a "Level 4" response and call in roughly 1,000 officers to get the crowd under control.
Although Cenat announced plans to begin the event around 4 p.m., hundreds had already stormed Union Square by 3 p.m., police said.
Once Cenat showed up, the crowd became unruly, and footage captured attendees climbing on top of what appeared to be Kai's SUV while it was in motion.
On Instagram, where he has 5.5 million followers, Cenat deleted a post showing a TV covering the mayhem, writing, "I love you guys to the fullest you guys are amazing, THE LOVE FROM HOME BASE IS REAL, please be safe."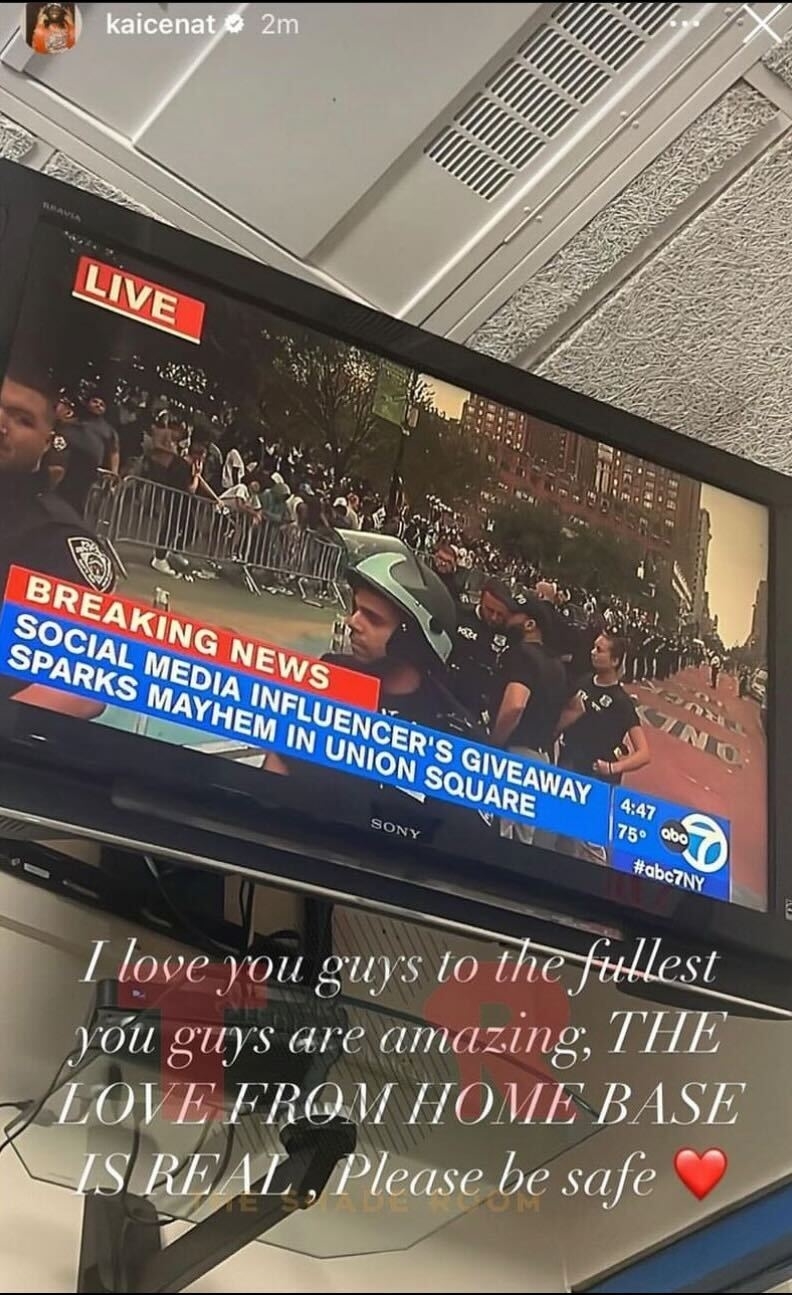 A second IG Stories post, which is still live, showed another image of a news station's coverage:
Various subway delays were implemented due to the gathering, as the NYPD asked individuals to avoid the area and "expect a police presence in the area and residual traffic delays."
NBC New York noted that a small number of injuries were reported, all of which appear to be minor.