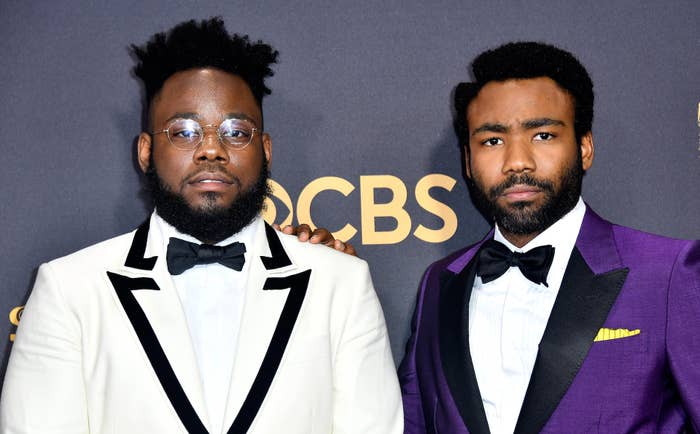 With the fourth and final season of Atlanta set to premiere on Sept. 15, Donald and Stephen Glover appeared at the show's TCA Press Tour on Tuesday, where the pair discussed the criticism from people in the Black community who believe the FX series is "only for white people."
"To be real, if you're online, everybody's gonna have an agenda on some level," Donald said, per Deadline. "It would be silly to say that sometimes what people say doesn't affect you because — especially being Black — I feel like a lot of the Black criticism bothers me only because it sounds like [it's from] Black people who don't really know what we've been through. So to be like, 'Oh, these Black people hate Black people or these Black people hate Black women.'— I'm like, It's such, my it's such a small view of who we are. I feel like it might even be because of what we've been through that you look at us the way you look at us."
Glover went on to say that Black critics who claim the show isn't for them are merely "cutting ourselves down."
"To say it's only for white people, it's like we're cutting ourselves down which is kind of wack to me," Donald shared. "I've seen on Tiktok where people say Atlanta's transphobic. Man, I'm neighbors with a trans man and he told me Atlanta is his favorite show. I love how you guys talked about the trans thing because a lot of this shit is just takes for the internet, you know?"
Donald's younger brother Stephen admitted that the criticism "rubs me the wrong way," while reminding reporters that the majority of the culture does in fact love the show. 
"For me, one thing that I don't like is when people say the show isn't for Black people because I think it very much is for Black people," Stephen explained. "That kind of thing rubs me the wrong way. But I will also say being in Atlanta and walking around, or even like in LA, I run into Black people all the time who tell me this is their favorite show and how they appreciate everything we do. They also say we're making them want to do cooler and weirder stuff."
On Tuesday, FX released a new trailer for the series' final season, which confirmed that Atlanta will return to its home turf, as Season 3 saw Earn (Glover), Paper Boi (Brian Tyree Henry), Darius (LaKeith Stanfield), and Van (Zazie Beetz) embark on a European tour.
Check out the trailer for Season 4 of Atlanta in the Instagram post up top.