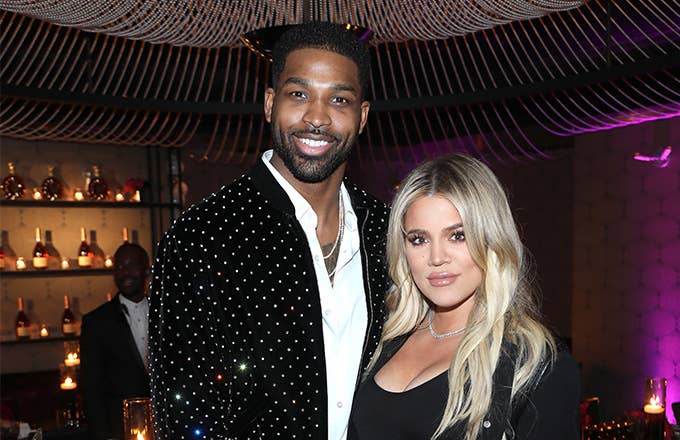 Congratulations are in order for Khloé Kardashian and Tristan Thompson, who are officially welcoming a baby girl. The news was revealed in true Kardashian style: during the season 14 finale on E!'s Keeping Up With the Kardashians.
It occurred in a rather odd manner, with younger sister Kylie Jenner relaying the gender results on the phone via Khloé's doctor. One would think her doctor would tell her the news privately. But this is the Kardashian-Jenner family we're talking about here—nothing is private! Kylie also ordered a gender reveal cake for the big moment, yet everyone seemed thrilled about the announcement except Khloé. "I don't feel like I'm having a girl at all. I'm like in a state of shock," Khloé admitted to her sisters. She explains her somewhat disappointed reaction later in the show.
"When you have your mind made up as to what you're having, like everyone told me you're going to feel what you're having and you'll just kind of know," she said. "And then when you find out it's the complete opposite it's just a shock. I just was convinced that I was having a boy, so to be having a girl it's just like, 'OK that wasn't what I thought was going on.'"
Khloé later confirmed the news about her little girl on Twitter. "I am now so excited my daughter will have forever best friends with Chicago and Stormi!! God is great!!! Thank you Lord for our princess," she said. Big sister Kim Kardashian-West joined in on the excitement, tweeting "OMG @khloekardashian & @RealTristan13 are having a girl!!!!!" with a bevy of flashy pink hearts.

Khloé previously revealed on the show that she had some complications during her pregnancy. "Literally, I like can't walk," she told her sisters, Kim and Kourtney, before Kourtney urges her to call a doctor.
This will be the first child for the reality show star. Thompson also has a 14-month-old son named Prince Oliver from a previous relationship with his ex-girlfriend Jordan Craig.