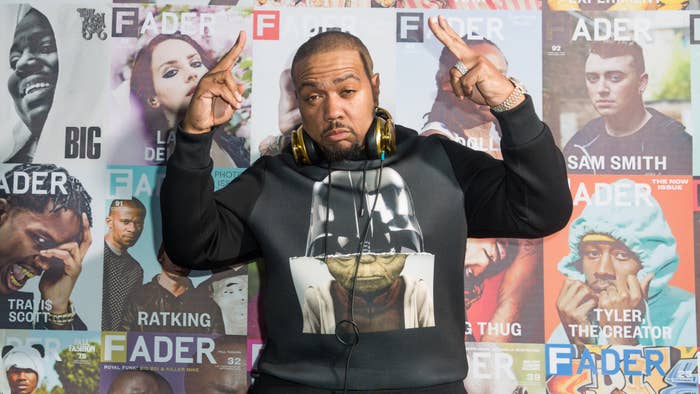 Viral TikTok streamer Pinkydoll has earned herself two high-profile fans in producers Timbaland and ATL Jacob.
Pinkydoll has been rapidly attracting attention online for her bizarre streams, in which she reacts to virtual gifts given to her by viewers. The gifts range from ice cream for one TikTok coin, which is roughly 1.3 cents, to putting a hat and mustache on Pinkydoll for 99 coins, costing viewers just under $1.29. During a recent stream, Timbaland gifted her a TikTok Shuttle, meaning he dropped $280 on 20,000 coins to donate to her.
In a video posted on TikTok, Timbaland shared the moment Pinkydoll broke her rigid "NPC" persona to react to his huge donation. "Timbaland!" she said when she saw the donation as she was popping a kernel of corn with a hair straightener. "Timbaland in the building... Where you at Timbaland?!"
ATL Jacob also dropped by and shared a big donation with Pinkydoll. "I think I broke her," he wrote alongside a video of her repeatedly reacting to his gift of a money gun.
As shown by Pop Crave, Timbaland and ATL Jacob were the top viewers during that stream.
Pinkydoll and her "ice cream so good yes yes yes gang gang" streams have taken over social media in the past week. The Québécois viral star has prompted a lot of reactions from people torn between her hustle and the absurdity of it all.
In a recent post on her TikTok page, she thanked everyone for the attention, but criticized Montreal bloggers for not showing her the same love. "I know I've been popping, popping, popping lately, but how come it's all the U.S. people talking about me, sharing my things, put me on the block, everywhere [...] But when you look at Montreal persons who have a blog or anything like this, nothing! Montreal people don't wanna see Montreal people win and that's on God!"
She's also shared a video of Keke Palmer defending her and saying she's a fan. In the clip, Palmer suggested that it's no one's business how someone makes their money and no one should be criticizing Pinkydoll for the strange streams.