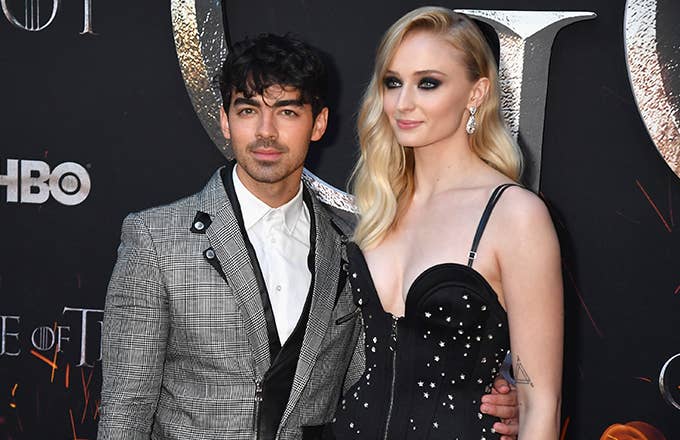 After attending the 2019 Billboard Music Awards together, Joe Jonas and Sophie Turner decided to skip right to their wedding. The pair officially married yesterday at a Las Vegas chapel, with the ceremony officiated by an Elvis impersonator. They announced their engagement all the way back in October 2017 after dating for over a year.
The Game of Thrones star and Jonas Brother arrived at the Chapel L'Amour for the speedy wedding, with country duo Dan + Shay singing Turner down the aisle. Nick and Kevin Jonas were also there as groomsmen. Afterward, they posed on a pink Cadillac in front of the chapel, and even took a photo with the Elvis impersonator that helped them tie the knot.
Speaking with TMZ, the Elvis impersonator Jesse Grice explained that the wedding was booked a week in advance, but he wasn't told about who would be involved until they turned up. The couple reportedly booked the entire Chapel for four hours so that they could have the place to themselves. Grice recognized all three of the Jonas brothers, but said that he has never seen Game of Thrones so he was unaware of who Sophie Turner was.
Thankfully for those unavailable to attend, Diplo was there to document the entire thing.