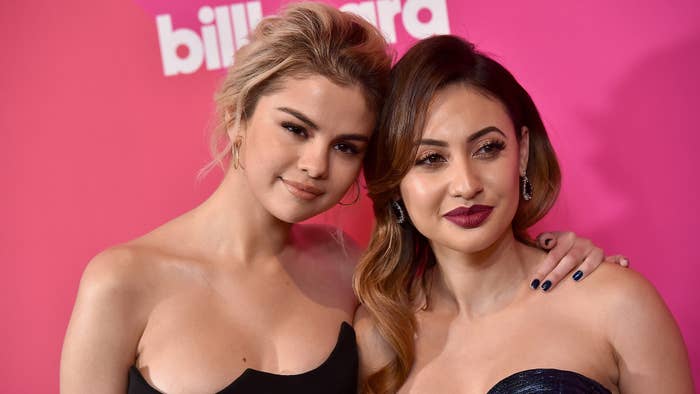 Selena Gomez's kidney donor Francia Raisa says she's being "bullied like crazy" after she avoided questions about whether she was still friends with the singer and actor.
In a brief interview with TMZ, Raisa said that she's faced lots of online abuse following a video that showed her dodging questions about Gomez. When asked for an example of the types of comments she's been on the receiving end of, she said, "I think the one that probably hurt the most was, 'I hope someone goes up your pussy and rips out your other kidney you fucking whore.'"
She suggested the abuse arrived after another interview she did with TMZ earlier this month, and as a result, she's not particularly interested in speaking to the paparazzi. "The only thing I'm going to say is, in no way, shape, or form does anyone condone bullying, especially Selena," said Raisa. "She literally has a whole nonprofit dedicated to mental health. … So the fact that I'm now being bullied now, as I am, it's messing with me mentally. To me it's just not what anyone wants for someone, you know, and she's literally out there saying, 'Please stop.'"
Raisa was approached by TMZ while walking her dog just over a week ago, and she was asked if she was still on good terms with Gomez but refused to answer. She kept dodging the questions, possibly in an attempt to avoid facing the ire of online trolls speculating on her friendship with her former Disney child star alum. 
Last year, Gomez said that Taylor Swift was her "only" friend in Hollywood. At some point between then and now, Raisa apparently unfollowed Gomez on Instagram. However, in the March 10 episode of Apple TV+'s Dear…, Gomez, who was diagnosed with lupus in 2015, opened up Raísa's decision to be her kidney donor in 2017. "I will never ever, ever be more in debt to a person than Francia," the 30-year-old actress/singer said. "The idea of someone not even second-guessing to be a donor was unbelievably overwhelming."