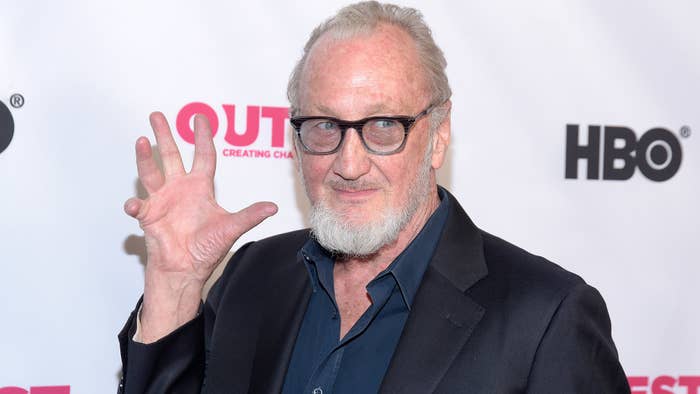 Robert Englund cemented himself as one of the icons of horror when he brought Freddy Krueger to life in Wes Craven's A Nightmare on Elm Street. But if you had any hopes of seeing him don the iconic fedora again, don't hold your breath.
"I'm too old and thick to play Freddy now," Englund told Variety ahead of the release of the new documentary, Hollywood Dreams & Nightmares: The Robert Englund Story. "I just can't do fight scenes for more than one take anymore, I've got a bad neck and bad back and arthritis in my right wrist. So I have to hang it up, but I would love to cameo."
Englund first played Krueger in the original slasher hit and returned for six sequels and one crossover movie. He last portrayed the character on the big screen for 2003's Freddy vs. Jason, in which he faced off against Jason Voorhees from the Friday the 13th franchise. He did briefly reprise the role in 2018 for an episode of The Goldbergs, but at 75-years-old, Englund is finally ready to hang up his bladed glove for good.
Asked if he has any ideas for a replacement, he suggested 64-year-old Kevin Bacon could do a good job. "I know he respects the genre, and he's such a fine physical actor," he said. "I think that in the silences and in the way Kevin moves—it would be interesting."
Of course, it would be a full circle moment because Bacon got his start in the original Friday the 13th in1980.
In the interview, Englund also touched on the 2010 remake of A Nightmare on Elm Street, which cast Jackie Earle Haley as the iconic child killer. While he thought Haley was "so good" as the character, he believes the misstep with the remake came from changing the Freddy Krueger backstory.
"I've always thought that Freddy is described as a child killer. So when they made Freddy a child molester [in the remake], that's not what Freddy is, I don't think," he said. "By taking it to such a dark, dark place, there's no room for the personality of Freddy to be exploited."
Hollywood Dreams & Nightmares: The Robert Englund Story releases on June 6.