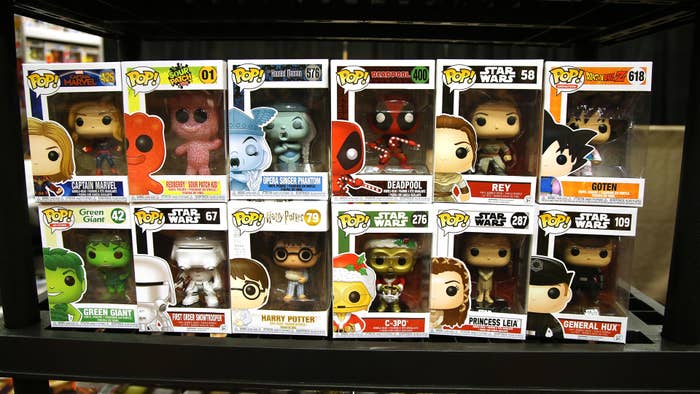 Funko is sending $30 million worth of its Pop! vinyl figures to a landfill in an effort to reduce the company's overabundance in inventory, Kotaku reports.
"Inventory at year-end totaled $246.4 million, an increase of 48% compared to a year ago," reads a press release the company released this week. "This includes inventory that the Company intends to eliminate in the first half of 2023 to reduce fulfillment costs by managing inventory levels to align with the operating capacity of our distribution center. This is expected to result in a write down in the first half of 2023 of approximately $30 to $36 million."
Essentially the company has too many of its signature vinyl figures at its distribution center, and it'll be cheaper for Funko to destroy them than it would be to store the excess inventory in hopes of selling them at some point down the line. In fact, the company has so much unsold inventory, they've been forced to spend a ton of money renting shipping containers to hold some of the product.
"During the fourth quarter and in early 2023, we have made progress in addressing operational issues that impacted our results in the second half of 2022," said CEO Brian Mariotti. "We have strengthened our executive and operational management team and have taken significant steps to improve our operating efficiency. We are gratified that the Funko brands continue to see strong consumer demand from our incredibly loyal and resilient global fanbase, as demonstrated by 37% direct-to-consumer growth and strong sell-through in the fourth quarter."
One of the reasons behind the situation is supply chain shortages, but there was a short-lived rise in Funko Pop! sales amid the early days of the pandemic. Those sales have since dropped, and $30 million worth of them are heading to an Arizona landfill. Fans of video game history might remember a similar tactic when Atari buried approximately 700,000 video game cartridges during the video game crash of 1983. Earlier this week, at least $100,000 worth of Magic the Gathering cards were dumped into a landfill, too, as Kotaku reported.