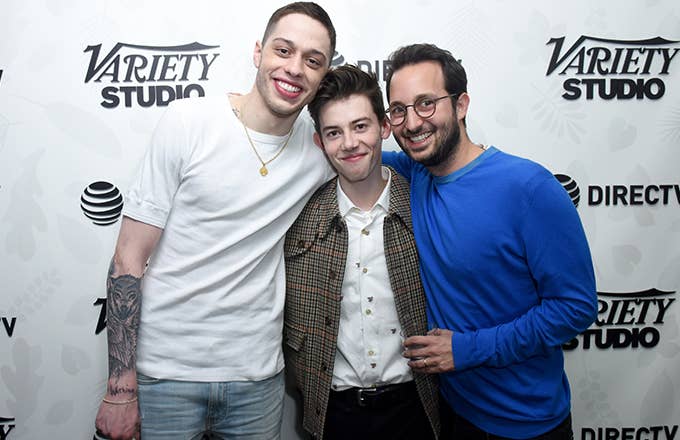 Pete Davidson has had a number of roles outside of SNL including a small handful of movies, but for the most part they've been comedic supporting parts. Big Time Adolescence, the directorial debut from writer-director Jason Orley, changes that. Although billed mostly as a coming-of-age comedy film, early critical reception from the Sundance Film Festival has indicated Davidson might have a future career in store as a dramatic actor.
Starring alongside Griffin Gluck, Davidson appears in Big Time Adolescence as the 22-year-old slacker Zeke, looked up to by Gluck's 16-year-old Mo. The pair form an offbeat friendship, and reviews let it be known that Davidson turns in an impressive performance. "Pete Davidson is so on-target you might forget all the lines he's flubbed on Saturday Night Live," wrote John DeFore in his review for Hollywood Reporter.
USA Today's Patrick Ryan, meanwhile, wrote, "If his Adolescence performance is indicative of work to come, this won't be Davidson's last trip to the Park City fest." Eric Kohn in a review for IndieWire was similarly glowing re: Pete's turn as Zeke. "Davidson's first major movie performance doesn't give him a big moment, but it's littered with many engaging smaller ones rich with implications about his aimless trajectory," Kohn explained.
While not all of the reviews were as kind to the film itself, almost all of the early write-ups highlighted how great Davidson is. The Daily Beast's review from Natalia Winkelman echoed the sentiments of the other impressions, writing that "it's Davidson who steals and carries the film," while also calling him a "bona fide movie star." In a simple tweet, Alex Billington of First Showing said, "Pete Davidson makes it all worth it otherwise it's all the same we've seen before."
After a shaky year that saw him break up with his fiancé Ariana Grande and struggle publicly with his mental health, it's encouraging to see Davidson start 2019 with an artistic surprise.