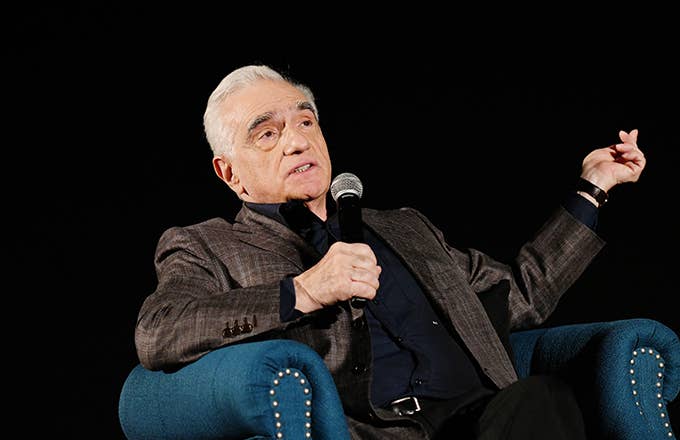 Martin Scorsese was originally on board to produce Todd Phillips' misanthropic blockbuster Joker, but ultimately the 77-year-old director passed. He recently revealed that "personal reasons" and scheduling issues were to blame for his departure from the project, and now he's given his opinion on the final project in an extensive profile with The New York Times.
"I saw clips of it," he said, indicating that he hasn't committed to watching the whole movie. "I know it. So it's like, why do I need to? I get it. It's fine." Scorsese made it clear he was in no rush to see it, and it would appear it's because it borrows so heavily from his own work, most notably Taxi Driver and King of Comedy. So Joker did not make the legendary director's best of 2019 list, but he did make sure to give a shout out to Bong Joon Ho's critically acclaimed satire Parasite.
Elsewhere in the feature, Scorsese also spoke about how Disney CEO Bob Iger reached out to him following his comments on Marvel films, which he compared to theme parks. Iger revealed last month that him and his team were arranging a meeting with Scorsese, but the director told NYT that he already tried to speak with Iger earlier in 2019.
On behalf of his nonprofit Film Foundation, Scorsese attempted to speak with the CEO in an attempt to restore and preserve movies from 20th Century Fox, which Disney now entirely owns. "Then all this came up," Scorsese joked. "So, we'll have a lot to talk about." Throughout his career, Scorsese has stressed the importance of preserving cinema history, while Disney made headlines last year for blocking showings of classic films such as The Fly, The Omen, and Aliens among others.
Throughout the profile, Scorsese was reflective of his past and spoke about the issues he had working with big studios. "The last two weeks of editing and mixing The Aviator, I had left the business from the stress," he said. "I said if this is the way you have to make films then I'm not going to do it anymore." While he thankfully didn't quit for too long, the production of that film did leave a sour taste in his mouth.
"It's like being in a bunker and you're firing out in all directions," he continued. "You begin to realize you're not speaking the same language anymore, so you can't make pictures anymore." He's not ready to quit now, either, despite his old age. He's scheduled to start shooting his next film, Killers of the Flower Moon, later this year. Two of his regular collaborators, Robert De Niro and Leonardo DiCaprio, are rumored to be attached to star.
Read the full profile on Scorsese here.