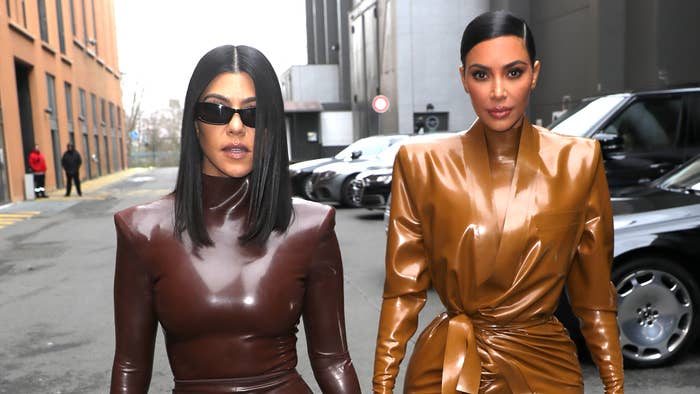 The Season 4 premiere of The Kardashians on Hulu provided fans with the most explosive look at Kourtney and Kim Kardashian's beef yet.
With the return of the show, Kourtney and Kim got into over the former's annoyance over the latter's decision to work with Dolce & Gabbana a month the Italian fashion house styled Kourntey's wedding to Travis Barker. "You saw this thing that was mine and that wasn't yours," Kourtney told Kim during a phone call in the episode, per E! News.
Kim told her sister that she never intended to produce styles similar to those during their May 2022 wedding, but Kourtney wasn't having it. "You're talking about the bullshit details because it's all your egotistical, selfish mind can think about," she told Kim. "You cannot stand someone else being the center of attention. You came to my wedding, you couldn't be happy, you complained from the second you got there 'til the second you left. That's what it's about. Forget about you couldn't be happy—you couldn't be happy for me."
Kim seemed shocked by the comments and asked why her sister thought "so low" of her. "I want you to dig deep and figure out why you hate me so much and why you're so angry with me, because all of this never happened," she said. "I was so happy for you." She went on to allege that Kourtney had a "serious vendetta" against her and the rest of their family. She replied, "Because I don't need you guys anymore."
When Kim said she was trying to "figure out" what's the issue between them, Kourtney said, "It's about you! You are a narcissist. It is all about you." She told her sister that she only ever thinks about herself and how she looks to the world. "You just want to clear up your facts. Take out my whole fucking side of the episode I don't give a fuck what anyone thinks about me," Kourtney added.
To make matters worse, Kim said that Kourtney's three kids had come to her to explain "problems that they had" with their mother, which prompted her to cry. "You're like adding it into a fight to have a side like it's you and my friends and my kids and everyone against me," Kourtney said. "You're just a fucking witch and I fucking hate you."
Earlier this year, Kourtney accused her sister of "copying" her Italian wedding hosted by Dolce & Gabbana." So Kim is in Milan, you know, doing this whole Kim/Dolce & Gabbana, Ciao, Kim, living la dolce vita, whatever," she said in a Season 3 episode of The Kardashians. "It's not like I did their campaign and she did their campaign right after. It's my actual wedding. That wasn't a business deal for me. I did it because it felt really personal."