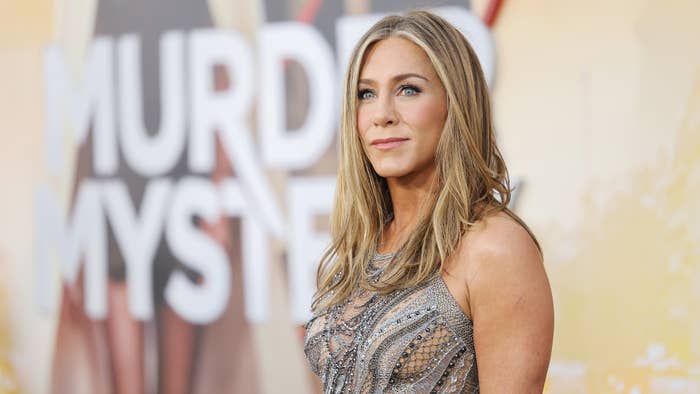 Jennifer Aniston thinks creators today "have to be very careful" not to offend viewers with their humor.
In an interview with France's AFP (via Yahoo), the Friends actress reflected on how "comedy has evolved" through the years.
"Now it's a little tricky because you have to be very careful, which makes it really hard for comedians, because the beauty of comedy is that we make fun of ourselves, make fun of life," said Aniston, who is promoting her new Netflix movie with Adam Sandler, Murder Mystery 2. "[In the past] you could joke about a bigot and have a laugh—that was hysterical. And it was about educating people on how ridiculous people were. And now we're not allowed to do that."
The 54-year-old has seen firsthand how comedy has changed throughout the years, starring in a number of high-profile films in addition to her time on Friends. She said younger generations of viewers have found episodes of Friends to be offensive.
"There's a whole generation of people, kids, who are now going back to episodes of Friends and find them offensive," said Aniston, who also conceded that some of the jokes on the series weren't in the best taste. "There were things that were never intentional and others…well, we should have thought it through—but I don't think there was a sensitivity like there is now."
Regardless of so-called modern "sensitivity," legitimate critiques of Friends' casual homophobia, transphobia, and lack of diversity have been made for years.
Movie studios have been releasing far fewer comedies in recent years, and Aniston believes that the concern over offending viewers might be a contributing factor. "Everybody needs funny! The world needs humor! We can't take ourselves too seriously. Especially in the United States. Everyone is far too divided," she said.
Last year, Friends co-creator Marta Kauffman said she felt "embarrassed" by the lack of diversity on the NBC comedy. "I've learned a lot in the last 20 years," said Kauffman, who admitted she was initially frustrated and defensive over such criticism during the show's run. "Admitting and accepting guilt is not easy. It's painful looking at yourself in the mirror. I'm embarrassed that I didn't know better 25 years ago."