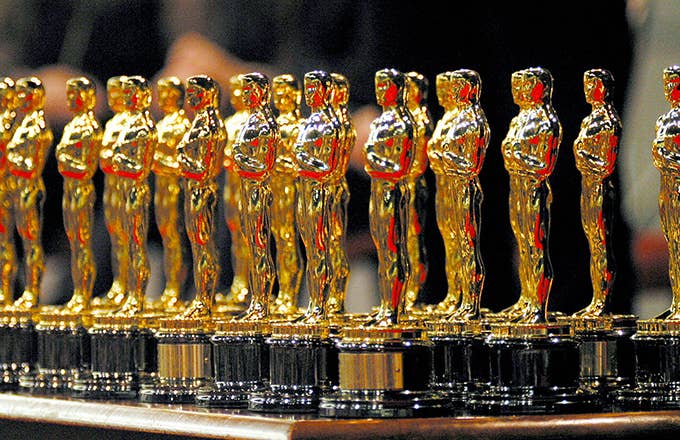 The 2018 Oscar nominations were announced earlier this week on January 23, and among some pleasant surprises, including a Best Picture nomination for Get Out, there were also a number of notable snubs. Perhaps most importantly, however, there was a noted lack of Latino actor nominees in all four acting categories. 
As Huff Post points out, The National Hispanic Media Coalition is planning on doing something about the lack of Latino nominees. The coalition says The Academy of Motion Picture Arts and Sciences is guilty of "institutionalized racism" against Latinos. "For years the success of the major film studios has been won on the backs of U.S. Latinos who represent 23 percent of all movie ticket buyers and 18 percent of the U.S. population," explained the coalition's president and CEO Alex Nogales in a statement. 
"Yet, on- and off-screen and in the narratives Hollywood's movies tell, Latinos remain the most underrepresented minority in the industry. Enough is enough. It's time to end the whitewashing and put Latinos in front of and behind the camera." Over 90 years of Oscar history, there's only been 16 Latino nominations and six wins. A report by the University of Southern California's Annenberg School for Communication and Journalism also pointed out the lack of representation in the film industry for Latinos, noting that only 3.1 percent of speaking characters in 2016's top 100 films were Latino.
"Hollywood continues to be challenged by gender and ethnic diversity," Nogales said in the statement. "Our upcoming demonstrations are only the first of what will become increasingly aggressive wake-up calls to Hollywood studios to end institutionalized racism against Latinos. By targeting the Academy Awards, we're serving notice to the motion picture industry that we're not asking for equity anymore. We're demanding it."
The coalition plans on holding a demonstration on February 5 at The Academy of Motion Picture Arts and Sciences' honoree luncheon, with a second demonstration to be held on March 3.