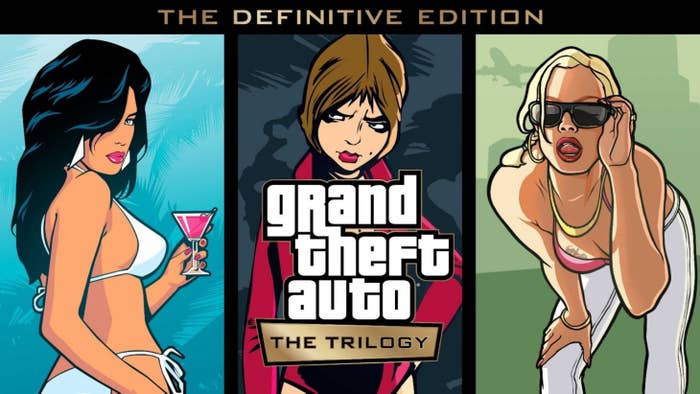 Ahead of the 20th anniversary of Grand Theft Auto III later this month, Rockstar Games has announced a remastered collection of first three 3D games in the series.
As revealed on the official Rockstar Games blog, a touched-up release of Grand Theft Auto III, Grand Theft Auto: Vice City, and Grand Theft Auto: San Andreas will be heading to consoles and PC later this fall. Grand Theft Auto: The Trilogy—The Definitive Edition will launch on PlayStation 5, PlayStation 4, Xbox Series X and S, Xbox One, Nintendo Switch, and PC via the Rockstar Games Launcher. 
The three games are expected to feature "across-the-board upgrades including graphical improvement and modern gameplay enhancements for all three titles, while still maintaining the classic look and feel of the originals." Rockstar has yet to show off what the remastered versions of the games will look like, and it's yet to be seen if it'll arrive as a single package, and or as individual releases. There's also not a specific release date yet, but it appears as though it'll be arriving very soon.
To coincide with the announcement of the remasters, Rockstar announced that existing versions of the games for purchase on digital storefronts will be removed next week. There will also be iOS and Android versions available sometime next year, the company added. Grand Theft Auto III first released for the PlayStation 2 in 2001, bringing the series to 3D for the first time. It was followed a year later by Vice City, and in 2004 by fan-favorite San Andreas.
Some fans have expressed excitement at getting a chance to revisit these defining classics, but some were also eager to highlight that it's been over eight years since Grand Theft Auto V debuted on PlayStation 3 and Xbox 360. The studio has remained tight-lipped on what might be next for the franchise, especially with V heading to PS5 and Series X/S next year, so it could be quite some time before we see a sixth entry in the franchise.
That didn't stop "GTA 6" from trending on Twitter, however, much to the disappointment of fans.
Hey, at least we got Red Dead Redemption 2 in 2018. That was good.