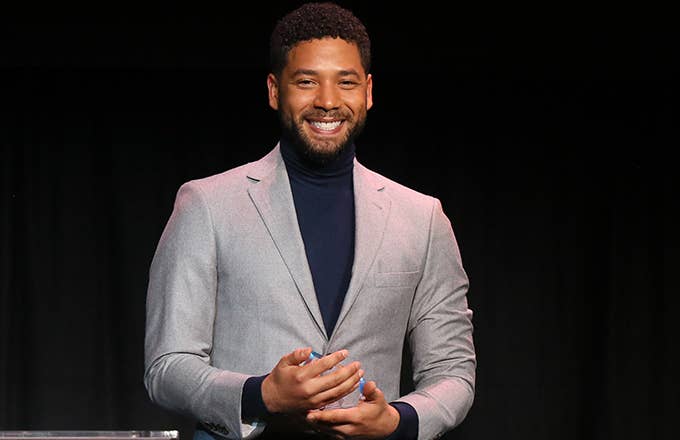 On Tuesday, it was reported that Empire star and singer-songwriter Jussie Smollett was hospitalized following an attack that was motivated by racism and homophobia. Celebrities offered their support for Smollett, while GLAAD and the NAACP released statements condemning the incident as an act of "hate based terrorism." Now CNN is reporting that the Chicago PD is expanding the search area of the investigation, with the hopes of finding surveillance video of his alleged attackers.
Unfortunately, so far police have only been able to find one image of Smollett in the area in which he says he was attacked. A high number of privately owned surveillance cameras were in the area, but so far they haven't been able to positively identify images of his attackers. The image they found of Smollett was from inside a Subway near the reported location of the attack, and he wasn't accompanied by anyone.
"Chicago police detectives continue to investigate serious allegations of a potential racially charged hate crime that took place in the downtown area Tuesday morning around 2 a.m.," Chicago police spokesman Anthony Guglielmi said. "The Streeterville neighborhood where the alleged attack occurred has a very high density of city and private surveillance cameras. As of 10 p.m. Tuesday, detectives canvassed and reviewed hundreds of hours of video and have now expanded the search area along the Chicago riverfront hoping to find video to be able to release a public description of the offenders."
As TMZ reports, Smollett spoke with police and confirmed the attackers yelled "MAGA country" during the attack. Smollett said that a rope was placed around his neck during the attack, and the Chicago PD have since confirmed that he still had the rope around his neck when he first contacted the cops at 2:42 a.m. in the morning. 
TMZ also reported that Smollett was offered extra security by Fox while in Chicago, but declined the offer.