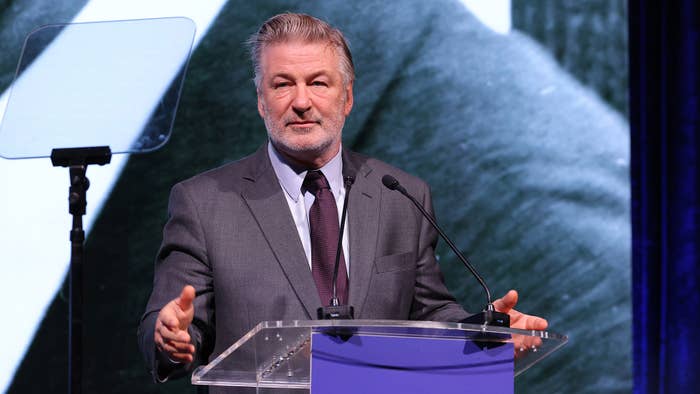 UPDATED 2/28/23, 12:44 p.m. ET: Three more crew members who were on set with Alec Baldwin on the day of the deadly shooting are now suing the actor and other workers for negligence.
Per TMZ, Ross Addiego, Doran Curtin, and Reese Price allege that countless safety protocols were overlooked throughout the entire shoot, and pointed the finger in part at DaveHalls, who they said cut corners involving necessary safety measures. 
They also alleged that Baldwin cut corners as well, and that it all led to the death of Halyna Hutchins. The trio are suing for negligence and intentional infliction of emotional distress, and are asking for unspecified damages.
See original story below.
UPDATED 2/14/23, 3:50 p.m. ET:Filming on the movie Rust will supposedly resume in Spring, Deadline reports producers as saying. Though it never came to fruition, it was previously announced in October that filming on the movie would start back up in January. 
Alec Baldwin is facing another lawsuit in connection with the death of cinematographer Halyna Hutchins on the set of Rust.
In a press release on Thursday, attorney Gloria Allred announced that Hutchin's parents and sister filed a lawsuit against Baldwin and the production companies behind Rust. The news comes after prosecutors charged Baldwin, who fired the shot that killed Hutchins during the production of the low-budget western, and armorer Hannah Gutierrez-Reed with involuntary manslaughter.
Per TMZ, the legal documents accuse Baldwin, Gutierrez-Reed, and others involved with the film of failing to maintain expected safety protocols on the set. Assistant Director David Halls, who agreed to plead guilty to a charge of "negligent use of a deadly weapon" last month, is also named as a defendant. In the suit, Hutchins' family said that the actor can't "hide" behind the claim that Halls said the gun was "cold," a term to indicate that it did not contain live ammunition.
Her family is suing the defendants for loss of consortium, negligence, and intentional infliction of emotional distress. They are seeking undisclosed damages.
Baldwin and the producers of Rust settled a wrongful death lawsuit filed by Hutchins' husband Matthew in October 2022. As part of the settlement, the crew agreed to finish the film and give Matthew an executive producer credit. "I have no interest in engaging in recriminations or attribution of blame (to the producers or Mr. Baldwin)," said Matthew, who shares 10-year-old son Andros with his late wife, in a statement. "All of us believe Halyna's death was a terrible accident. I am grateful that the producers and the entertainment community have come together to pay tribute to Halyna's final work."