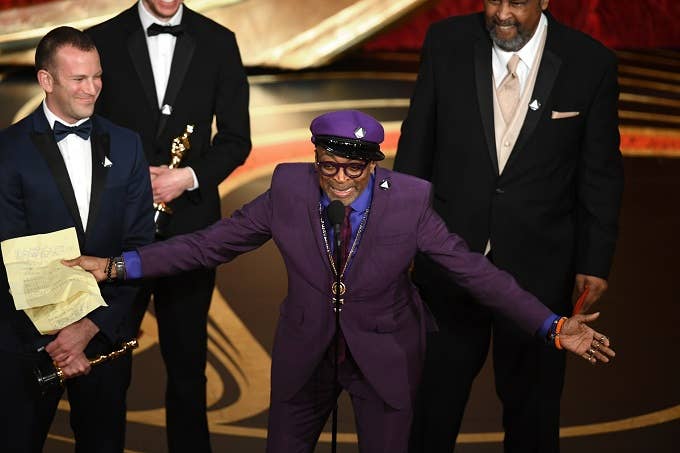 The next sentence may be hard to believe. Spike Lee won his first ever Oscar in a competitive category tonight. The much-lauded filmmaker took home the statue for Best Adapted Screenplay for his work on BlacKkKlannsman and took the stage in a Prince homage of a get-up with Oscar gold Jordans. 

After waiting that much time, the mood on stage was appropriately celebratory. Samuel L. Jackson could barely contain his joy at seeing his long-time friend get the win. Lee jumped up into Jackson's arms after he finished climbing the steps and told Oscar producers that they better not rush his speech. 
According to a New York Times reporter who was in attendance, Lee kicked off his speech by saying "Do not turn that motherfucking clock on!"
With that out of the way, Lee touched on everything from slavery and his own family to the upcoming presidential election. Lee revealed that he was put through college by a grandmother that called him "Spikey Poo" as part of a larger point about doing right to honor the people that came before.    
"The 2020 presidential election is around the corner. Let's all mobilize," he said to close his speech. "Let's all be on the right side of history. Make the moral choice between love versus hate. Let's do the right thing! You know I had to get that in there."