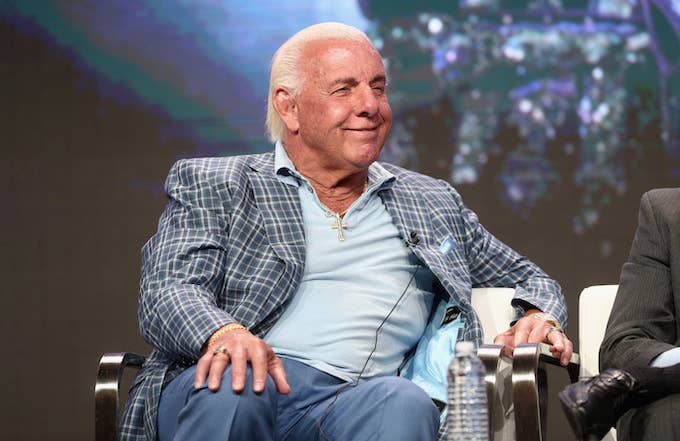 UPDATED 6:34 p.m. ET: Ric Flair is expected to make a full recovery, according to his wife Wendy Barlow.
Barlow spoke to TMZ about her husband's condition: "Due to ongoing health complications, Ric was taken to the hospital and is expected to undergo a procedure tomorrow morning, after which he expects to fully recovery."
See original story below.
Ric Flair has been hospitalized after suffering a medical emergency in Atlanta. TMZ reports that details are scarce but the situation is "very serious," according to anonymous tipsters. Conflicting reports say that the graveness of Flair's hospitalization was overstated by the website, stating that Flair is in the hospital for a planned procedure.
The legendary wrestler had been on an upswing since a health scare in 2017. That August, flair was hospitalized for kidney and congestive heart failure brought on by years of alcohol abuse. He was placed in a medically induced coma, doctors removed a portion of his bowel and put a pacemaker in his chest. The wrestler clearly viewed the scare as a wake-up call, vowing at the time to give up drinking entirely.  He said that he began drinking as a way to socialize with other wrestlers and eventually to dull the pain of his job-related injuries. 
"I never drank when I was working, but as soon as work was over, I went right to the mill," he said, ​"I didn't think I was an alcoholic, but obviously I was [...] I'll never drink again. I never want to go through this again."
By all accounts, he stuck by his commitment to get better. Flair appeared to be on the right track. He was medically cleared to wrestle again and recently attended a surprise 70th birthday party full of fellow wrestling stars and sports world friends. The revitalized Flair also was fit enough to stroll down the aisle to "Ric Flair Drip" at a commitment ceremony to his fiancee Wendy Barlow. 
It is unclear what caused Flair's current scare. 
This story is being updated.