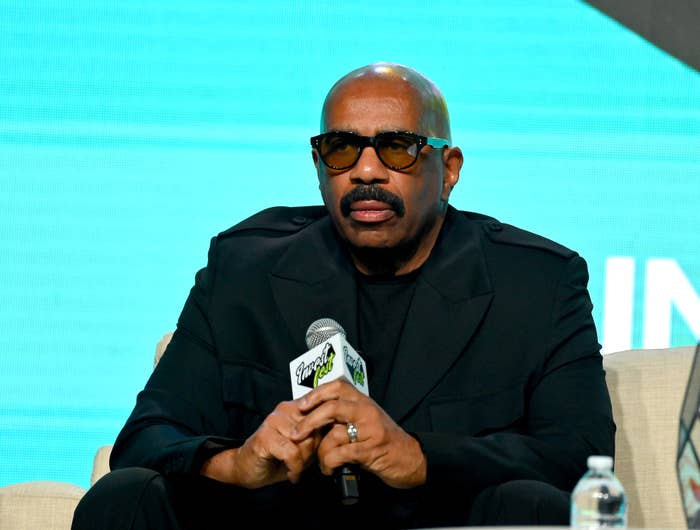 Steve Harvey is apologizing after a staffer went rogue with his social media account.
It all started with a now-deleted tweet posted under Harvey's account on X, the social media platform formerly known as Twitter, on Aug. 19 with the prompt, "A comedian you don't find funny at all?"
The tweet garnered numerous responses, including Jess Hilarious who addressed last week it on the Breakfast Club. "I hope that it wasn't him though. That don't seem like Steve Harvey behavior," said Hilarious on the radio show. "In today's world right now where everything is already negative on social media ... [for] you to post something like that in this climate: 'A comedian you don't find funny?' That's crazy."
After deleting the tweet, the comedian and Family Feud host said he had to "get into some nature" and "do some fishing" in light of the situation and addressed the incident in a video uploaded on Friday (Aug. 25).
"Somebody works for me on my Twitter put a statement out that was totally negative. I gotta take responsibility for it 'cause they work for me. But the engagement was talking about 'name a comedian you don't think is funny.' Why would I do something like that?" he said in the video posted to X.
Harvey continued, "That don't even make no damn sense. My whole brand is to be motivational, and I'm gonna turn around a say something like that? You don't know where these young people at in they career, man. They could be coming up or anything. I'm all about positivity. I would've never done nothing like that."
He also took a second to debunk the rumor that he was using the flamebait tweet to rack up his social media engagement before revealing that the staffer may have been let go. "I'm so pissed off right now, man," Harvey said. "Talkin' about, 'I was trying to get some engagement.' Okay, okay, you trying to get some employment, too."
"My bad, y'all. Now I gotta come on here and do a damn selfie. So here it is: I'm sorry, man. My bad, y'all. Won't happen again though," he said at the end of the clip.