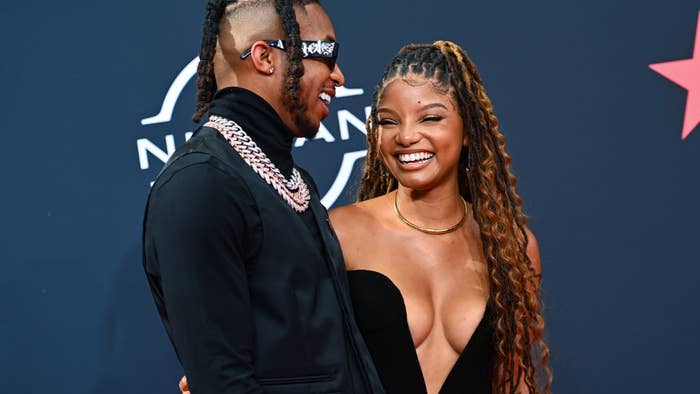 Being young and in love is something Halle Bailey says she's experiencing lately in a new interview.
The 23-year-old singer and actress sat down with Cosmopolitan in an interview prior to the SAG-AFTRA strikes to discuss how she's adjusting to fame since her starring role as Ariel in Disney's live-action remake of The Little Mermaid. "It was a bit of a whirlwind and overwhelming, every day in another city with fans waiting outside our hotels, following us to each interview. I'd never experienced anything like it," says Bailey. "But it's really cool getting to meet all of these people around the world, especially the babies, which makes me so happy."
She continued, "Because I worked my whole childhood, there are things I didn't get to experience. Ariel was my college experience. She was the one to say, 'Look, look what you have in you. You can.'"
Bailey added that all of her musical inspiration comes from life experiences and that love is one of those themes that will be reflected in future music releases. "Love has been a really big one for me too, because that's something I'm experiencing for the first time, and it's, like, 'whoa' in your brain. It's just fireworks, a spark for creativity."
Bailey and rapper DDG, 25, confirmed their relationship last March. Despite some public hiccups in the relationship and calls from fans to end the relationship, the couple seem to be more in love than ever, at least according to Bailey. "You know, you have puppy love experiences, you think that's love. But this is my first deep, deep, real love," she said.
In an interview with Essence, Bailey revealed she first "met" DDG through YouTube, as he was one of the young Black creators she followed on the platform. "I completely forgot about him. But then I saw that he was dropping music, and I really gravitated toward this one song. Coincidentally he messaged me — and the rest is history," she said to the magazine for their Fall 2022 issue.
Bailey will star as Young Nettie in the remake of The Color Purple among the likes of Fantasia Barrino, Taraji P. Henson, and Colman Domingo. Her last film, the remake of The Little Mermaid, surprassed the original 1989 film's box office total in its first week of release.