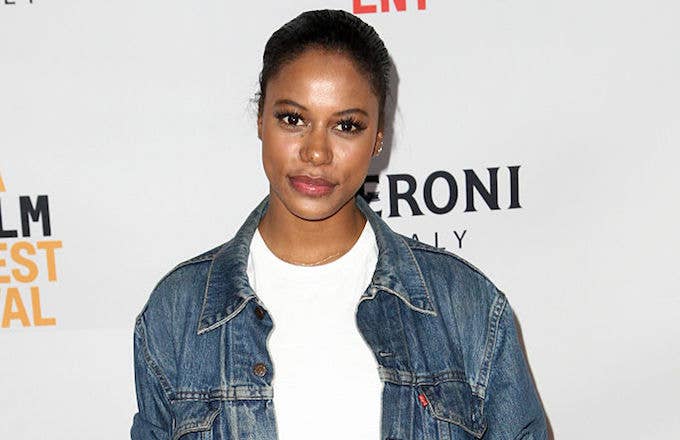 Who could forget reading the greatest epic of this decade? In 2015, Twitter user Aziah King aka Zola published a 150 tweet saga about a 48-hour adventure with an exotic dancer, her boyfriend, and a pimp that involved stripping, trapping, murder, and prostitution during a trip to Florida.
Three years after the odyssey hit our timelines, A24 has found the perfect person to play Zola in the studio's movie based on the dancer's life. Taylour Paige, who stars in Matthew McConaughey's new film White Boy Rick, will take on the complex role, according to The Hollywood Reporter.
Janicza Bravo is set to direct the epic tale. James Franco was once attached to the project, but A24 apparently knows better. The search for the lead stretched far and wide, but Bravo first spotted Paige at a coffee shop in L.A.
"I'm at a coffee shop in L.A. and in walks this girl. I'm entranced and can't stop staring. It's the way she sits in her body. It's agency. It's self-possession...everything that drew me to telling this story," Bravo told THR. "One year later she auditions and I knew instantly like I knew it then. After seeing 700 girls, the one meant to be finally walked in."
Bravo has helmed episodes of Atlanta, Love, and Dear White People. She also wrote the script for this new film alongside playwright Jeremy O. Harris, Andrew Neel, and Mike Roberts. The movie is going to be based on Aziah's life and theRolling Stone magazine piece "Zola Tells All: The Real Story Behind the Greatest Stripper Saga Ever Tweeted."
"Zola is an iconic, iconoclastic role, and Taylour and Janicza are exactly the people to bring the character to life. We're thrilled to be working with them on this too-real-to-be-true saga, a defining and legendary entry in the deeply American road trip genre," A24 told THR.
Production on Zola starts this fall.