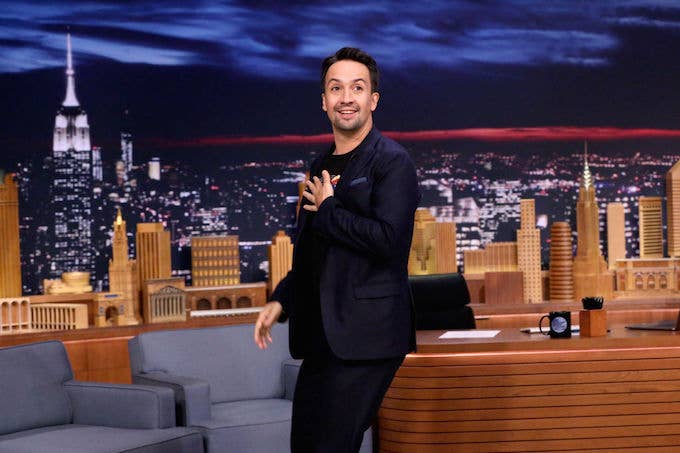 Whoa. Fans of Hamilton better hold onto something because Lin-Manuel Miranda just announced that he will be adapting...The Room? Apparently, Miranda loves Tommy Wiseau's infamously bad film so much he wants to bring it to Broadway.
JK!
ICYMI, It's April Fool's Day, and who better to be the butt of a joke than Tommy Wiseau? The Hamilton creator, writer, and musician decided to poke a little fun at Wiseau and fool everyone else on Sunday through a fake announcement on Twitter.
"This is all VERY premature," he wrote, retweeting an "exclusive announcement" from TheaterMania of the gag song listing and "official" cast. "We'll try it out of town in San Francisco."
Lin-Manuel Miranda's Tommy Wiseau's The Room: The Broadway Musical is the fake title of the Broadway Musical that will never be, thankfully. As Variety points out, the cast listing includes huge Broadway stars: Patti LuPone as Claudette, Lisa's mother, Miranda and Javier Munoz as Peter/Steven, a psychologist, and Mark Rylance for the notorious Johnny, "an everyman."
Some of the songs from the musical that we will never hear are titled "Half Canadian Bacon With Pineapple, Half Artichoke With Pesto and Light on the Cheese," sung by Lisa, "Whatever Happened to My Cancer" from Claudette, and "I Just Like to Watch: Two Is Great But Three Is a Crowd" by Denny, Johnny, and Lisa. "The Candles, the Music, the Sexy Dress (Loverboy)" from Mark and Lisa and "You're Tearing Me Apart, Lisa," by Johnny, are other tracks that will never make it to Broadway.
Thank god Miranda is, for sure, kidding.