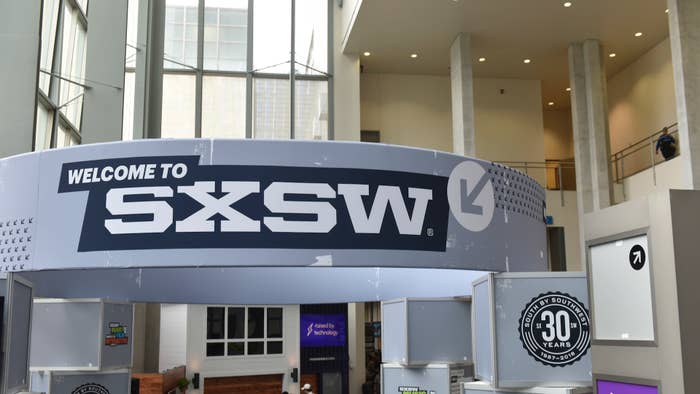 UPDATE 3/6, 5:04 p.m. ET: SXSW has been canceled due to concerns over the coronavirus. It's the first time in 34 year the annual event has not taken place in March. In a statement that was released, SXSW said that they "are exploring options to reschedule."
Read their statement on the cancelation below. 
The City of Austin has cancelled the March dates for SXSW and SXSW EDU. SXSW will faithfully follow the City's directions.
On Wednesday, Netflix announced that they will not be attending SXSW over coronavirus concerns, Variety reports. 
The streaming giant has canceled screenings for five films and a panel on their upcoming series Black Excellence with Kenya Barris and Rashida Jones.
Netflix isn't the only company that has pulled out of the conference. Apple, Amazon Studios, Twitter, TikTok, and Facebook also won't attend this year's event. Apple TV+ was set to premiere the doc "Beastie Boys Story" from Spike Jonze, their docuseries Home, and an animated musical comedy series titled Central Park. Kumail Nanjiani and Emily V. Gordon were also scheduled to talk about the anthology series Little America. 
"While we think the risk is relatively low, we are erring on the side of caution as we prioritize safety for our team, creators, partners, artists, and brands," a spokesperson for TikTok said, per CNET. "We are looking at a variety of alternative ways to bring parts of the previously scheduled experience to audiences in creative new forms."
Amazon Studios said they "will be cancelling all activities including the Blue Room Photo/Video Studio over the weekend and the Entertainment Weekly party on Sat evening."
SXSW is scheduled to take place in Austin, Texas from Friday, March 13 to Sunday, March 22.
Also on Wednesday, Texas' Fort Bend County health officials announced that a 70-year-old man has become the "first presumptive positive case of COVID-19" in the state. The samples from the man are being sent to the CDC for confirmation. The patient, who recently traveled out of the country, is reportedly in stable condition. 
Austin officials gave an update on the coronavirus situation in Travis County during a Wed. press conference. Austin Public Health's interim medical director Dr. Mark Escott informed residents that SXSW will still go on as planned.
"Right now, there is no evidence that closing South by Southwest or other activities is going to make this community safer. We are constantly monitoring that situation," Escott said. "We've asked this group to evaluate that, and if there's any evidence that our community will be safer by closing down public events, we'll do that."
Escot also said that they have "had persons investigated across the state for the past six weeks, and none of those individuals have tested positive for COVID-19."
This post will be updated.