UPDATED 10/24, 12:20 p.m. ET: Selena Gomex hopped on Instagram live, where she seemingly addressed the Hailey Baldwin controversy, and urged her fans to stop dragging her. "Please be kind, I don't like seeing people being disrespectful or rude to other people, so please don't do that," she said. 

"Please stop with this nonsense," Gomez added. "There is no 'response.' This is complete BS." 

UPDATED 10/23, 5:44 p.m. ET: Hailey Baldwin ended the speculation that she was "responding" to Selena Gomez via a Summer Walker record.
"Please stop with this nonsense… there is no 'response,'" Baldwin wrote under an Instagram post featuring a screenshot of her story. "This is complete BS." 
See original story below.
Non-news of the Fans Are Convinced variety received an update overnight in the form of a Summer Walker shout-out that's being posited as quite timely.
Tuesday night saw the release of Selena Gomez's new FINNEAS-assisted song "Lose You to Love Me," which notably includes lyrics such as "Set fire to my purpose and I let it burn" and "In two months you replaced us like it was easy."
Given the fact that Selena Gomez and Justin Bieber once had a thing or whatever, fans took this as an opportunity to interpret the song (co-written with Julia Michaels and others) as being about that exact aspect of the past.
In her own comments, however, Gomez offered a broader intended messaging for the track. "This song was inspired by many things that have happened in my life since releasing my last album," she said. "I want people to feel hope and to know you will come out the other side stronger and a better version of yourself."
But all of that—as Elle and others have since pointed out—was basically tossed out the proverbial window by convinced fans when Hailey Baldwin shared a screenshot to her Instagram of her currently-listened-to song: Summer Walker's "I'll Kill You," featuring Jhené Aiko.
Though Baldwin didn't add any commentary or additional context for her sharing of the song, that was sufficient in generating enough tweets to justify articles such as the one you're reading right now.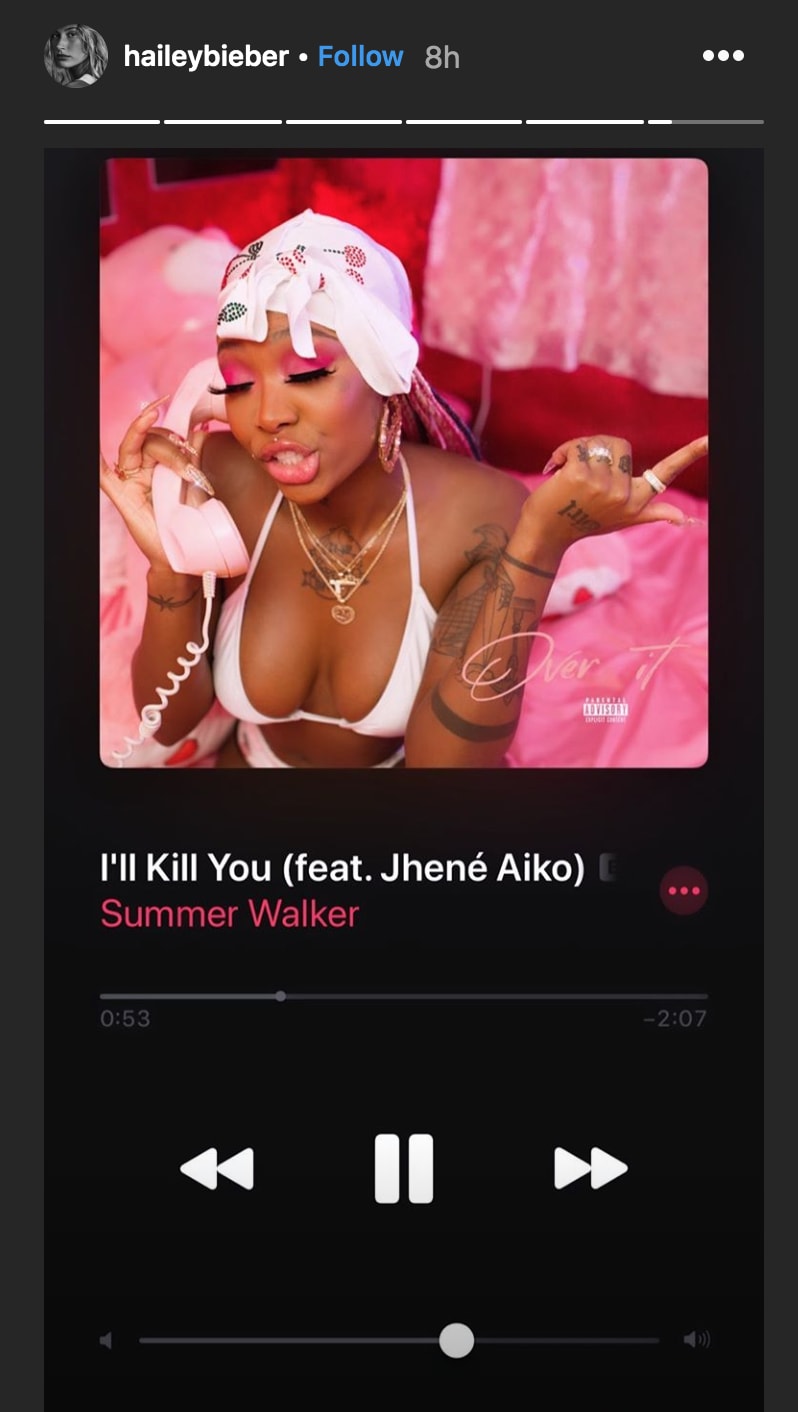 And now, here are some of those enticing tweets:
Wonderful usage of time all around, everyone. Well done.