Writer Lauren Steele was scheduled to interview Colson Baker (aka, Machine Gun Kelly), at the Sundance Film Festival world premiere of Big Time Adolescence, in Park City, Utah. But as most plans created by PR agents and celebrity handlers, it didn't go accordingly. Once off the red carpet at the Eccles Theater, Steele was escorted to a concession stand, where she found MGK. The story below is a recount of what happened in the nine minutes that followed.
"So, how's it feel to be back at Sundance?" I ask. Colson Baker, aka Machine Gun Kelly, has two goliath handfuls of Sour Patch Kids and Kettle chips and an Emerald green fur-lined Dior jacket on his back when he turns around abruptly. "According to other interviewers, not only is this my first Sundance, but also my first movie." He clearly seems a little miffed that his turns in Bird Box (yes, that Bird Box) and 2016's The Land (which premiered at Sundance as well), and a handful of other roles that "interviewers" could acknowledge were missed. But the annoyance in his voice disappears the split second he remembers that he's going to need more than snacks for the premiere of his latest project—Big Time Adolescence, starring close pal Pete Davidson. "Oh yeah, we should get beer." But fact check says there is no beer sold at festival concession stands. Doesn't matter—Baker's already onto the next thing. He orders a coffee.
"This Sundance is different for me because I'm with my friends," he says. "Last time, I was with peers and people I looked up to. But this time, I'm with my friends and I feel like a real part of it." At this point, we're surrounded by other people who want snacks or who want an autograph or who are very preoccupied with the idea of getting into the auditorium for fear that they might not get a front-row-center seat—and I'm not sure if we're going to be able to go somewhere quiet for an interview or if I'm supposed to just wing it and start recording. So I wing it.
I'm just asking if that's how the whole production of Adolescence felt when Pete Davidson interrupts us—politely.
"Hey, this lady is about to freak out," he says, jacking a thumb over his shoulder at a middle-aged woman wearing a headset and a vest. "Can we go sit?" He realizes I'm standing there with a recorder hoisted up to MGK's face—which is six feet and four inches in the air. "Oh—hi!" Davidson says, giving me a hug. I introduce myself. He asks how I am, and genuinely seems to care when all I say is, "I'm doing well." I turn back around from giving Davidson that hug when between both very tall, very slender members of the Big Time Adolescence cast appears the film's director and Davidson's good friend, Jason Orly.
At this point, the theater is filled with the 1,250 people who will be seated for the 90-minute premiere, and Baker is looking around like a prairie dog on alert, searching for his handler, asking if the snacks and coffee have been paid for yet. I never hear an answer, but the four of us walk away and into the swarm.
"Pete was the connective tissue for all of this," Baker says. "I was down in New Orleans shooting The Dirt—the Mötley Crüe movie—and Pete sent me the script to read since it's his first lead role and after I read it he told me he wanted me to be in it. I was just like, 'ha, ha' because you never really know if things are going to come together because there's a lot of false promises in the industry but this just is a testament to him as a friend because he pulled Jason and I into a meeting and…"
That's where Davidson interjects. "We were lucky to have him—he fucking crushed it."
"Pete and I's first meeting about this movie was not as much about Pete's character as it was talking about how cool it would be if Colson did the film," Orly says. "We just wanted to be able to all hang out for a week while Colson shot his part."
"How was it all hanging out for a week?"
That's when we finally start talking about drugs.
"I'm talking about insane," Baker says. He then details a story from an eventful night at the Genesee Grande Hotel in Syracuse, New York, where the film was shot. "We took mushrooms and I ended up in the Koi pond in the hotel lobby and…"
We're interrupted, again. This time by another vested woman with a headset, telling Baker that his chips and candy aren't allowed inside the theater. We turn around and formulate a plan. "Wanna stash them in my bag?" I offered. "Yup," he replies. I think the problem is solved and we re-approach the doors to the theater, where the yet another vested woman then informs us that we need to show her our tickets. We don't have tickets.
"I don't know what to do, I'm in the movie—do I need a ticket?"
This time, I interrupt. "I don't think he needs a ticket—here we go." And just like that, we snuck into Davidson and Baker's own film premiere without tickets. "Just act like you're supposed to be in a place and people won't know," Baker says.
Then it's back to the drugs.
"After fishing myself out of the Koi pond, Pete and I figured that we're surely going to be kicked out of this hotel now we're all kinda, you know, freaking out. So we take an hour to walk around and buy some time. We're all kinda freaking out, like, 'damn, that just ruined everything,' and hanging our heads. And when we got back to the hotel we walked back into the lobby and the guy behind the desk, he goes, 'Hey!' and we were just like, 'Damn, we're caught.' And looks and us and says, 'Are you room 267?' And I figured I just needed to own up to it so I'm like, 'Yeah.' And that's when he looks at me dead in the face and all he says is, 'you have a package.' I couldn't believe that shit."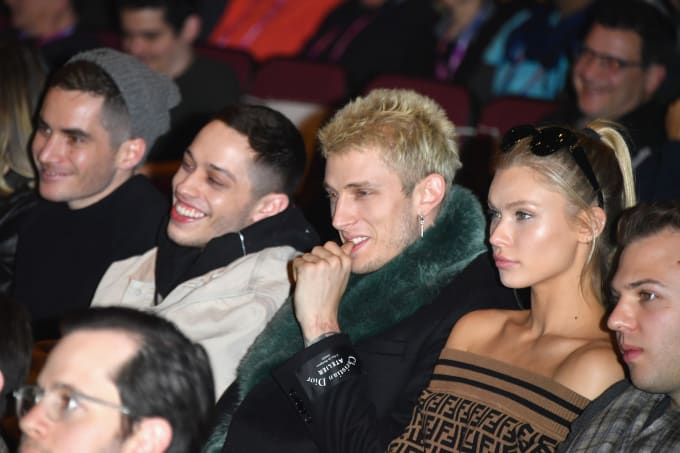 It's not the perfect segue, but I'm going to take the chance to ask a question that I want to hear the answer to. "So, who are you trying to represent right now with your work in acting?"
"I think I've always been a voice for the underdog because I was a kid from the middle of nowhere," he starts. "And with acting, I felt like did it in a way that was very consistent and true to myself—and me being consistent means me being a guy that people don't know what to expect from. I filmed Bird Box two years ago—people wouldn't expect that from me. It was the most random thing that happened in 2018 for me. I was next to Sandra Bullock and John Malkovich—and I don't think people realize like I was out there getting 100 'no's' to get one 'yes.'"
And then comes another "no."
"You can't have that coffee," another venue employee says as we walk down the theater aisles to the cast section of the seating. He politely nods and chugs some down before handing it over. The screening is getting ready to begin, so I thank Baker for his time and go to find my seat. It may have not been the interview I wanted, but it was one of those weird experiences that only Sundance Film Festival can serve up. I don't count it as a loss as I walk away.
It's not until I'm on the other side of the auditorium that I remember what's in my bag. I run back to Baker, and hand over those stupid Sour Patch Kids and the bag of chips. It's about time someone today told him "yes."