"When you're early, you're on time. When you're on time, you are late. When you late, you fired!" That magically simplistic—and wholly important—piece of advice is doled out to the savvy Nikki Jones (Afton Williamson) by her loud boss, Barry Fouray (Wood Harris) within the first five minutes aof the premiere episode of The Breaks, and it stuck with me. You see, back in August 2016, I was invited by VH1 to visit the set of the show; it was kind of a big deal, considering that back in January 2016, the original movie The Breaks was the #2 most-watched original cable movie in its 18-49 demographic, and had been successfully greenlit into a series. I already knew that it'd be one of 2017's most-anticipated shows, after loving the TV movie, so getting an opportunity to visit the Washington Heights set to speak with the cast was obvious. 
Fouray's quote actually speaks to how the mainstream music industry handled hip-hop back then as well. Inspired by hip-hop journalist, author, and NYU Tisch professor Dan Charnas' nonfiction book The Big Payback, The Breaks looks at how the hip-hop scene broke into the mainstream in 1990 through the eyes of three hip-hop-loving individuals: the aforementioned Nikki Jones, who has her eyes on the prize of breaking into the industry while doing right for the world of hip-hop; DeeVee (Tristan "Mack" Wilds), a DJ and producer who is searching for the perfect beat; and David Aaron (David Call), a hip-hop lover who's desperate to showcase his love for the hip-hop sound during a fickle, R&B-lead era in radio programming. While those within the hip-hop scene knew that it was a vivrant thing that was birthed in New York and had spread across the country (and the globe), but in 1990? It was still on the cusp of having a major breakthrough. For the industry—be it record labels, radio programmers, or artists looking to push the envelope—if you were an early adopter, you had the chance to ride a wave that took you through a glorious pair of decades. Late? You ended up looking like a sucker, and probably didn't have your job after the mainstream truly took hold of the sound.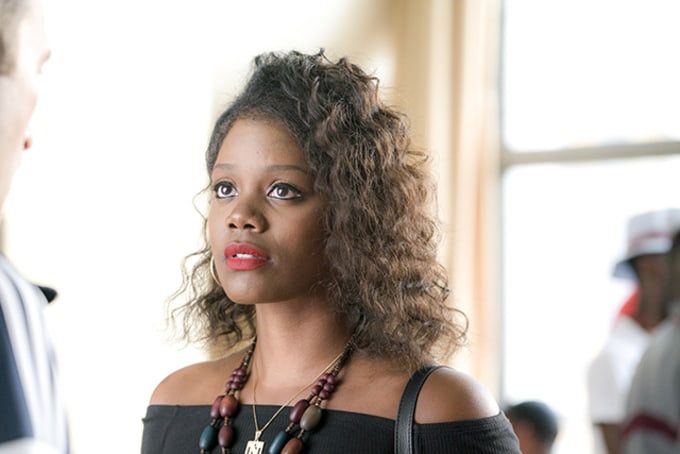 One thing that hasn't changed that much once hip-hop took over the mainstream is the struggle for women to be put on the same pedestals as their male counterparts. It's one of the reasons why I gravitated towards The Breaks; Williamson's portrayal of Nikki, who wears the phrase "Miss Unreasonable" as a badge of honor due to how she fights for what she believes is her's. When I finally got to sit down with her alongside Breaks newcomers Melonie Diaz and Ali Ahn, she explained where the hunger of her performance comes from. "When you're a man and you're doing big moves, you're a boss. When you're a woman, you're a bitch. I think that we are renaming or retitling what is allowed to be a strong woman and [to] go back to 1990, the summer of when Salt n Pepa was hot, when Queen Latifah was spitting, when MC Lyte was hittin' it, that's exciting. That's why I wanted to be an actor, that's why I wanted to be in hip-hop, that's why I wanted to do this in the first place."
Ahn, who plays Fouray Management's Art Director Josie Cho, takes it a step further in relation to those who are not only on the outside due to gender, but because of race. "All of these women are also outsiders, all trying to break in in their own way. As an Asian American character in this world, she's obviously immersed, but she's not. She's been allowed to be a part of the community, but there's still a barrier. All three of these women are fighting for inclusion and acceptance just like the hip hop industry at that time was trying to fight for inclusion and mainstream acceptance."
During a time where television is treated to a black renaissance that includes Golden Globe-winning shows like Atlanta and black-ish as well as Insecure, Queen Sugar, and Power, Williamson points out one of the keys to these kinds of breakthroughs, and how important tuning in is for these stories to develop and be pushed. 
To quote DJ Khaled, having a group of invested people behind you could be considered a "major key." At its core, hip-hop is a musical genre, so buying into the beats and rhymes that soundtracked our lives, after a while, is what helped usher hip-hop from the fad that some naysayers thought it was into the global empire it has become. At the heart of that is the producer, and Wilds, a Staten Islander who was admittedly a "baby" during this era, is glad that a) he gets to play DeeVee, the hungry producer trying to push his creativity to the limits and b) VH1 is actually putting on for the culture. "There has never been a show that shows [this] side of hip-hop; when we think of the hip-hop music right now we have a different mindset. We remember [how] it [used to be], but we don't understand how gritty it was."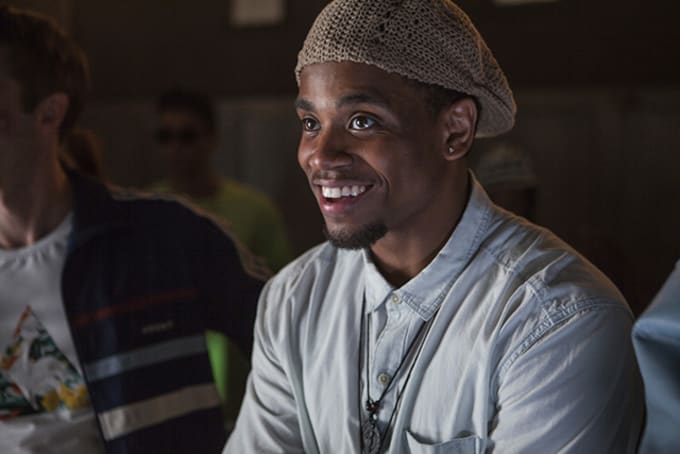 In today's world of hip-hop production, you can have an entire song done on a laptop. If you want to talk gritty, try learning how to make music using the classic SP1200 sampler  (which was used by everyone from DJ Premier and Pete Rock to the Beastie Boys and J Dilla), which Wilds had to learn how to use during the preparation for the TV movie. It was Charnas who taught Wilds how to rock the SP (and says that super hip-hop nerds probably caught how Wilds had the faders aligned to truncate the sample he was working on in the movie), lending an air of authenticity to Wilds' performance as a seasoned beatmaker. This time around, Wilds was able to learn the art of turntablism—aka highly-skilled scratch DJing—from two legendary DJs, Rob Swift and DJ Babu for an upcoming DJ battle that will take place this season. "One of the biggest things that we all do in this show is try to make sure that we keep it one hundred percent real. So for them [Swift and Babu] to be like, 'yo, he got it right. That looked right.' That meant more to me than any director or anybody saying 'Cut. That was a good take.' Them coming back on set and be like, 'Yo. That shit was dope.' That meant the world to me."
That level of authenticity is key, especially on a show where hip-hop and R&B luminaries like Special Ed, Keith Sweat, and Luther "Uncle Luke" Campbell are portrayed. Charnas says they were "real extra with it," but that lends credence to the 100%-real flavor that Wilds and the entire cast tried to represent. "One of my favorite little home videos I took is in the studio with Caleb [Eberhardt], who's the actor who plays Special Ed. He's rehearsing Special Ed's songs in the studio and he's doing a really good job, and then I turn the phone around and there's Special Ed himself watching him rhyming along to the song." In speaking with Charnas, he's in an intriguing situation; he's not a TV guy. He came up writing about hip-hop in The Source, and worked with Rick Rubin at Def American (Sir Mix-A-Lot's "Baby Got Back" was the first record Charnas worked on with Rubin). Even if he doesn't know TV, he knows the era; he's the one showing Wilds intricate SP1200 knowledge, or being the ear that Williamson can call on to make sure they are representing the culture correctly, or making sure that the right song—not the biggest or most popular—is used. It's a dedication to the hip-hop he grew up on and documented, even if everyone isn't going to "get it."
"A lot of this stuff might not mean much to the younger viewer," Charnas recognizes, "but it adds a sense of the people who know this era are also writing about it and cover it. It gives people a sense, 'Okay. I can actually sink into this story, because this is how it was.'"
With hip-hop, that's usually the most important thing. For the people who were there, they know what songs were really popping, or which clubs and outlets truly told the tale. And while the story of hip-hop's ascension is an intriguing underdog tale, it's that time before the time we all remember, when all of your hip-hop CDs were in the R&B section, that speaks to so many of us. It reminds me of something Williamson said back in August 2016, when I asked her about being a "breakout star," considering she shined in The Breaks, had a role in The Night Of, and has a background that includes stints on Homeland, among other shows.
"I think it takes 10 years to make an overnight star," Williamson said. Beyond stardom, it's also a piece of knowledge that works for the realm of hip-hop, right? While certainly not the first rap single, the Sugarhill Gang's "Rapper's Delight" was released in 1979. It was the first record a number of artists, DJs, and fans cite as being their introduction to hip-hop, especially if they grew up outside of the five boroughs. Now we have a television show that takes place roughly 11 years after that song's release, and we're seeing that while it was more accepted, hip-hop hadn't truly yet cracked the glass ceiling. As much as we can't wait to see 2Pac's life on the silver screen, it's the perseverance of the driven knuckleheads who are flying by the seats of their pants within the industry. The producer who will do whatever it takes to get his prized emcee to record the illest 16. The radio rep who is willing to risk his job to prove a point about hip-hop's marketability within the city. Those stories are what we need right now, in an era when many feel hip-hop may have lost its way, and its those stories that will help catapult The Breaks into the stratosphere.
Anyone who watched The Breaks last night—or was really really there when it happened—knows.