Our time here on Earth is indeed limited, meaning we don't have the luxury of bingewatching less-than-stellar TV shows just for the hell of it. Each bingewatching session is the result of minutes of heated internal debate, usually pushed one way or the other by a specific episode. Netflix is up on this knowledge and has now, through the magic of math, determined the exact episode that pushed you over the edge with, say, Making a Murderer or Stranger Things.
"We've always believed there is a universality to great stories," Cindy Holland, Vice President of Original Content at Netflix, said in a statement Wednesday. "The internet allows us to share these stories with a global audience and what we see from the data is how similar our members watch and respond. The hooked findings give us confidence that there is an appetite for original and unique content all over the world, which is why we're excited to deliver variety in stories to our members, whether they're political dramas from France or musical dramas from the Bronx."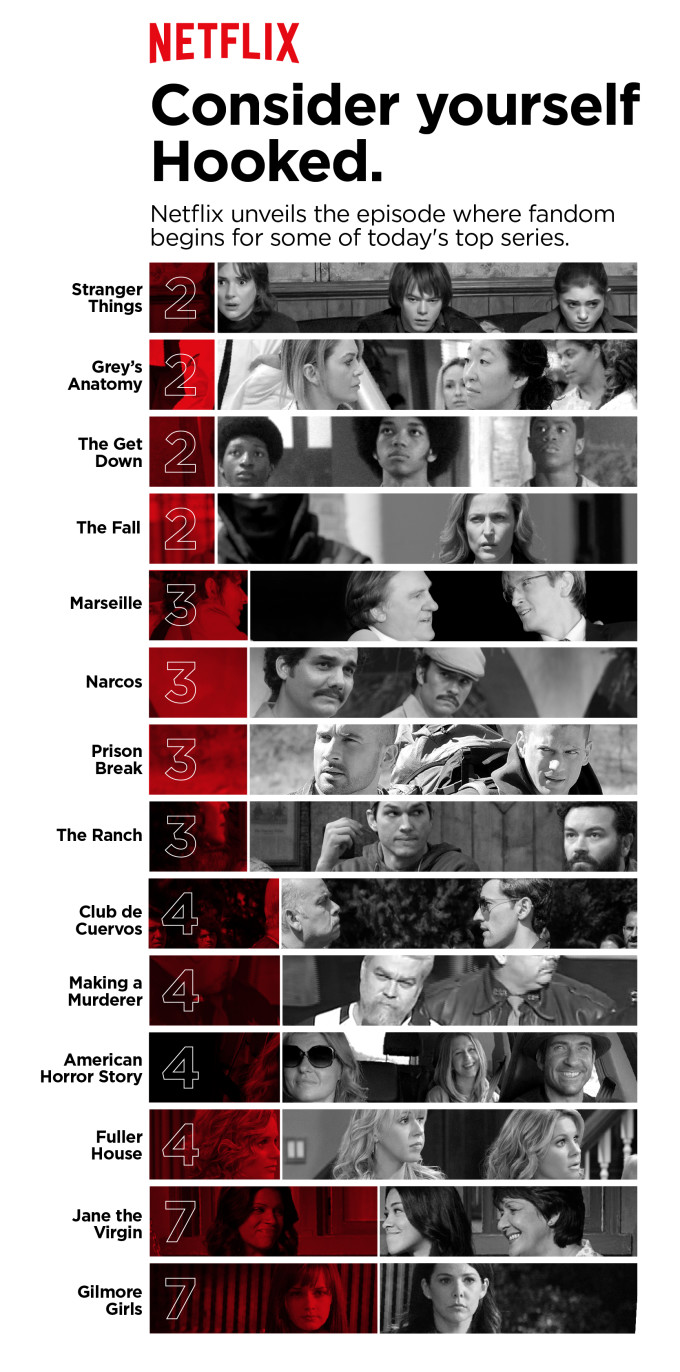 To determine which episode was the one, Netflix selected the episode that kept at least 70 percent of viewers watching through the end of a first season. When mining viewership habits from all over the world for data, the streaming giant discovered that TV fandom is a pretty universal experience.
For Club de Cuervos, for example, the series' fourth episode was the clincher for most viewers. Making a Murderer, American Horror Story, and Fuller House also found binging far more likely upon completion of the fourth episode. Others, however, took a bit more dedication before sealing the deal.
Gilmore Girls and Jane the Virgin didn't get their viewers fully committed until their seventh episodes, while The Ranch somehow got people super stoked after just its third episode.
Happy binging.