By now, everyone's seen Star Wars: The Force Awakens at least once, but this leaked video—which has now been taken down by Disney on YouTube—from behind-the-scenes shows the highest-grossing film, since Avatar, in a totally new light.
Just incase you haven't seen it (maybe you happen to be reintegrating with human society) we'll warn you: there are some mild spoilers ahead.
It's no secret that this film is reliant on visual effects, this is science fiction after all, but the leaked video supplied us with a very intimate look at the before and after process during filming. It's particularly interesting when we see Daisy Ridley's character, Rey, interacting with Luptia Nyong'o, who plays Maz Kanata. As seen in the film, and the GIF below, Nyong'o's character is completely motion-captured so it's incredible to see the process that went into creating these visually appetising scenes.
Daisy Ridley and Luptia Nyong'o, before and after VFX.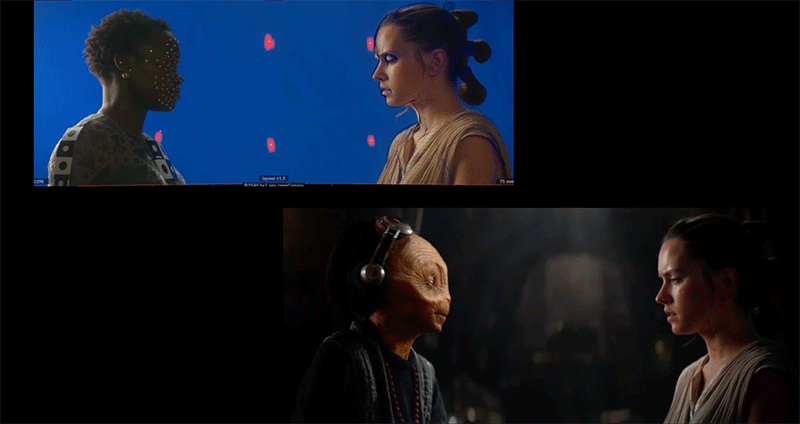 The show reel leak is quite timely seeing as Oscar season is upon us, and this will more than likely get a nomination in the visual effects category (we wouldn't be surprised if they win it, to be honest).
Check out some more of the GIFs below.