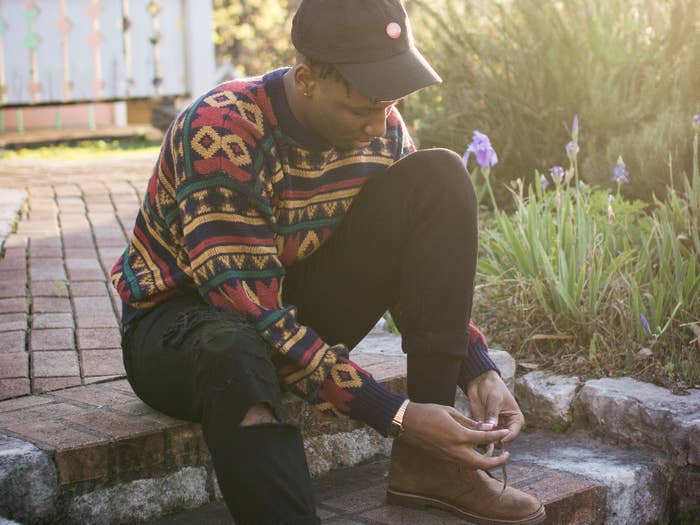 Austin singer MALIK's "Red" feels of a piece with much of the swung, post Sa-Ra soul that popped up on the internet in the height of the Tumblr era—just as the Weeknd was codifying PBR&B and right before an era where trap drums and muffled samples formed much of the palette of popular R&B. "Red" feels like an offshoot of The Internet, stilted and soulful, a break-up given shape over stumbling drums and fuzzy synths. 
"['Red'] is probably one of the hardest songs I've ever had to write," says MALIK via email. "This helped me process a lot of the events that surrounded this tough relationship I was in. All of the stress, anxiety, and uncertainty I was experiencing at that time was put into this piece of music. I was very nervous to release this because the last thing I want to do is hurt that other person, but I know it's more important for me to be honest with myself and with her. The goal of this song was to rid myself of all of the turmoil within me so I can move forward in a healthy way. Hopefully this will help others do the same."
"Red" comes second in a series of color-based songs from MALIK's forthcoming project Spectrum. Lead single "Pink" (which you can listen to below) played with "light hearted optimism and sweeter sentiments," as MALIK notes. "'Red' is the follow up to 'Pink"...and in many ways, this is the 'anti-pink.'"
MALIK envisions Spectrum as a broad palette for exploring his various musical and emotional facets.
"Spectrum is a project I'm releasing over time where each song represents a color based on its theme or mood," says MALIK of his unfolding project. "This gives me the freedom to just put out music as I please while still fulfilling a concept. The idea of the project is to represent all different sides of myself as transparent and as honest as possible. Writing and self-producing everything, and seeing the connection with people is the coolest thing for me, because it all just comes from my bedroom."
Stream to "Red" below and find it on all streaming services here.