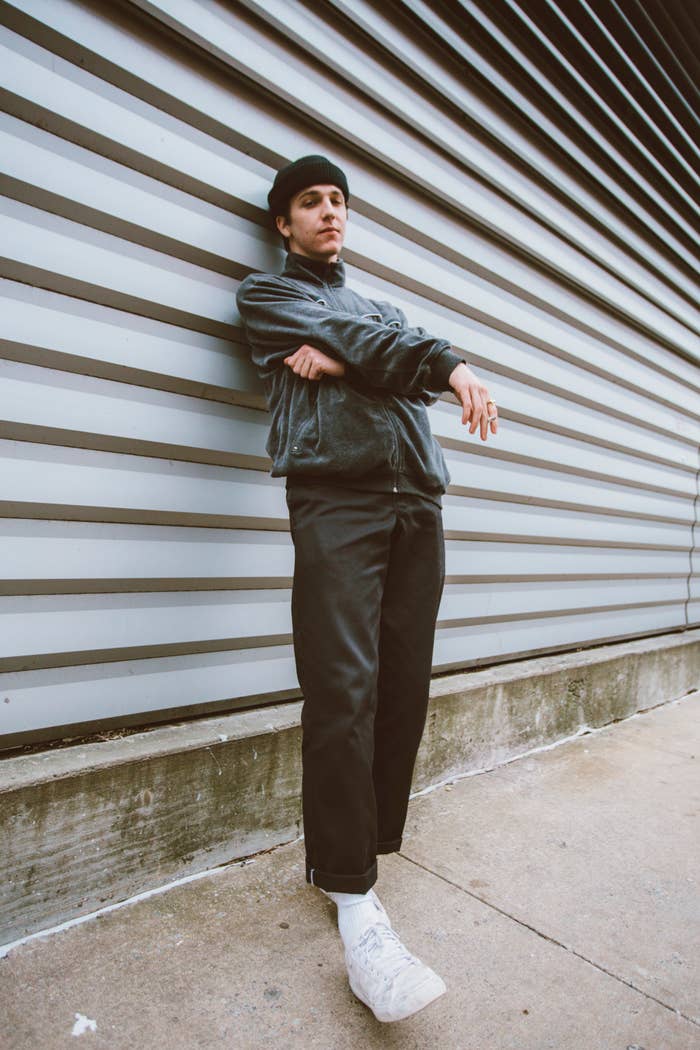 "This is the first project I'm actually proud of," says Tucker Pillsbury, who recently put out the Arizona in the Summer EP, his first release under the name ROLE MODEL. Tucker's first attempt at music was as a rapper, but he admits that he put out a decent amount of trash before finding his groove. "It took a long time to figure myself out," he confesses.
Arizona in the Summer captures some of the DIY magic that's in the air right now. Artists like Clairo, Gus Dapperton, Cuco, and Bane's World are all helping push forward a new blueprint for young artists. It's often tied to a raw, lo-fi sound and ROLE MODEL has some of that, but the songs on Arizona in the Summer are lush and layered, easy to imagine as much bigger productions that don't lean on rough edges for style points.
The thing that ROLE MODEL has in common with all these exciting new artists lies in the sentiment. This music was inspired by depression and a low point in the 21-year-old's life, and he's making it for a generation of kids who are figuring out that it's alright to be emotional, it's cool to be honest with yourself, and when you're real, you'll be relatable. Tucker shares his mission statement eloquently: "My goal is to make people dance while crying. I think that contrast is so tight."
On the heels of Arizona in the Summer and with an album in the works, we talked to ROLE MODEL about his past, his process, and the inspiration behind the best music he's made so far. Check out the music and read the interview below.
Can you give us some of the basics? Who are you, where are you from, how old are you?
I'm ROLE MODEL, I'm 21, and I'm from Portland, Maine.
Where did you get the name ROLE MODEL?
I was so inspired by Paul Rudd's performance in Role Models.
Do you make music alone, or is it a collaborative process? How involved are you with the production of your songs?
I write and record my music alone, and I work really closely with my producer, Owen Ardell, who is a 16-year-old high school student from my hometown. I am very involved with the production process. He probably wants to kill me half the time because I'm constantly texting him ideas and shit while he's in math class. We work really well together sending ideas back and forth over text and email. It's not ideal, but somehow he understands me.
The Arizona in the Summer EP is the only project you have out on Spotify right now. Is that your first-ever project, or what was the path to this?
It's my first project I have put out under ROLE MODEL, but I used to rap when I first got into music and put out a decent amount of trash on SoundCloud. This is my first project that I am truly proud of, I'll just say that.
I used to rap when I first got into music and put out a decent amount of trash on SoundCloud. This is my first project that I am truly proud of
What made you switch from rapping to making the music you are now?
Rapping is really fun, and it still continues to influence everything I make. It just got to a point where I felt like I wasn't being honest with myself and I wanted to explore the genres of music I grew up listening to. It took a long time to figure myself out.
What does that name Arizona in the Summer mean, and what ties those songs together?
I got into a pretty bad skiing accident in the winter of 2017 that led to my first run-in with depression. I couldn't do shit. That injury was followed up by two more broken wrists right after I had healed from the first. Throughout those months I didn't want to talk to anyone and started writing everything on paper. It was essentially a notebook from class that turned into an enormous diary, which then turned into songs. Arizona in the Summer was sort of a mindset that I would force myself into when I got those waves of sadness. It was like a happy place. Like when you're watching a scary movie and you cover your eyes because it's too scary to watch. Creating the project was like covering my eyes to get away from my own bullshit, hoping it would act the same for others.
What kind of music did you grow up listening to, and what are you listening to now?
Aside from Toby Keith, my parents had amazing taste in music. My mom always had a crush on Jackson Brown so he was always in my ears. I remember a lot of Van Morrison, Peter Frampton, Lou Reed. I also had a very strange obsession with Elvis. I had the lunch box, posters, costumes, and a life-size cutout of him in my room. So I guess I fucked with him quite a bit.
Right now it feels like there's this new wave of so-called bedroom pop kids. Clairo, Gus Dapperton, Cuco, Banes World, etc. Do you identify with that at all?
I love them all. This new generation of pop is beautiful because everyone is doing it how they want to. There doesn't seem to be a goal of getting on the radio and being an international pop star, it's just pop music how artists perceive it.  
"I don't rly like u" is the first song of yours that really hooked me. What does that song mean to you? Was it inspired by real-life experience or observations?
I've been calling it a modern day love song. It's so sad man, I seriously think that true love isn't going to exist much longer. So many relationships are sprouting from boredom and loneliness because people have an issue finding happiness from within themselves. I just wanted to make people think and reflect with that track. There are layers to the simplicity.
My goal is to make people dance while crying. I think that contrast is so tight.
Your songs are really catchy and some have and upbeat bounce, but there's something bittersweet or melancholy in all of them. Are you more inspired by being sad or emotional than you are being happy?
My goal is to make people dance while crying. I think that contrast is so tight. I definitely capitalized on a really dark period of my life to create that body of work. I try to find inspiration in any way that I feel. My mood changes every five minutes so it's hard to tell what works best for me.
What's next for you? Is there an album in the works? What other goals do you have for 2018?
ALBUM IN THE WORKS BABY. I wrote my list of goals on the first day of 2018 and the only thing on there is to hug SZA. So we'll see.
Since the release of your EP, what's changed for you?
Not much honestly, my dad still thinks I'm a ho.  
What's your spirit animal?
That commercial where Sarah McLachlan is singing and the dogs need your help.
What's one thing about you that people wouldn't expect?
I have beef with every starbucks employee because they make fun of me for ordering iced drinks during the winter months. #boycottstarbucks