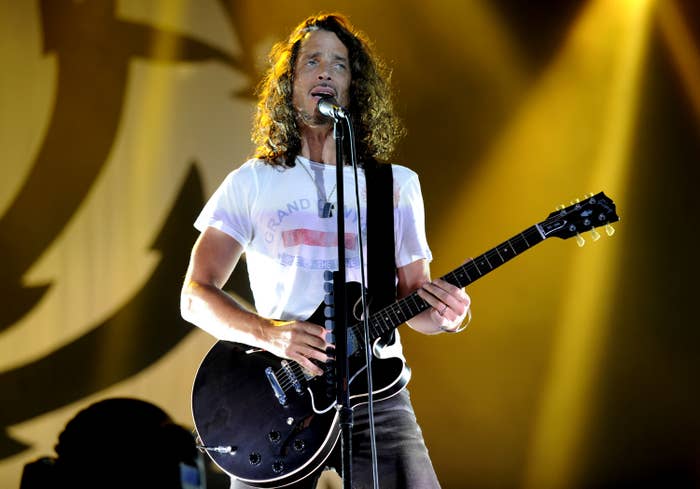 Johnny Cash passed in 2003, and Chris Cornell committed suicide in May 2017, both leaving behind inimitable legacies that helped define decades of country and rock music, respectively. While they never worked together in Cash's lifetime, Cornell did record a song based off of Cash's poem "You Never Knew My Mind" and an unreleased song from 1967 titled "I Never Knew Your Mind." Cornell's version, titled "You Never Knew My Mind," will be included on the upcoming Johnny Cash: Forever Words project.
The song is a showcase for Cornell's powerful, emotive voice, but it's also imbued with Cash's understated sensibility, and Cornell's performance stays warm and intimate throughout.  In a video interview also released on February 26, Cornell discussed what it was like to work on Forever Words. 
"The very first challenge really was crossing that threshold of changing one word, and I think I had to cross that right away, where I'm thinking I want to make a good song out of this, so that's going to have to be repeated, and this line is going to have to happen twice, and that was a little scary," Cornell said. "I think I met the man once or twice in my life, and he was so gracious and he was such an influence on me as a musician, and he also covered a song that I wrote. And since that time I've felt like he's maybe one of the bigger presences of my life in terms of an artist that I'm a fan of."
Curated by Cash's son John Carter Cash, Forever Words will be released on April 6 and features a slew of talented artists making songs using the "Ring of Fire" singer's unreleased writing. In an interview with Zane Lowe, John Carter Cash said he reached out to Cornell, who said he loved Cash's music and that he was a fan even though those in his personal music circle were not. John Carter Cash also revealed that he and Cornell became close through the process of working on this record, and he said that the former Soundgarden singer was a fitting conduit for Cash's words.
"[Cornell] was connected on a level, as my father being one of the most influential artists in his life, he also had felt everything that was in those words. He had been there. He had gone through the loss of relationships, and I can't help but listen to it and still be brought back to the first time that I heard the song," John Carter Cash explained. "It immediately impacted me. The guitar and the tempo were almost exactly the same, and it laid me down on the floor then."
Listen to "You Never Knew My Mind" above, and watch Pigeons & Planes' video focusing on three of Cornell's most powerful covers.