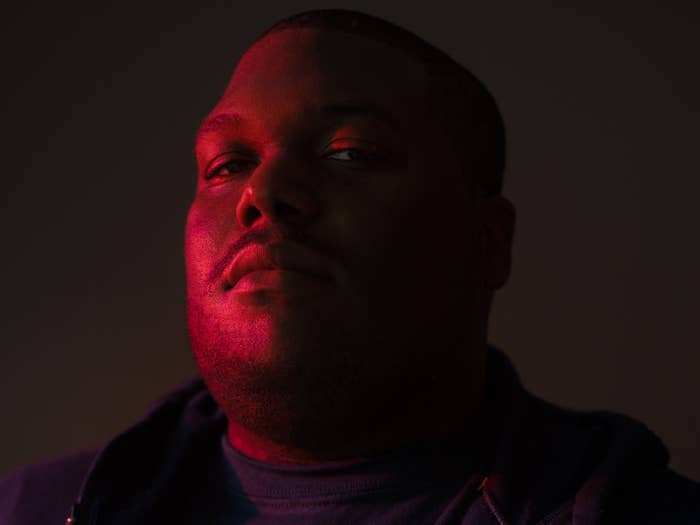 Songs titled "Funeral" are born into this world with tough competition. The word conjures vivid images, usually of sadness, death, and loss. With his debut single, however, AUGUST 08 is taking a different tack. "Don't say it at my funeral," he sings on the first taste of the upcoming Father EP. "Say it to me now."
The EP was created in two feverish days of songwriting. The titles came first, when August's friend encouraged him to put some of the internal drama to paper. Then, the music: the resulting tracks were recorded in August's hometown Los Angeles—his family bounced around a swathe of L.A. neighborhoods as he grew up, but despite the area's musical history, it wasn't until he started looking outward that his artistic ambitions expanded. 

"We didn't even have a radio," he says. "I heard radio out in the street, but nothing ever played at home." As new acquaintances started showing him modern sounds, however, internal creative forces began to stir. From Kid Cudi to Phil Collins, August's musical consumption skyrocketed, and here we are. Listen to "Funeral" below, and read on to get to know 88Rising and Red Bull Records' newest signee.
Can you tell me about the EP's title?

I'm speaking to my friends and family and I'm also speaking to those kids who are afraid to express themselves. I'm speaking to the people who are scared to feel like, "Fuck it, we can soar together." And that's what I wanted to do with this project, because the project was really based around my father and my father left me when I was young, when I was 11 or 12 years old.
But I also wanted to make it a thing where everybody who's experienced the thing I've experienced can relate and feel something from it. No one is talking about those feelings or having father issues. That's why I think "Funeral" is a very important part to the puzzle of opening people up; to realize that's a bold thing to say to someone: "Don't say it at my funeral, say it to me now."

Do you have any sort of relationship with your father now?

I don't really have a relationship with my father now, I think we're not in that stage yet. But hopefully this music can be… A step in the right direction for him to want to be a part of this and me to want to be a part of his life.

How did you first get introduced to music?

In my home I didn't really grow up with music playing, it was kind of like no music at all in the house, we didn't even have a radio. I heard radio out in the street, but nothing ever played at home.
Was that because it wasn't allowed in the house? Or was it just not a part of the family dynamic? 

It wasn't part of the family dynamic. I grew up where it was like, I was in my room, my sisters were in their room, and my mom was in her room. We never had family dinners, even if there was food cooked we didn't eat together, it was always separate at all times. 

It was a weird dynamic, I know a few people who have that similar thing going on. We were together but we weren't present in the same room.

So it was friends of yours that first got you into playing music?

My homie Channel—Sheldon, his name is Channel Tres—he produced "Father Issues" on this project. He sent me this artist named Dwele, and the song was called "Open Your Eyes," I think it was a Common song. That was my first introduction to like wanting to make music and wanting to be apart of music and Dwele was so fire.

Channel works on his own music but he also works with DUCKWRTH, he's worked with Mac Miller, all those people, and he was the person always sending me music. So when I went to school the next day I was like, "What the fuck is this?" So he starts sending me all this shit, he introduced me to Kanye, he introduced me to Kid Cudi, he was kind of the person who really really showed me music in a different way. We met because we both played the drums but he introduced me to songs and writing. 

I think everybody needs one of those, the friend that blows your mind with music. 

Absolutely, he showed me the whole vibe.

So how about this project in particular? 

I was going through a tough time in November 2016 with my family. I started achieving some kind of success as a songwriter, and I didn't have family to enjoy it with. I talked to my manager about it and he was just saying, "Write about it," so I thought about it for like a day, and I wrote out a whole bunch of song titles. The majority of the songs on the project are the titles I came up with, and I told my manager that this is gonna be the EP. He's like, "Where are the songs?" I said, "I gotta write them."  [Laughs]​ I took two days—you know the basketball player JaVale McGee?

On the Warriors?

Yeah, so basically I'm at Javale McGee's studio in Inglewood and I just wrote the songs for two days. I wrote five songs in two days. 

Were you listening to anything in particular during the recording of this? 

Phil Collins.

What is it about him that you like? 

Phil Collins is the God. Everybody has to connect with Phil—Phil Collins, he's another melancholy member. He's a super happy, chill dude, no emotions. But then next thing you know, he's like writing these songs about all these emotions and this girl over these hard-hitting ass drums. He's the God man. I use him as my inspiration, I used Snow Patrol, I was listening to a lot of Stevie Wonder, I was listening to Journey.  So basically like a lot of alternative and rock shit.

Do you want to be famous? Listening to your music it feels very intimate and feels almost​ private, what's the end goal with music for you? Do you want to stay on the West Coast?

Stadiums, bro. [Laughs] I say that all the time. I'm doing this to show the world that you're able to do something and feel something. You can't suppress that.

I want to let it be known I'm not just from Long Beach. I grew up in Lynwood, Long Beach and Compton. We grew up in all those cities, I would feel like I'm not doing it justice if I don't rep all those places and just rep Long Beach—we have to rep Lynwood, Long Beach, and Compton. All those kids where I'm from, we all grew up in those places together. 

Was there anything distinctive about each one that stands out to you now looking back?

Compton is where my family stays, and that's special to me because my family is from there. Lynwood is where I went to school and lived, Long Beach  is where all my friends stayed and I lived. I experienced young adulthood in Long Beach, I came of age in Long Beach with my friends with like learning music and trapping in the garage, that's where I did my thing. Now I live in Koreatown. It's home, I can't move... [but] I actually wanna work on my next album in New York.

We have some studios over here.

I just want to get lost out there and work on the next project, but I'm excited for "Funeral" and Father. It's going to make me happy to see people's reaction to the music.