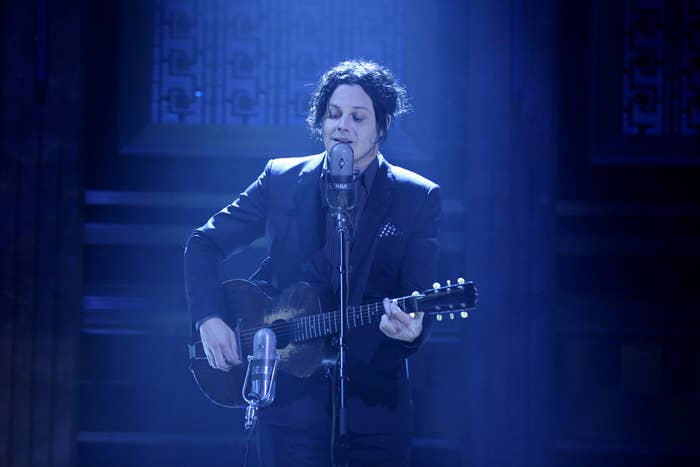 It's no secret that rock music isn't as successful on a mainstream level as it once was. In 2017, Nielsen confirmed that hip-hop had finally passed rock as the most popular genre in the United States, and it could be argued that rock's cultural relevance started declining long ago.
So, what does Jack White—one of the most visible faces of contemporary rock—think about the current state of the genre? During a new interview on KROQ's "The Kevin & Bean Show," he was asked what he thought of rock's minimal role on the lineups of today's biggest festivals. He responded, "Rock and roll needs an injection of some new young blood to really just knock everybody dead right now. It's brewing and it's about to happen."
White went on to explain that the genre is in need of a breath of fresh air and "a wildness."
"Since rock and roll's inception, every 10, 12 years, there's a breath of fresh air and a new injection of some sort of what you could I guess call punk attitude or something like that. A wildness,"  he continued. "Things get crazy and then they get crazy for a couple years, and then they kind of get subtle, and then you've gotta wait for the next wave to come through and get people really excited and screaming about it again. We see it at Third Man all the time, a lot of young rock and roll acts, and I can tell in the last couple years it's definitely different than it was five years ago. So I think it's about to explode again."
Rock, of course, isn't totally dead. There are still lots of exciting bands bubbling under the surface who are doing innovative new things (read about some of our favorites here). One of the biggest hip-hop trends of 2017 was rappers claiming they were rockstars and blending the two genres. So, we hope White is correct and there's a new wave of exciting artists about to inject rock with new energy. You can listen to the interview below (the rock discussion begins at the 6:40 mark).