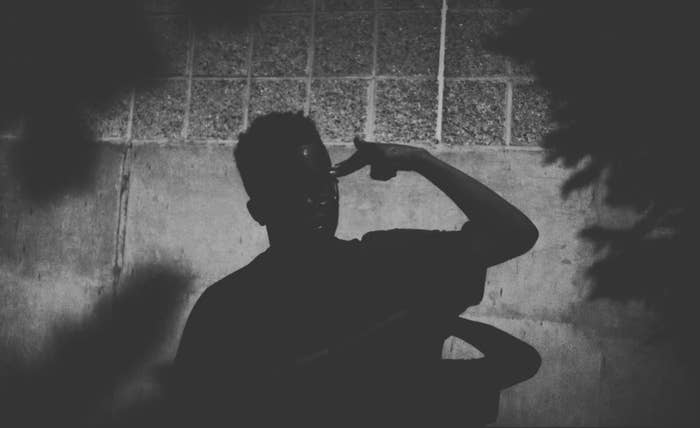 Hykeem Carter is a man of few words, and at this point he's remained mostly a mystery. The artist/producer was able to come out of nowhere and work with TDE, one of the strongest conglomerates in hip-hop today, on both The Black Panther soundtrack and Jay Rock's Redemption album. His first EP Midnight shows his exceptional ear as well as his ability to write, produce, and execute impressive content on his own. He's back with a more focused project titled Hearts & Darts. "Nice, short, and simple," Keem says of his new work. "It's what my ear likes. It has personality that Midnight lacked."
Read our brief interview below, listen to some of the music, and stay tuned as Hykeem Carter's story unfolds.
Can you introduce yourself?

Yo, I'm Baby Keem. Two phone Baby Keem [laughs], the homies just call me Keem though.

How did you first get into music?

I was raised around a talented family—all my older uncles and cousins rapped so being around it so much, it came naturally. I made my first real song at 15, it was called "Come Thru." Thankfully, nobody will be able to find it online, I hope.

Who were some of the artists you looked up to growing up?

Kid Cudi for sure, he's the GOAT but I also admired Kanye West and Lil Wayne's music a lot growing up.  

How did you originally get involved with TDE and what led to you working on the Black Panther soundtrack?

I sent a pack of beats to the TDE email, and it just so happened that I ended up on the soundtrack. God's blessing.

Have you worked with any of them since?

I ended up working on Jay Rock's album Redemption, I produced the songs "Knock It Off" and "Rotation."

How does this project compare to Midnight?

Midnight had no real direction, it was just nine songs in my stash that I liked and put out. I recorded everything in my room. I just wanted people to finally hear the music I had. Hearts & Darts is simply me, Baby Keem. 6 Songs. Nice, short, and simple. It's what my ear likes. It has personality that Midnight lacked. 

Do you plan on ever revealing your identity?

When I feel that the time is right. Could be tomorrow, or 10 years from now. Just depends on how I feel, but yes, one day.

What do you think are some benefits of maintaining mystery?

Well, as of now I can go anywhere I want and do whatever I want in public so it works.

What are your goals right now?

Continue to grow as an artist. That's all I really want right now.

What's next for you in 2018?

I have a project coming out with my favorite producer in the game right now, Cardo.

Where do you see yourself in 5 to 10 years?

I want to be the biggest artist in the world. I want to be happy.