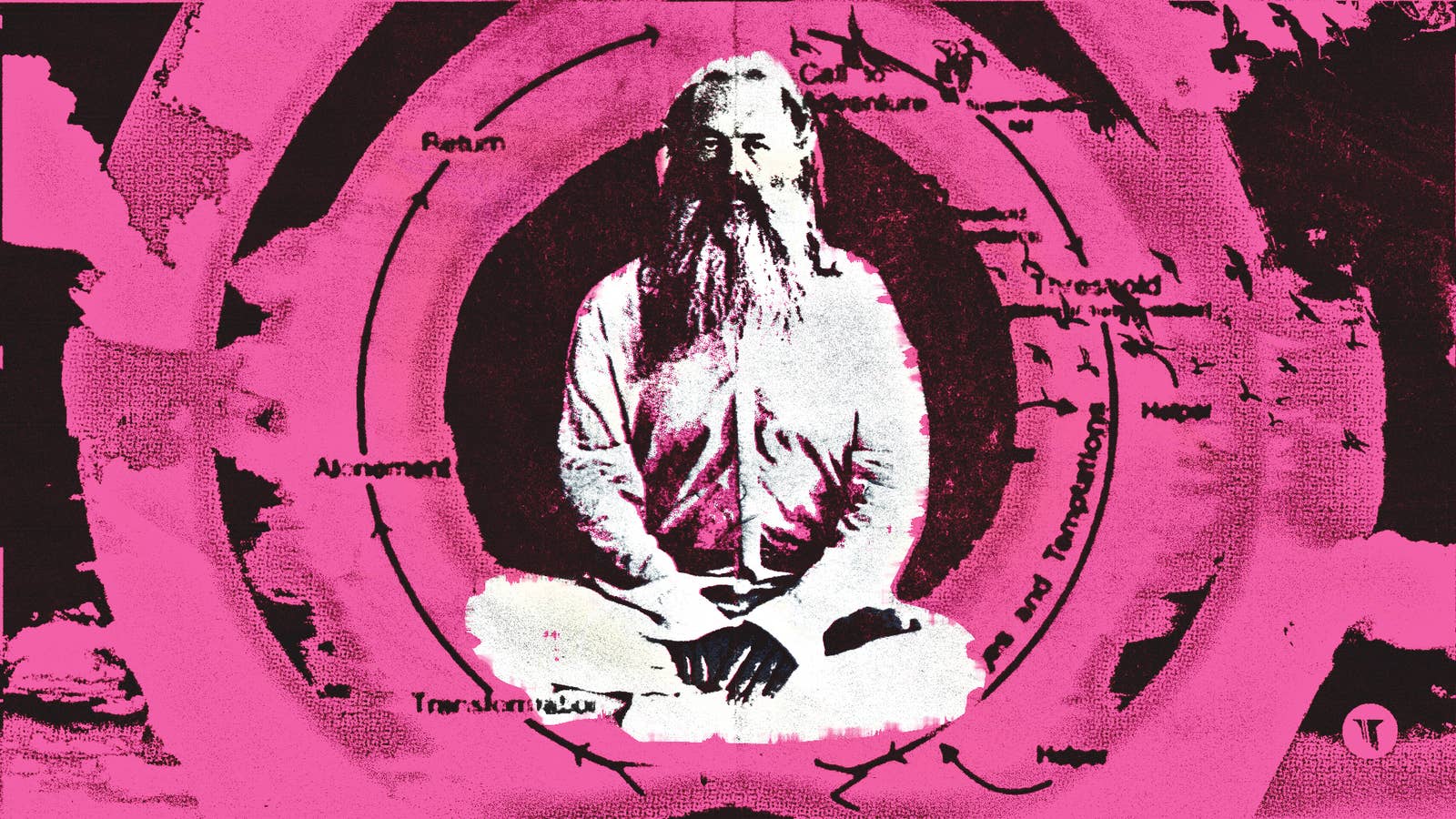 The mystique surrounding Rick Rubin has been palpable for years. With his white, wizard-like beard and aversion to footwear, the lauded music producer looks more like a spiritual guru these days than the raucous character he portrayed in the classic 1985 hip-hop film Krush Groove. As Def Jam Recordings was beginning to take shape, Rubin's vision was already light years ahead of his contemporaries, blending musical genres into one cohesive gumbo on albums such as the Beastie Boys' Licensed To Ill and Run-DMC's Raising Hell. 

Now, Rubin has taken that same philosophy and applied it to his American Songs publishing company. Led by Isaac Heymann and Michael Goldberg (a joint venture partnership with Pulse Music Group), American Songs' colorful roster jumps off the page with artists such as BROCKHAMPTON, Run The Jewels, Kaytranada, Jean Dawson, The Blossom, and The Neptunes' Chad Hugo. 
American Songs has a track record of signing artists before they do any label deals in an effort to help them build independently so when it does come time for a label deal, it's on their own terms. Simply put, American Songs acts almost like an incubator, nurturing each artist until they're ready to fly. Although every artist signed to the imprint varies drastically in sound and style, they share at least one common thread: the iconic Shangri-La recording studio in Malibu, California, a place Rubin has called his own for the past 10 years. 
Located in the hills above Zuma Beach, Shangri-La was originally a ranch property owned by Mexican-American actress Margo in the 1950s before being leased by Bob Dylan and The Band in the '70s, adding to the sprawling estate's rich background. The history pulsing through its walls includes recording sessions with Eric Clapton, Van Morrison, The Rolling Stones' Ronnie Wood, Ringo Starr, and The Who's Pete Townshend, to name a few. 
Since Rubin has acquired Shangri-La, a new crop of talent has made its way through the pristine white walls of the studio, including Kanye West, Adele, Red Hot Chili Peppers, Johnny Cash, Lana Del Rey, and Ed Sheeran. But while the magic of Shangri-La has been omnipresent for decades, Rubin's sheer existence in the space has undeniably taken it up a notch.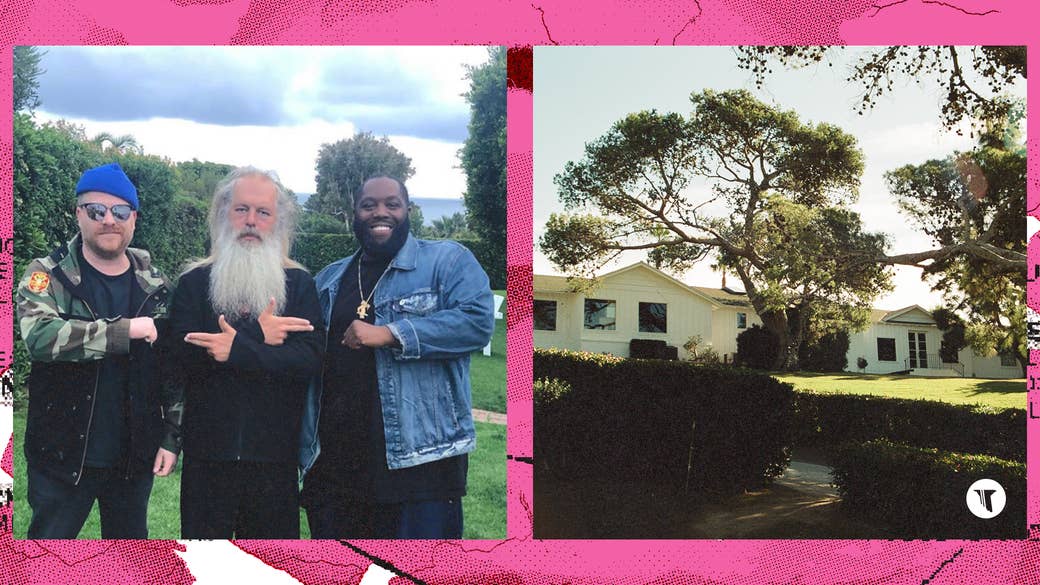 MC/producer El-P, who was American Songs' first signee, finished Run The Jewels' 2020 masterpiece RTJ 4 at Shangri-La where the raspberry avocado almond mulch smoothies flowed for the roughly two months he stayed there. During El-P's time at the compound, he discovered Rubin was like a "floating presence" with an innate gift for active listening. 
"He would come by and listen and it's really rare that you notice someone is really fucking listening," he explains. "He would come by, barefoot, cross his legs, close his eyes and just listen and really take it in and really give feedback. He was really excited about the music we were doing." 
El-P quickly learned getting out of the bustling streets of New York City was imperative for both him and Killer Mike to complete the record—and Shangri-La was the ideal place to do it. 
"Getting a chance to take me and Mike out of our element and put us in Shangri-La was really good for us," he says. "It's neutral ground and it's such a fucking amazing environment to be in. You wake up in the morning and it's like the ocean is inside. There's a warm breeze and some intern pops out of a cubby somewhere that you don't even know where they came from. They hand you a smoothie and you're like, 'Is it cool if I just live here?'" [Laughs]
For both El-P and Killer Mike, Rubin is an icon. Growing up in the '80s, they witnessed the rise of Def Jam and were directly influenced by the groups Rubin and his former partner Russell Simmons were showcasing. It was a major factor in El-P's decision to sign with American Songs in the first place. 
"I guess I'm sentimental," he admits. "I have this feeling that if you're going to be in this business and you're going to connect to people, if you get the chance to connect to people that have inspired you, then it's probably the better risk."
He adds, "I never got any undue pressure or weirdness from them and they're always supporting what I do. It's super important that the people who are working with different artists, musicians, and producers know what they want to do and understand what they want to do, and then go into business with them. That was all part of the puzzle as to why I thought American Songs was a cool situation."
Coupled with access to Shangri-La, it's like he hit the hip-hop jackpot.
"It's rare that you notice someone is really f**king listening. He would come by, barefoot, cross his legs, close his eyes and just listen and really take it in and really give feedback."
"I think Rick has created something really special. From what I've gathered, he's really serious about communicating an energy and creating a space for people," El-P says. "That's all based on his ethos. That's all based on his experience of what makes a good record.
"So everyone there is really focused on making sure everybody is comfortable and there's a creative energy. It's an empty palette you can really just fill with new energy. That's one of the reasons why it worked for us. Me and Mike are both very much children of Atlanta and New York. We both very much love our cities and want to be there all the time for the most part. For us to meet in the middle is important and recapture something that's just brand new for us. You could tell they care about that." 
Shangri-La also has the ability to foster connections that might not have happened otherwise. For example, the hook for one of RTJ4's most explosive tracks, "JU$T" featuring Pharrell Williams and Zack de la Rocha, wouldn't have come about had it not been for a serendipitous Shangri-La moment. 
"That's part of the magic of that place," he says. "You really don't know who you're going to bump into—and that's all because of Rick and his relationships. So Pharrell had come to do Rick's podcast [Broken Record]. When he was done with his interview, they just came into the studio and started listening to what we were doing.
"With Pharrell, there's a mutual fandom there between us, but I had never personally met him. It was really just a hang. That was the vibe. He was super into the music and he just told us, 'Whatever you need, let me know.' At that moment, we didn't have anything, but we put that offer in our back pocket, like, 'OK, we're going to test you on that one, Pharrell.'"
When the time came to do "JU$T," El-P knew who to call. 
"We don't really go out of our way to get features as much as we try to complete songs," he explains. "What we envision and imagine for songs sometimes involves other voices, other people and other ideas. That's been the guiding philosophy. So we called up Pharrell and took him up on his offer and after a little while of chasing him down, he went all in and was really generous."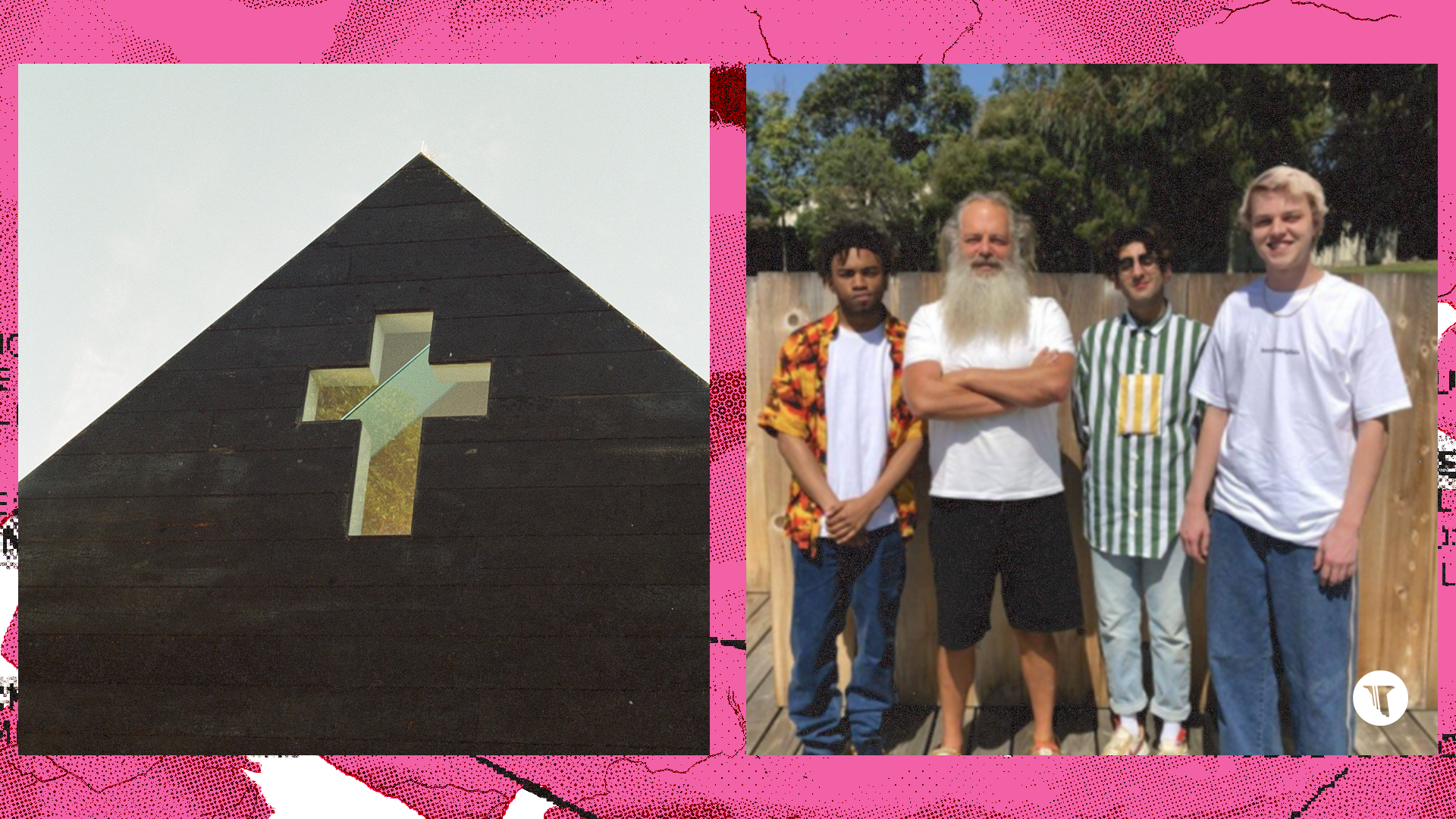 BROCKHAMPTON, the group who is not only signed to American Songs but also formed their own joint venture with the company called Video Store, has created some of their best work at Shangri-La, including 2019's GINGER and April's ROADRUNNER: NEW LIGHT, NEW MACHINE. Much like El-P described, Rubin's mere presence navigated the 13-member collective in certain musical directions. 
"That's my Jedi Master," producer Romil Hemnani says. "The thing with Rick is he has a way of being involved with our music by not really being involved. He's always one of the first people we'll play a work in progress for, and he has a really good way of giving us the bird's-eye view perspective on the song and project. We're so in it and it's our whole lives and because it's a very self-indulgent thing, you forget to step back and get an outside perspective on it, and he's just great at seeing the song as a song and nothing else."
He continues, "It really forces you to get behind your opinion of it. There are some moments where we've played something for Rick and he hasn't liked it, and we've been like, 'No, we feel like this is right.' There is an example of that on some of the earlier SATURATION songs where we're forced to explain to ourselves: 'Why do we like this? Why do we want to put this out?'"
BROCKHAMPTON's de facto leader Kevin Abstract, who calls Rubin a "mentor and a light" in his life, adds, "When we played him ROADRUNNER, he was super blown away by how rap driven and rap focused it was. I think that conversation alone with him and seeing him get that excited about us rapping made us want to do even harder songs. 'DON'T SHOOT UP THE PARTY' and 'THE LIGHT,' all that stuff came after we met with him."
The way Rubin lit up and how he reacted to the album really helped steer the ship. 
"It made us want to pursue that and dive deeper into that side of our music," Hemnani says. "Because BROCKHAMPTON is so unique, we have so many people and so many different sides in the group, we were able to be versatile and varied with our music, but seeing Rick connect with those songs, it made us want to stick in that world little bit longer and see how that felt.
"That's what we mean by how he has a way of being involved with our music without being involved. He didn't really work on the songs. He wasn't in the studio with us, but that conversation with him led to us making those songs."
Hemnani and Abstract are taking other cues from Rubin and American Songs as they build their own label Video Store.
"Seeing them let the artists lead and let the artist be the artists, then knowing when to step in and when to give space was probably the biggest thing I've learned from them," Hemnani says. "If you want to work with an artist, you want to work with them because of something they're bringing to the table. They're doing something unique you're a fan of. Your role is to support and build that, and if sometimes you need to step back and just let them play in the sandbox, you should do that. I think it's about letting the artists be the artists to their full potential."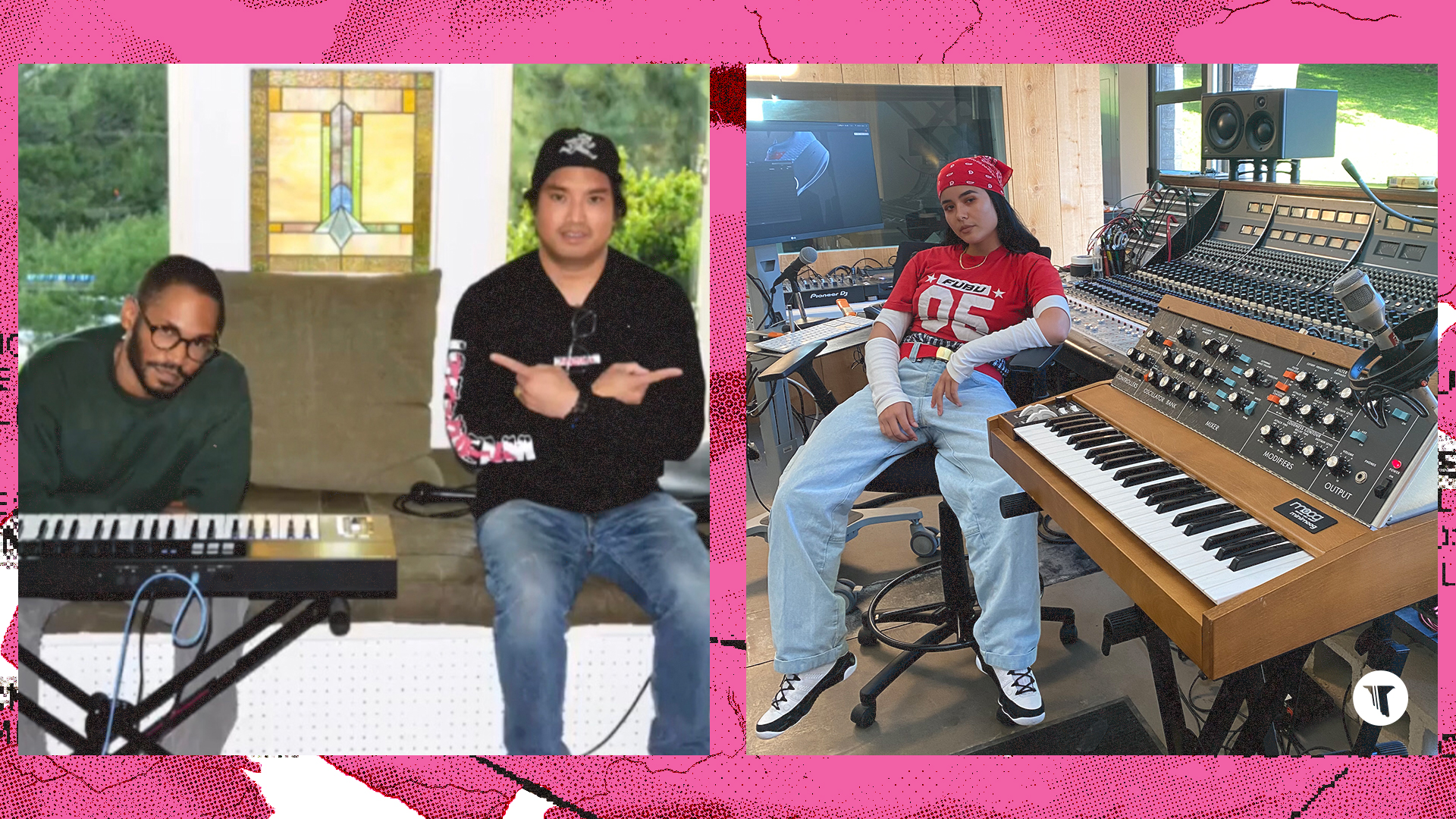 Such is the case with The Blossom (Lily Lizotte), one of Video Store's flagship artists. Working with American Songs, Lizotte has been embraced by its "family-oriented and community-based" environment and allowed to fully flourish. 
"When I started working with them, it was a natural progression," Lizotte says. "And what really stuck with me is how hands-on and how involved they are with connecting artists and songwriters together. They really connect to these people through community. They really understand my influences and sonic language as far as how heavily influenced by rap I am, but also equally influenced by grunge and shoegaze." 
While recording the 97 BLOSSOM EP at Shangri-La, Lizotte found themselves completely detached from the world, which gave them an opportunity to tap into the rawest of emotions. 
"There's something about that place that really transposes you into the present," Lizotte remembers. "You can be completely focused, not only just introspectively on what you're making and yourself but focused on what's around you. It felt like a weight was lifted by that."
Shangri-La is composed of two main recording studios, living quarters, and a separate space called The Chapel where American Songs' Live From The Chapel performance series is filmed, serving as the venue for the recent first episode with BROCKHAMPTON, which found them performing ROADRUNNER live in its entirety for the first time. Lizotte says they can feel a "shift" in energy between the two spaces. 
"When I'm recording and writing there, I feel really safe but also inspired and excited," Lizotte says. "It's not like a dream state where you just feel peaceful and dreaming. It has the sense of possibility and that's what excites me. I think different spaces like The Chapel have a completely different energy to the main house and to the main recording studio. Shangri-La is an energetic space that really holds itself and holds you while you're there. There are no distractions."
Even though The Blossom is just 23 years old and didn't experience Rubin's Def Jam era in real time, they are still profoundly impacted by everything he has created. 
"A lot of things I've even been influenced by my whole life have really come from his approach to how he works on projects," they say. "He has touched rock records and really influential rap records and that's exactly what a lot of artists, myself included, are really inspired by—the sounds we're welding together. He was on the genreless tip before that was even a coined word."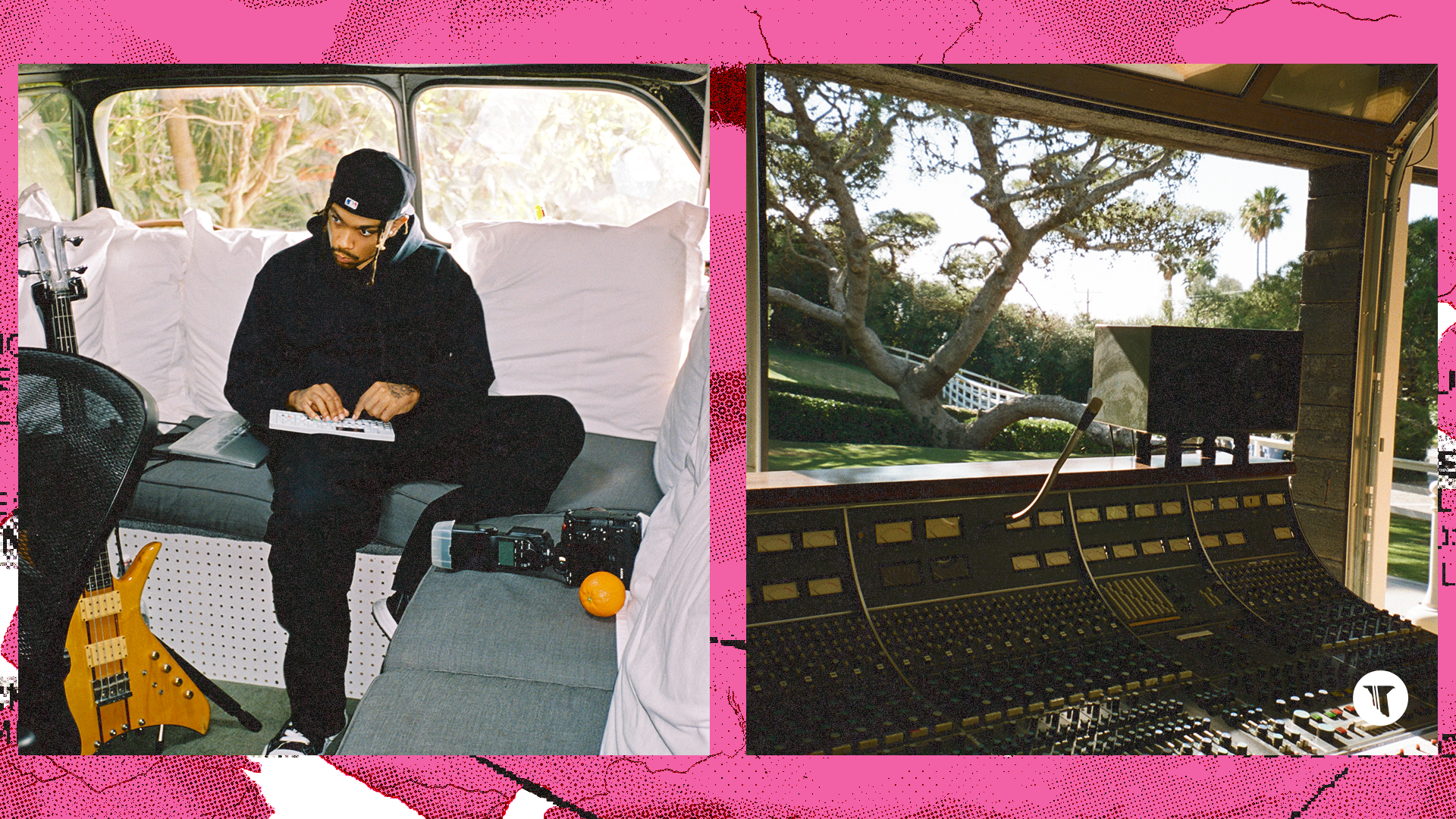 American Songs artist Jean Dawson "never gets nervous with humans," even when it comes to meeting someone like Rick Rubin. But his first time at Shangri-La turned him into a staunch believer. 
"I expect humans to be human," he says with an air of confidence. "I'm not with the whole mystical stuff. I'm religious to a certain extent and spiritual to a certain extent, but people were telling me he's a very magical human being. I've met a few magical human beings—my grandmother's one and my mother is one—but Rick definitely appeared in the room and didn't make a sound. 
"So he essentially teleported into the room where we met. And I was like, 'This is weird.' I started to believe immediately because I was like, 'Whoa, how the fuck did he get in here? He's not real.' It's actually very crazy because I'm a super skeptic of most things. And then as soon as that happened, that was all out the window." 
In the 2019 SHOWTIME documentary Shangri-La, a four-part series that dove into Rubin and his life at Shangri-La, there are a few scenes that depict a young Rubin but with the same beard he has as an adult. Despite Rubin's "very, very high intensity aura," Dawson felt calm around him and understands why directors Morgan Neville and Jeff Malmberg chose to portray Rubin that way in the film. 
"It's kind of similar to when you hold a baby," he says. "I'm not comparing him to a baby, but I've said that even before his show came out, he's a baby with a beard. Whoever came up with that description for the documentary was spot on. There's a certain amount of innocence in his eyes that I didn't necessarily understand because in the world I come from, nothing is innocent and everything is fucked up a little bit. But there was a certain sense of purity, almost like water or something."
Like El-P, Dawson also picked up on Rubin's listening prowess, calling it one of his "superpowers." And similarly to BROCKHAMPTON, he's convinced Rubin has "mastered being invisible."  
"The little things he says carry so much weight and I think that's the power behind it because I think he gives you questions to ask yourself even, maybe something you haven't thought of," he says. "It's psychological for sure."
Sometimes, all Dawson would need is Rubin's "legendary head nod" to guide him down the right path but even when he wasn't on course, Rubin would somehow nudge him to take another route. "There's a certain skill with somebody telling you to go back to the drawing board without offending you," he adds. "Especially when artists are so sensitive."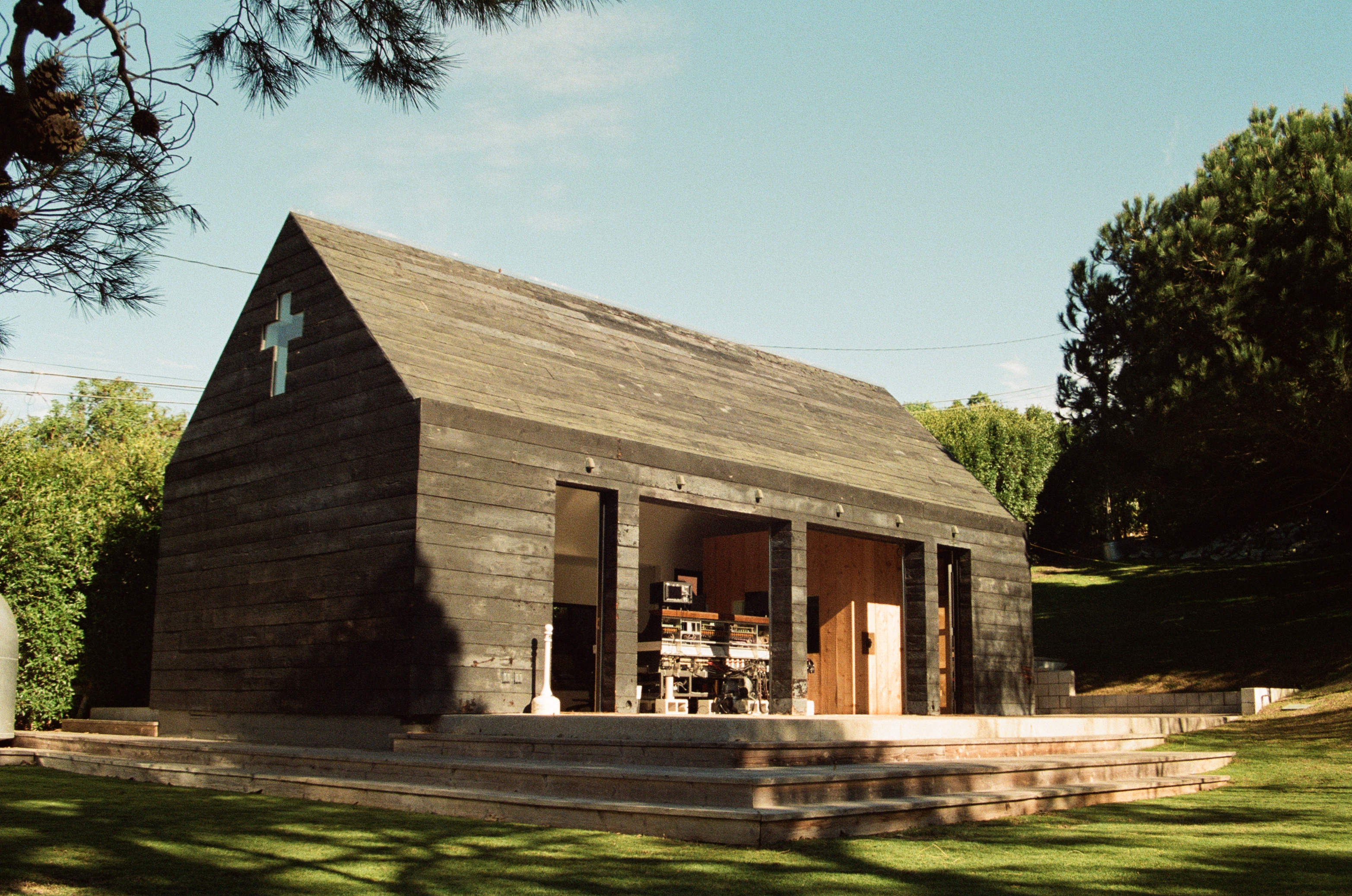 Each artist under the American Songs umbrella who spoke about Shangri-La describes a sense of freedom when creating music there and praises American Songs for pulling the best out of them. 
"Being around someone like Rick and the environment Rick has created along with his team, it's like you have a fast pass to Disneyland," Dawson says. "Going to Shangri-La and making music is a very streamlined experience, where the problems you have most of the time making music don't exist there. I don't necessarily get writer's block, but sometimes I'll start to simplify and simplify, and I think that's Rick's influence because you're in an environment that's so simplified to the bare necessities that you start to implement that in your music without necessarily trying."
As depicted in the Shangri-La documentary, there's intentionally no art on the walls and everything's painted a specific shade of white, providing a completely blank slate for an artist to color with their sonic landscapes. "It feels like sacred ground," Dawson says. "It feels like you're very much so walking on something that's been built in order to bring the best out of something." 
Shangri-La could've been reduced to rubble in 2018 when the Woolsey Fire decimated the Malibu hillside. Although Rubin lost two nearby homes in the blaze, "Satan was not allowed to touch the temple," as El-P put it. The fact it survived reinforces its undeniable magic. 
When asked about the attention American Songs is starting to attract six years after inception, Heymann says, "We have learned that success follows service and gratitude." And it's abundantly clear everyone involved with American Songs appreciates their position to work alongside Rubin and create their own brand of brilliance at Shangri-La. And while nobody but Rubin can pinpoint when exactly he made his spiritual transformation, El-P is convinced it was all part of the universe's plan. 
"I didn't meet him in the era that we all knew him from originally, where he was just a wise ass Long Island dude, but now he's basically an apostle," he says. "As far as I can tell, he's one of the most down-to-earth motherfuckers on the planet. It seems to me like it was an evolution. Sometimes motherfuckers just got to get their lives and their perspectives radically changed. All I know is that motherfucker has definitely levitated."