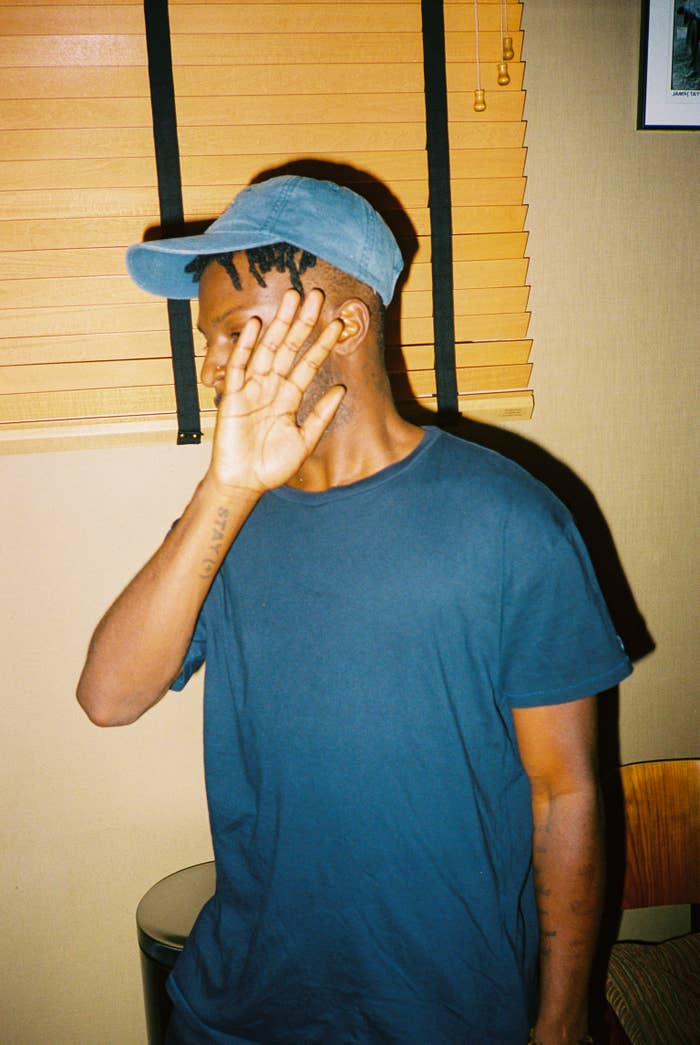 "Your destination is on the right," Siri tells me as I come to a dead-end in Santa Monica. Railroad tracks and a couple of dumpsters flank an unremarkable stucco building. It's getting dark outside, and I'm nervously unsure of my whereabouts until TDE's Matt Miller cracks the front door open and leads me into a dark entryway then through a number of hallways. The walls are strewn with album plaques and instruments. We pass through a large studio space packed with recording equipment and soundboards, and finally arrive in a small, smoky backroom. Isaiah Rashad is sitting on a worn-in couch, laid back in untied high-top Vans and a baseball cap, ashing a joint on a side table.
For some reason, there's a common conception in the hip-hop community that Rashad has been missing. His last project, Cilvia Demo, dropped two years ago, and in our fast-paced culture, that's enough to be considered a disappearance. When Isaiah began releasing music again, his struggle with alcohol and Xanax tended to become the focus of media coverage surrounding The Sun's Tirade, his album that dropped last Friday. And while we would never water down the seriousness of a drug addiction, it would be a shame to sensationalize an artist's struggles rather than celebrate the art that comes out of it.
The Sun's Tirade explores the human experience with unflinching honesty. Through its 17 tracks, you can hear the experiences, good and bad, in Isaiah's voice—two children before the age of 25, a tumultuous relationship with drugs, and the recognition that came from signing with TDE. His raspy vocals lean back on rich production from Mike WiLL Made-It and Cam O'Bi, nudging us through the metaphorically long, hot day to which the album's title refers.
Just a few days post-album release, Isaiah has already filmed a video for "Park," and now, sleep-deprived, he's back to work in this studio. 
Are you touring soon?
I think I'm planning something, but since this album was kind of a surprise for everyone, nobody really knew how it was going to go. They had faith. I mean, I've been gone for two years.
Were you afraid you'd lose your relevance over that time?
Nah, once you put something on the Internet it's there forever. Not much has changed since [Cilvia Demo]. It seems to be the same pace in terms of consumption of music. If people like it, they'll play it until they don't want to hear it no more. As long as it's cool, people will listen to it. 
Did you learn anything about yourself over that time?
I'm impatient as fuck. I think I learned how to trust my gut and not waste time on my day-to-day. I be bored if I don't set up a real schedule for myself. The lack of structure provides anxiety.
Are you as open in your daily life as you are in your music?
I say more in my music than I tell people on my day-to-day because I need an unbiased opinion. So to me, it's like talking to a wall. When I tweet, it's like talking to a wall. For [the Juan Epstein interview], Peter Rosenberg felt like the best wall I could talk to. 
What got you out of bed when you made Cilvia Demo? And how about for The Sun's Tirade?
During Cilvia, I didn't have a bed, so that's what got me up. But really, I was thinking of my kid. I had a son and was really trying to provide for him, and I had to kind of exit real life. My goal was to move out of common expectation. And for The Sun's Tirade, I had another kid, so I had to move further out of reality again. That's what I really think about. It's selfish to be trying to figure yourself out when you need to be thinking about your kids. 
When you make music, who are you thinking about?
Nobody. I just say what I feel in that moment that's honest. Then when I listen back to it, I realize what I'm talking about afterwards.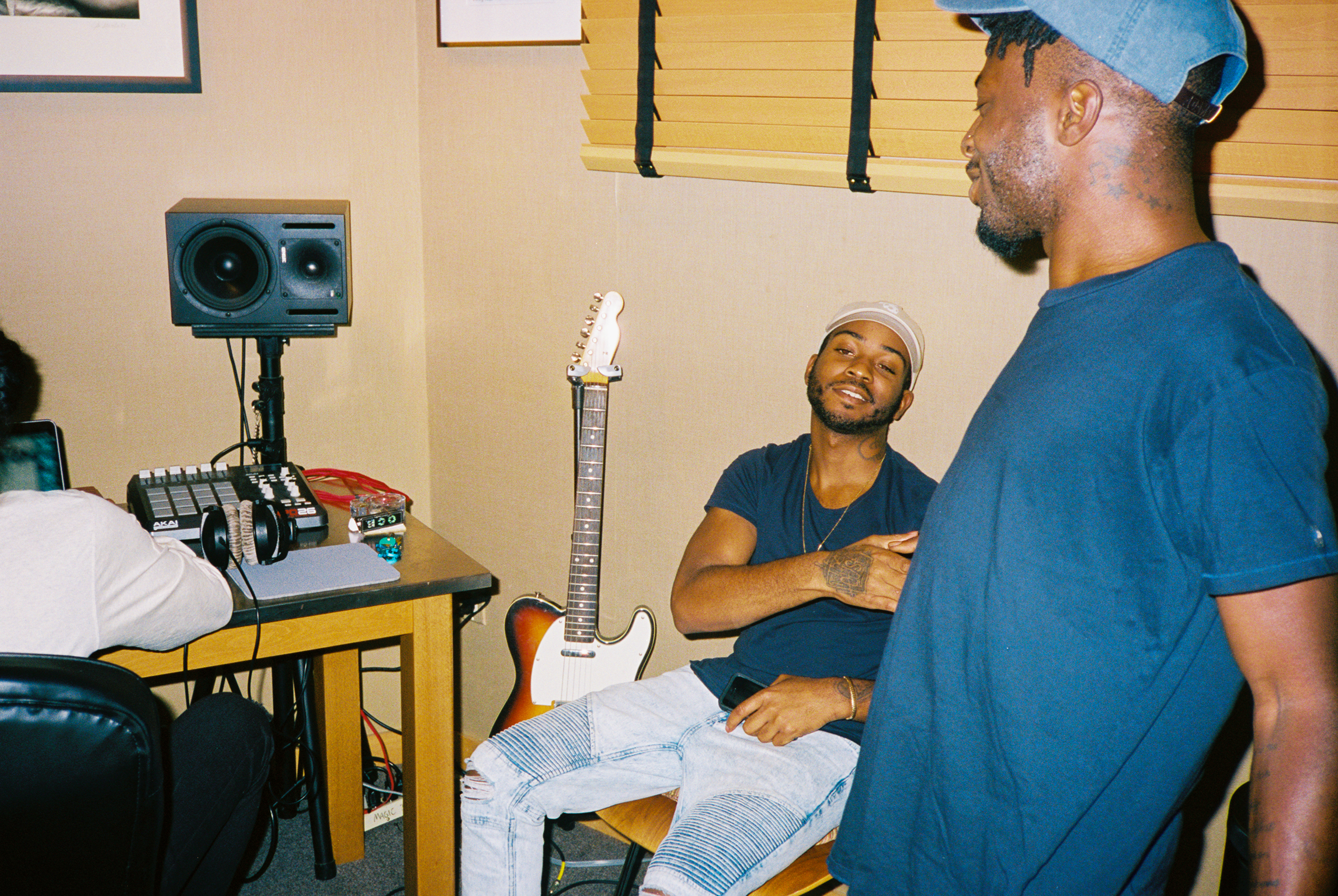 You use a lot of rhetorical devices—alliterations and things like that. How do you pick what words you use in your lyrics?
My lyrics are like a beautiful accident all the time. When something sounds cool, it's like a wonderful coincidence. But really, I don't think about this shit that much. You know what I've noticed? You guys [journalists] are way more thoughtful than I am.
That's not necessarily true. We just use words in different ways, even though we're both writers. You seem to pull words from emotion, but journalists usually write about things or conversations that have already happened.
I write things that allude to other things, which leaves everything kind of ambiguous. But it usually comes from the same kind of social situations. If we have a nice conversation, thoughts spark, and I'll write about something that came from it. But unless you were there, it doesn't matter. It's just taking all those moments and applying them at one time so that it hits someone, somewhere. 
Do you feel limited, though, because of song structure?
Nah, it just has to have rhythm. It's different when you already think like that. I've trained myself to think [in lyrics] on my day-to-day. I know how to say what I mean so that you'll get it. But sometimes I can't fill 16 bars with what I want to say. Sometimes it only takes eight or 12. That's the emotion—in the first part. The first part is where the emotion is.
Is there a specific song you're talking about?
All of them.
Was there a larger message or mantra you had in mind when making The Sun's Tirade?
I wanted to make something for when I was having a shitty day—something to play to make me feel good. There are good ups and downs. I want to sit in the shower and smoke a blunt, and turn this shit on. I just want to lay back and be like, "Damn, this is tight as fuck." 
Photos by Brian Kinnes for P&P.
Isaiah Rashad's new album The Sun's Tirade is out now. Buy here and listen below.