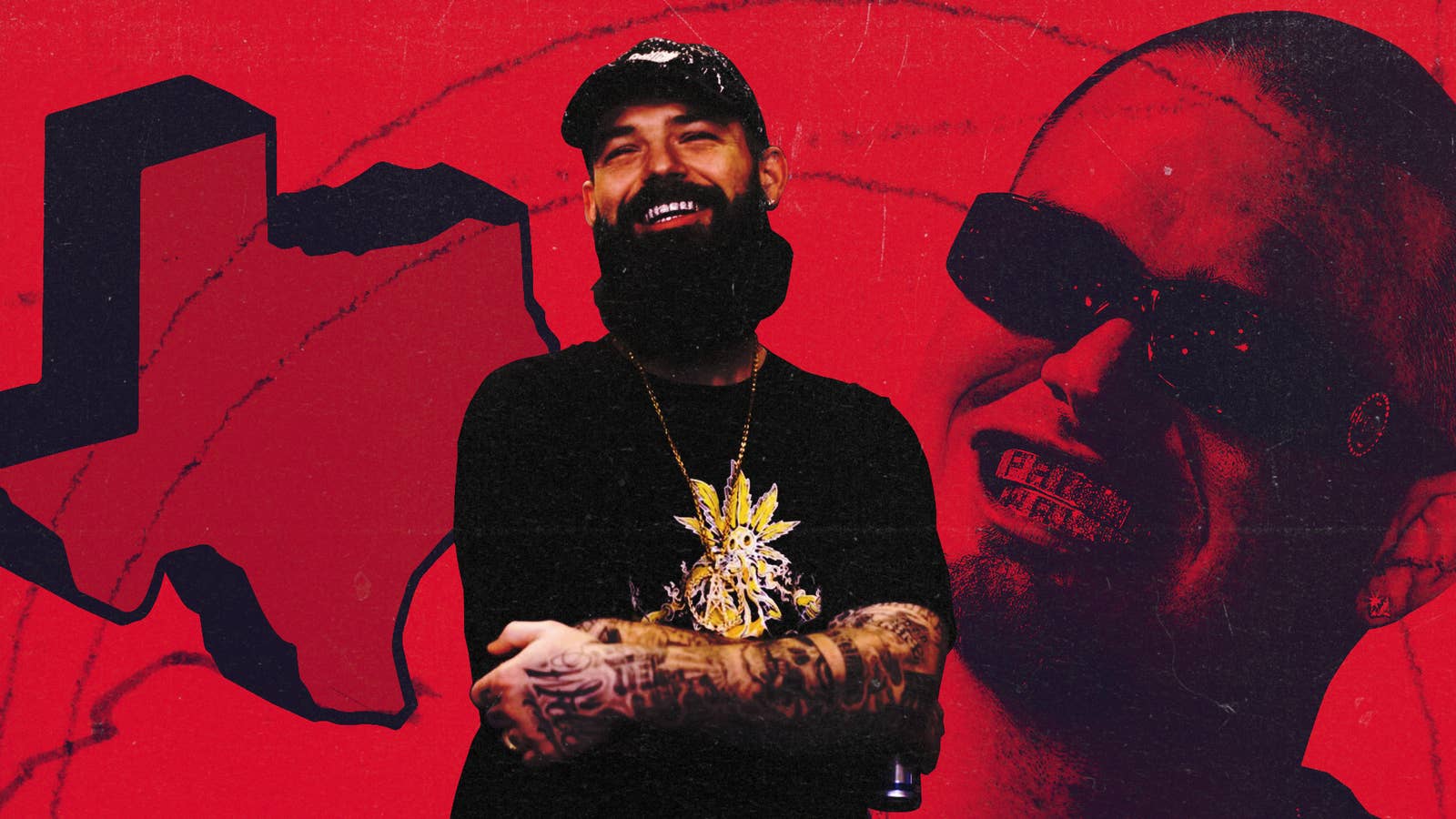 If there is a moment in time that could crystalize when the world was free and no one could predict the future, it's the "Still Tippin" video shoot. There, rapper Paul Wall stood out mightily next to the lanky and lean Slim Thug and du-ragged Mike Jones. He wore a Rockets jersey, held up a replica of the WWE Intercontinental title belt and his first lines to America were as Southern and comfortable as can be: "What it do, it's Paul Wall—I'm the people's champ."
That look, that belt, and that song helped establish Paul Wall to a national audience. In fact, 2005 could be summed up as the year of the People's Champ. With one flash of his platinum grill, he created a generation who specifically wanted jewelry from him. He stole the show on Kanye West's Late Registration with "Drive Slow" and by the September release of his debut album The People's Champ, Paul had done something no other Houston rapper except Scarface had done—he achieved a No. 1 album on the Billboard 200 chart.
Paul's initial turn at stardom had not come without its rocky moments. He started in the late '90s as part of the Swishahouse, a rag-tag collective of Northside Houston rappers initially believed to be the antithesis to the Screwed Up Click. Both units dabbled in chopped and screwed music, with Swishahouse co-founders Michael "5000" Watts and OG Ron C morphing into the next logical point of the sound after DJ Screw passed in November 2000. Watts and Ron C would later split, with the former becoming one of the South's premiere DJs and the latter starting The Chopstars. 
Paul Wall found fame with his rhyming partner, Chamillionaire. The two eventually signed a local label deal with Paid In Full Entertainment, releasing one official album in 2003: Get Ya Mind Correct. Then Cham and Paul split, eventually leading Paul to a resurrection in 2005—and cementing his place as one of hip-hop's most beloved characters.
But unlike others whose stars waned after a moment of perceived glory, Paul continued on. He released more albums and witty one-liners about Houston car culture and lifestyle, worked with many and befriended even more. He gained ink, gained and lost a considerable amount of weight, and reclaimed his life. When he worked on his new album Subculture (listen here), a project pieced together through various studio sessions before and after a global shutdown due to the COVID-19 pandemic, he tied himself to the process of collaboration even further. 
We spoke for nearly two hours last month, covering major labels versus independence, faith, his old friend Kanye, and his status as an OG in Houston hip-hop. Paul Wall still has lessons to share.
How many times during this quarantine have you had to wonder, "Is today really what day it is?"
Often. Often. Even with the Subculture album, we did it right before quarantine 'cause I remember when I was flying home, they were discussing shutting down this and that. Listening back to Subculture, we started it at Red Bull Studios before COVID hit but listening I mentioned COVID and the pandemic and I paused like, "Oh shit." It's been a blur. The NBA shut down on my birthday, and I treat my birthday like the chronological marker for the year and that's when we said, "Oh this for real."
Taking it back to 2005, what was the reaction when you went No. 1 with The People's Champ?
They told us when we hit number one. They told everybody, Atlantic, everybody. Oh, you're the first Houston rapper. So we're gonna go number one. And we were like, "Damn for real?" And we never really fact check. We just went off for what everybody told us. I was thinking about it as the anniversary was coming up so I double-checked, and no, it was Scarface [who was the first Houston rapper to go No. 1]. 
It was a big deal, but to us, we'd think like UGK Ridin' Dirty went No. 1 before me or one of our legends. But it's all comparative to what was out at the time. We didn't market it out then like we do now with the different Twitter and Instagram accounts who bring those stats up.
Your 2005 was absolutely crazy.
Man, a good 90 percent of my show set is all shit that came out that year. When I do new stuff, it's tough for me as an artist performing because people got me stuck in time with it. People associate me with the era. You're limited in some aspects. Like, a lot of my verses or things I might have said in verses became symbols like, "I got the internet going nuts," or, "What it dew." 
I'm just humbled and honored to contribute. Some people will come up to me and say, somebody stole this from you flow wise. I'll say I gave it. Who am I to be a gatekeeper? Anything I did, I'm giving it to the world. It's great to have an album like that get love 10-15 years down the line. But to go No. 1, it's been Scarface, then me, then Travis Scott, in terms of solo albums.
When people talk Paul Wall, they think Northside Houston Texas. You never thought of yourself as a White rapper and if people just picked up a Swishahouse CD, they didn't know if you were white or not.
It never crossed my mind that I was the white guy rapping. I was best friends with Chamillionaire and whatever he did, I did. If he rapped, I rapped. It was something we did for fun at the track meets or basketball games. Or get in these freestyle cyphers with other schools. Me and Cham rapping together. I did promotions for a lot of people, Def Jam, anybody who I was a fan of, I wanted to work with them. I was a big fan of Cash Money so I hit up Lump who was with them and said, "What can I do to help?" Def Jam with Mean Green and 54, same thing. I wanted to support the team anyway, even before I got with Swishahouse.
OG Ron C [who founded Swishahouse with Michael "5000" Watts], his first cousin gave me the name Paul Wall. I went to church with Ron C's family. His mom was a choir director, his stepdad was an elder at the church, his younger sister I had to babysit and look after at the church. His grandma and his mama was always telling him, "Take care of Paul Wall—don't let him make mistakes." Cause if I mess up, he gon' get it.
Really?
Yeah, he would steer me right. He taught me how to DJ when I'm trying to learn how to DJ. I got my first pair of turntables from Ron C's close homeboys. A pair of 1210s. I had them set up at Ron's house and he'd be in there learning tricks, watching different DJs and learning scratching techniques. I was his apprentice so I stayed there all day. Being a DJ was my career focus. That was my career goal. Being an artist was inconceivable because there were no artists from my area that were professional or that made it big.
Growing up, I always had a happy spirit because I was happy to be outside of my reality. So anytime I would meet people, I was happy to get any type of love or have a friend, and that's how I got the People's Champ mentality and moniker
And you've never made it a focus to be singled out as a white rapper?
I mean, of course I knew I was white but I never thought of it like this is something I shouldn't be doing. Because even though white rappers were out, I wasn't following them. I followed the footsteps of Scarface, Willie D, Bushwick Bill, Big Pokey, Lil Keke, Fat Pat, Big Moe, and Slim Thug. Those are the people who I was following behind, not the white rappers who came before me. No disrespect intended, I just didn't follow that lane, I followed this one. 
I idolized Fat Pat and Lil Keke. And the way J. Prince taught it was, if you're in Houston, you better go get it. Although the Geto Boys and Rap-A-Lot weren't in my neighborhood, they were the icons of Houston. There were the artists who came from Rap-A-Lot and the Screwed Up Click. Gowing up in Texas, we teach Texas history with a huge sense of pride, and that's how I felt. Anybody who came from Texas was better than anyone else: sports, food, rapping, period. It was a sense of love and aspiration for people from my area.
It's weird, cause I grew up bullied, picked on. My biological dad was a drug addict. He abused me, left me when I was 5 or 6 years old. Growing up, I always had a happy spirit because I was happy to be outside of my reality. So anytime I would meet people, I was happy to get any type of love or have a friend, and that's how I got the People's Champ mentality and moniker. Looking back, it's always difficult to gauge your own life. I was raised by my mom to be humble and show respect and be grateful. But anything I try to appreciate on my own, I gotta check myself. I don't allow myself to get a big head about this.
Have you ever seen one of those Top 100 White Rappers lists?
Oh my God, me and (my manager) Gu always laugh about this. They'll put the list out and I'm not even on it! I'm like damn, not even top 100? Shit! But honestly, don't put me on that list. Put me on the Top 100 rappers from Houston list, put me on that one. It's not up to me to tell someone else how to judge me, but other white rappers hit me and say they looked up to me. I never set out to be a role model for white people. I set out to be a role model, period. I'm not here to pick and choose who can and can't look up to me.
How did you land at the Swishahouse?
Through high school I had a whole different rap name. Ron C's cousin B Sykes gave me the nickname Paul Wall and I hated that name. We'd be at the parties, I was 15. Michael Watts would be DJing and Ron C would get on the mic and say, "B Sykes in the house, Paul Wall in the house." I said, "Man, don't say that! Nobody knows that's my name!" It was a true nickname 'cause it was one of those names you tried to shake. Same with Chamillion, then he took on the name Chamillionaire. 
There was no blueprint. The only successful blueprint we had was J. Prince. Now J. Prince wasn't a rapper but he taught us how to monetize rapping and Michael Watts taught us how to turn your hobby into a hustle. J. Prince showed us with his actions and through his voice what to do. You can be a successful label in Houston bringing artists out and putting them on. And we took that same blueprint and ran with it.
Screw Tapes, you had to get 'em from Screw. At least the authentic ones. Swishahouse flipped the model up.
It's not that one was incorrect and the other was correct. They were both successful and of two different eras. The Screw tapes originally were only on tape and the Swishahouse CDs were on CD and they came as there was a transition from tape player, no CD in your car to CD and tape player to CD and no tape player in your car. It's like now—if you release your music on CD only? A 2020 car doesn't have a CD player in it. They got a Bluetooth or USB. 
The drawback to a CD was they were shorter. A tape had 90 minutes on each side so there was more length. Plus, if you couldn't go Screw's house to get a tape, you had to buy it from him and then resell 'em at your store. It wasn't like a distribution set up. What it did was make the Screw shop that iconic place where if you wanna hear Screw tapes and you're from out of town, you go to the Screw shop.
There is no centralized location for the Swishahouse. You got a Swishahouse CD wherever you could buy music. How I met T. Farris, who became my manager and is Megan Thee Stallion's manager, I met him when I was doing promotions for Swishahouse. 
How far do you and T. Farris go back?
I was 17, working overnight at the Swishahouse and doing the distribution. So I'm making the drive from Houston to Dallas or San Antonio or Lake Charles. He's making the drive from Houston to Odessa or Austin or the Valley. That's how I met the store owners 'cause we worked for Watts and G Dash and this was before I was rapping with Swishahouse. I was just affiliated or an employee. I'd see George Lopez at the Booth Bazaar or T Town in Dallas or Juan Gonzales at Urban Music in San Antonio. 
I wasn't driving three hours and driving back, I drove three hours and posted up. I saw fans go crazy when they heard the new Slim Thug verse. I wasn't rapping on no Swishahouse tapes then, I was just passing out CDs but the people would treat me like a celebrity just because I was repping Swishahouse. But those small pockets of people from those small towns, they knew me. So when I rapped my first verse for Swishahouse, they were like, "That's our boy!" But with Swishahouse, my first two verses were "Bling Bling" and "Cash Money Is An Army." They never came out because the computer crashed.
I try to teach this to artists. If you're not getting that loving in your city, hit the road. Find another avenue. Everybody only wants to come in the front door. I ain't come through the front door. I came in the side door. And I had to duck to get in that. But the goal for me is to get in the house!
Did Houston take a liking to you?
The Houston side was very difficult because Houston was a screwed up city. So, if you come down as Swishahouse, even on the north side it was like, "Oh, y'all some some fake Screw." That's how a lot of the treatment was. When Slim Thug became the face and the sound of the Swishahouse, it was like he was the one exception where he will get love with everybody, but me and Chamillion got no love. It wasn't until we got love in Dallas and these other areas. We would go to these places and promote ourselves and build our fan base. One, because we had that avenue open to us and two, we definitely didn't have nowhere in Houston to go to get love. If we wanted to make it, this is what we had to do. 
This is a lesson I've had to teach all artists. So many of us want that hometown glory, that hometown love and we feel like our city be hating and wonder, "Why can't we be like city X, Y, Z." But you go to city X, Y, Z. They say, "Hey, I wish we could get together like y'all get together in your city." When I go to Florida, Atlanta, New York, LA, any city, they tell us, "We wish we could stick together like y'all doing Houston." And we'd be like, "Huh? Everybody in Houston hate each other sometimes, it seem like!" But that's us being competitive. I try to teach this to artists. If you're not getting that loving in your city, hit the road. Hit the road, Jack. That don't mean quit. That means find another avenue. Everybody only wants to come in the front door. I ain't come through the front door. I came into the side door. And I had to duck to get in that. But the goal for me is to get in the house!
But you don't have to be in people's faces like that anymore, especially in the digital age. Can you be a local legend like that in this era?
I don't think there's one restricted path, you know? Travis Scott, you can see him on stage, right? You may not bump into him somewhere but shit, nobody can say he ain't a legend. Don Toliver's growing into one too, they're growing into their own path. Hell, Sauce Walka is in everybody's face! You may catch him at the gas station and anytime you see him, he's the same person. Gas station? He's wearing all his chains, drippin', he might have a few broads with him and you gon' say, "Oh he doin' it." He really got a hell of a movement.
My boy Lew Hawk, rest in peace, said, "Paul Wall, you always leave people happy when they meet you. Other artists, when they meet them, they leave saying, 'He a ho!'" That's why I take pride in being appreciative of who says what's up to me. I always want to leave you positive about the experience.
Do you think the sound switched up with those guys emerging?
Not really, 'cause even though my favorite sound is the Screwed Up sound, it was very difficult to make it outside of that. When the Sauce Factory came in with their own style, their own lane, it was still very much so Houston. Same for Travis. But, it was them doing their own thing saying, "Hey, we want to be different. We're purposely being different because we want to set our own mark."
To see the turnover, where they're creating new icons like Travis is doing with Don Toliver, Sauce doing it with Big Tony from the Northside, JRag… they got a hell of a movement. You see other people like Tobe Nwigwe, you might catch him but he's definitely Houston all the way. So many people showed us different paths. Megan Thee Stallion showed us that, Tobe showed us that. Maxo Kream showed us that. Normani showed us that. You gotta do what works for you.
You and Tobe worked together on "Juice" where you brought back the classic Swishahouse flow. Is there any feature that scared you, going back?
It's a weird dynamic with other artists 'cause other artists don't want you telling them what to do. By all means I want to get it right. So I don't want to come one way and you want me to come another way, nah... let me know. Because I ain't got no qualms about writing my verse over. My verse for Jill Scott ["So Gone"]? I wrote that verse 20 times over till we got it right! Shit, I would have rewrote it 200 times in my head!
That's my mama's favorite artist, my wife's favorite artist, my auntie's favorite artist. And they might not be freaky but if they are, they ain't openly freaky. When I wrote my first verse, I was being super prude in my verse. I'm thinking my mom gon' hear this and Jill was like, "Nah, we fuckin' on this song. What you doin'?" I want you to say, "That's what a diamond chip dick do." She had to hype me up. Some of my best verses came from being hyped up.
Like "Still Tippin'"?
That was T. Farris! I just signed with the Swishahouse, I'm a solo artist, me and Chamillion had gone our separate ways. In fact, at the time, no label wanted to fuck with me. Nobody. I was seen as a has-been, one-hit wonder with Chamillionaire and that was it. Farris told me, "I fuck with you, I don't think your best days are behind you. They're in front of you. I believe in you, bro." The Swishahouse door was always open, but that was the only door I had open. They gave me a beat CD with eight tracks on it and said, "Do whatever you want."
"Still Tippin" was the last song on the CD. That beat had the violin going over and I was like, "What, am I supposed to rap Mozart over this?" But I just did what I had to do, 'cause Farris told me, "Freestyle on it like you normally would." Same happened with "Sittin' Sidewayz".
What about "Drive Slow" with Kanye?
It's crazy, most of the songs in my setlist got a story. I got a crazy experience with "Drive Slow." The verse I wrote for "Drive Slow" was actually for "Sittin' Sidewayz." Originally on "Sittin' Sidewayz" it was me, Big Pokey and Lil Keke. Atlantic was like, Pokey is independent and unsigned, Keke is independent and unsigned, we're not putting two independent artists on the record. And that was my first record with Lil Keke, he's the reason for me even rapping! I'm like, "Do y'all even know who he is? The style I rap with? That's all him! He created this!" They said, "We're not doing another label's job." So they allowed Pokey to stay, even though it's Pokey's hook from his "June 27th" flow. That's my reverence for Big Pokey, Lil Keke and the Screwed Up Click.
I wrote that verse in my car. I didn't smoke back then and I have a really overactive mind. Smoking helps me concentrate. Back then? The music would distract me, the beat would distract me, the wallpaper in the studio would distract me. So I'd write in my car. I laid the verse for "Sittin' Sidewayz," then they said I had to take one of the people off.
T. Farris came in and said, 'That verse you wrote is hard as fuck, but it's too fast for this beat. So write two new verses and flow on the beat a little more." I was so offended, 'cause I was feeling myself. It's been like that my whole career, since "N Luv Wit My Money." I wasn't expecting that song to live for damn near 20 years but it did. I have my preferential tastes but it doesn't mean my taste is the most marketable or capture the moment the most because if it were up to me, every song I do would have Pokey or Z-Ro or Slim or Rich The Factor or somebody like that.
Farris had to steer it then?
Yeah, he said, "Whatever you wanna do, I'ma ride with it." And I had to ask myself, "You don't even wanna try? This might open up a door for you, you can't let coach down." I wrote two new verses and kept them. I didn't know if I was going to keep those verses and wait for somebody like Kanye or stash them for my next single or what. In fact, I still have the actual paper I wrote the verse on. Plain Pat, he was Kanye's A&R and he tried to sign me to Def Jam! I for sure would have signed with Def Jam, but L.A. Reid didn't want me. Pat wanted me. L.A. wanted Chamillionaire but they would end up not getting either of us.
Damn.
Plain Pat always kept it real with us. Hell, even meeting Kanye was crazy. We met at a KING Magazine photoshoot in 2005. They were highlighting 20 coming Kings—me for grillz, Kanye for beats, Common was there for acting. It was like a private industry mixer, but it was also uptight and industry. Kanye comes in, and you know he was still Kanye. In fact, I was a fan of his lyrics more than his production at the time because at the time his production was higher in treble than bass. I preferred that bass, so at the time, I preferred his lyrics.
He busts out, 'This supposed to be hip-hop! Ain't nobody rappin'?!" He just came in freestyling and got the cypher going. Everybody gave him a round of applause and he was like, "Ain't nobody wanna jump in on the cypher with me?!" I said, "Oh, hold up, ain't nobody about to talk about my freestyle game, I'm from Houston!"
So I jumped in and then later, we had a side convo. I made him a grill on the spot and when it was ready, he came down because he was doing something with Scarface. He was mixing "Diamonds From Sierra Leone" at Mike Dean's house. He'd listened to that song 5,000 times, tweak one thing and listen to it in full over and over. That's how he's built. Plain Pat told me, "Hey, Kanye told me you been fuckin' with it. He got this song and you know he picky. Don't be a mad rapper if he don't use it!" I knew what that opportunity meant so I told him, "Yeah, send me that ho! This is perfect for my verse from 'Sittin' Sidewayz!'"
Kanye's tricky about verses, like you have to record it in the studio with him.
So with "Drive Slow," me and Gu (Paul's manager) flew to LA and we were stopped by two detectives at baggage claim. I said, "Aww hell, we gettin' Punk'd." Mike Jones just got Punk'd. You know it's like tag, Kanye get Punk'd, Mike Jones get Punk'd, I get Punk'd. And I'm talkin' back to the cop cause I'm thinking we getting Punk'd and Gu is like, "Man, I don't think we're getting Punk'd. Them badges look real!" That cop could have easily taken us to jail and I was being disrespectful. I'm all for freedom of speech but I know what people are capable of.
What?!
They let us go! We go to the hotel, then go to the studio session and before we even get there, we got pulled over in front of the studio. Driver made an illegal turn and the cop flashed his lights. I said, "Fuck! This mean I'm not about to be on Kanye album?!" Thankfully the cop let me out and I told him, "Hey, the studio is right there, am I good? Wait, where is Ashton Kutcher at?" [Ed. note: Paul Wall would record his verse with Kanye that night, but wasn't sure if it would make the final cut for the album.]
[Later that year] DJ Drama called me 'cause he was at a listening session for [Late Registration] and said, "You on Kanye album?!" When Drama tells you that you killed it, you know you killed it. Then Hype directed the video and hell, Kanye let me put it on my album! That's unheard of. Def Jam thankfully let that one go, didn't charge no label fees or clearance fees for that either.
You've been part of a major label and also thrived as an independent artist. What do you think is most important in this game?
There's always a lot of misconceptions in hip hop, like every artist feels like they should be their own CEO. Or because I'm successful at releasing my own music, I'd also be good at releasing or being a CEO of somebody else. Or just because I'm a good artist makes me a good CEO. Those are all different kinds of skill sets. 
I'll say this: getting fucked over by an independent label versus being fucked over by a major? It's best to be fucked over by a major because you might have some hits, you can go perform and do concerts, make money off that alone for the rest of your life. Or you might go down as part of an era cause you got one of them types of songs.
If you're the artist and the CEO and you're not signed to a label? It offers you more means to ownership but limited opportunity and resources. And if you're the only one eating, you gotta work a lot harder. With a major, you got a lot of people eating off one song. If you got several people eating off of every song, you got a lot of people with a vested interest in your success, right? They gonna pull their resources and put support behind you, but at the end of the day I don't know if they'd do that if they weren't eating off of it.
You've always had an artist's mentality, right?
I've always had the stance of working with a major as opposed to doing it my way and I'm gonna fight you, because there are things I don't know. And I don't know what I don't know. So, you know, you might be telling me, "Aye, this is the song." And I can't read between the lines of why you're telling me that, but it might be a reason that I don't know about. Maybe this the song because the producer of that song sold somebody their publishing rights. So now you gettin' their publishing and if it's a hit, you're getting a lot off that publishing. Even when they wrong, they gon' find a way to make sure they right.
Being on a label, you're being marketed to the world. You're mainstream. Even though you're different, you gotta relate. It's one of those things where it's all about that compromise when you're on that major label. I'll be the first to tell you, I am not a CEO. You asking me to sign you? Man, I'd fuck your career up! 
I want to be Wally Nelson, like Willie Nelson. Be 90 years old with my grill still making music. It's my dream to do this long term. One discrepancy with a label, one song, I've seen people put their whole career on pause over an issue with a label. I'll work my way out of it before I sit my way out of it. You want people to acknowledge the fact you made art, good, bad or indifferent. I know that feeling. I gave Mannie Fresh my demo tape at 16, hoping Cash Money would sign me. The same way Mannie or J. Prince talked to us, somebody can teach these younger rappers.
I want to be Wally Nelson, like Willie Nelson. Be 90 years old with my grill still making music. It's my dream to do this long term.
Is there one grill that proved to be more difficult than all the others?
ScHoolboy Q. [Laughs] It was human error! It was my fault. When you take the mold, man, if you take it out too soon when it's not finished drying? It shrinks down and there's no way of knowing until the grill is made.
I rushed through the mold 'cause I was trying to get a song together with him and the grill didn't fit! I was so embarrassed. It was a stain on my reputation personally. I gotta let my flaws be known and hopefully he'll forgive me—this is a public apology! He's the shit and to do a grill for him was a hell of an opportunity. I was so embarrassed it didn't fit. I remade it but he might have just been fed up and said, "Fuck that grill." I might owe him one. Hell, I might owe him two.
Have your kids realized you're one of the coolest men to ever live?
My son's 14, my daughter is 12. So certain things that I might have been a part of or people I might know, they have no real recollection that. They don't remember this person or that person coming to their birthday party or whatever. Me and my wife always act like this is just somebody we know. You know, even just yesterday, my son was like, "Wait a minute, Travis Barker is the drummer from blink-182. Uncle Travis?" Yes! We try to raise our kids not to treat anybody bigger 'cause they're more famous. One of my favorite scriptures from the Bible is, "For whoever exalts himself will be humbled, and whoever humbles himself will be exalted."