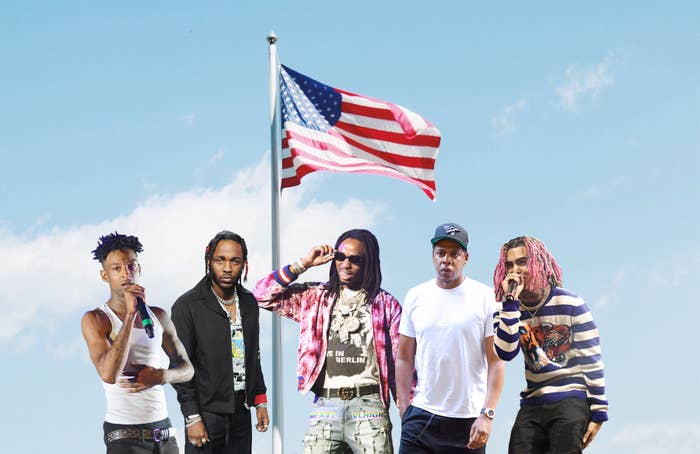 When Donald Trump was sworn in as U.S. President in January 2017, many predicted that mainstream music would spend 2017 lyrically criticizing​ him, his words, his actions, and his planned policies. Hip-hop had already taken up the fight in 2016 with tracks like YG's "FDT," alongside tracks from Run The Jewels and one-off mentions from Nicki Minaj, Ty Dolla $ign, and A$AP Ferg.
The assumption by many was that the mainstream would continue this trend in 2017. The year included several high-profile political moments, like Eminem's BET Awards freestyle, but were there more political messages in mainstream rap than there were 2016? In an attempt to analyze this in an objective way, we took a look at the most popular rap songs from each year based on peak chart position (more details on our calculation methods are available at the bottom of the page) and dug into the percentage that each song dedicated to social and political lyrics.
Our analysis takes the top 20 highest charting hip-hop songs from 2017 and 2016, counts the amount of lines that are devoted to social and political messages, and divides by the total lines in the song to determine a "political percentage" score for each track. Here's what we found:
High-charting rap songs were statistically less political in 2017 than 2016.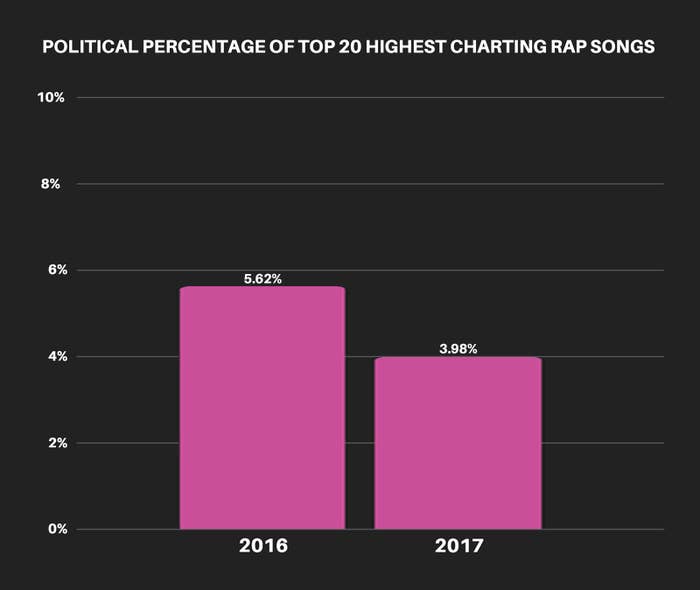 When it came to the highest-charting rap songs, 2016 was actually the more political year, with a political percentage of 5.62% vs 2017's total of 3.98%. Here's a look at the individual songs for each year: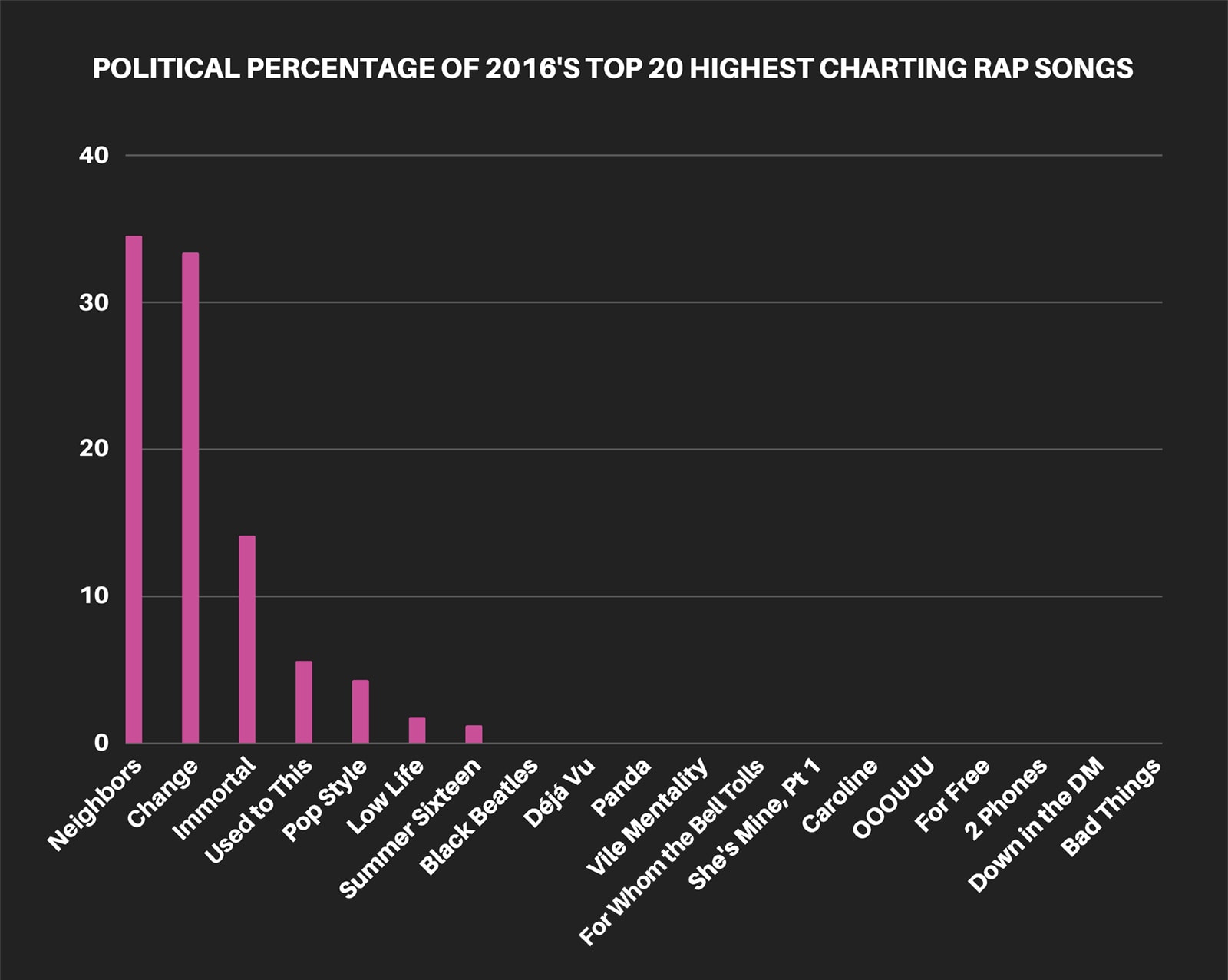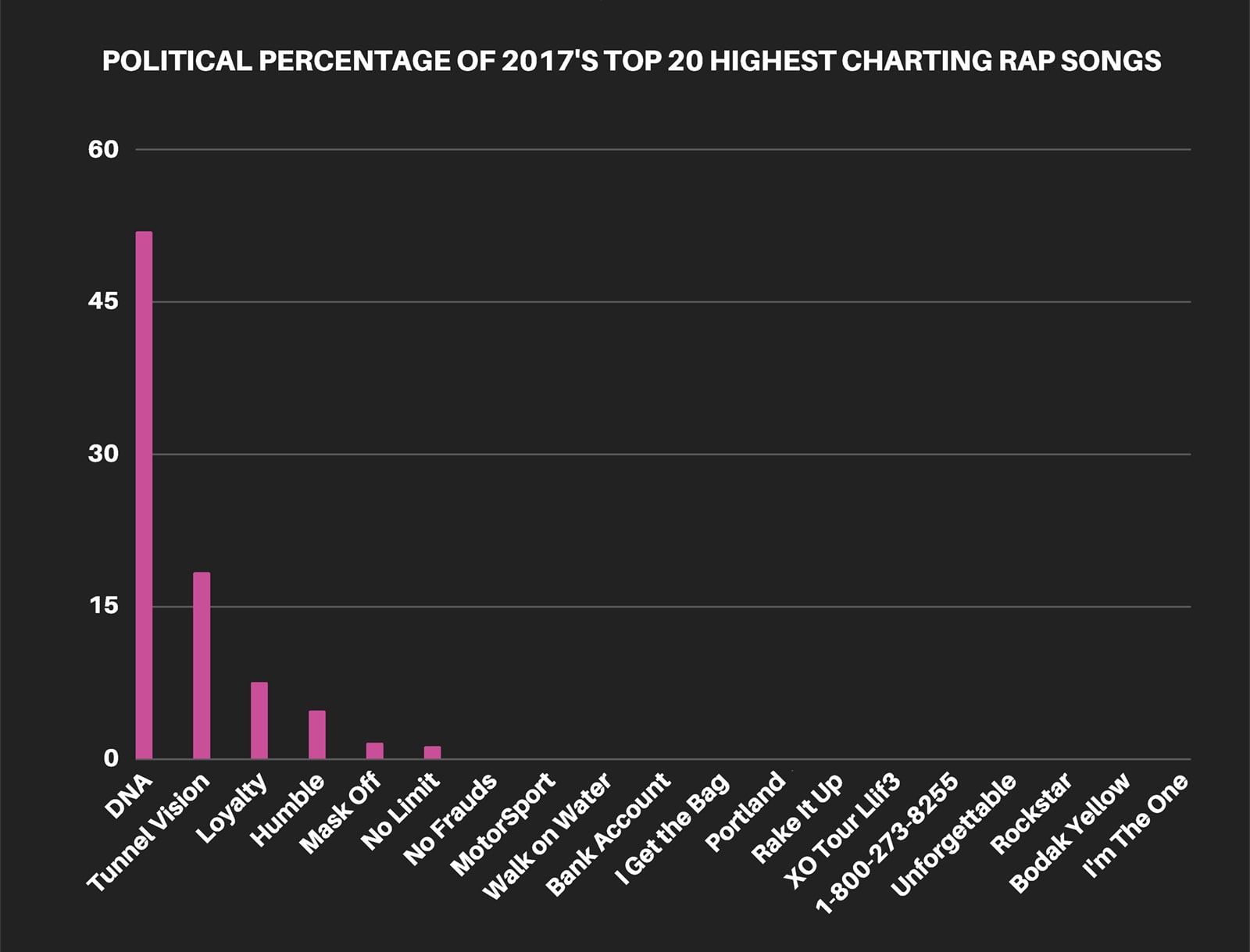 Kendrick Lamar dominates 2017 when it comes to high-charting singles with political content. Second is "Tunnel Vision" from Kodak Black, a politically-charged track backed up by a striking music video that features a man wearing a hat that says "Make America Hate Again."
One surprising figure that emerges from this analysis is the amount of songs with no political content at all: there were 14 in 2017 and 13 in 2016. Of the 13 tracks that did provide political content, 10 were delivered by Kendrick Lamar and J. Cole. It seems that even when the mainstream audience does seek out conscious rap, they go to just two artists.
The relative rejection of political music at the top of the charts is illustrated by the performance of Eminem's two pre-Revival singles in 2017. "Walk on Water," a song that finds Eminem musing on his own fame and waning relevance, entered the Hot 100 at number 14, with 0% political content. Eminem then released "Untouchable," an extension of the concept from his anti-Trump BET Freestyle. The song is 100% political—every line devoted to a political message. It entered the charts 72 places below "Walk on Water" at number 86.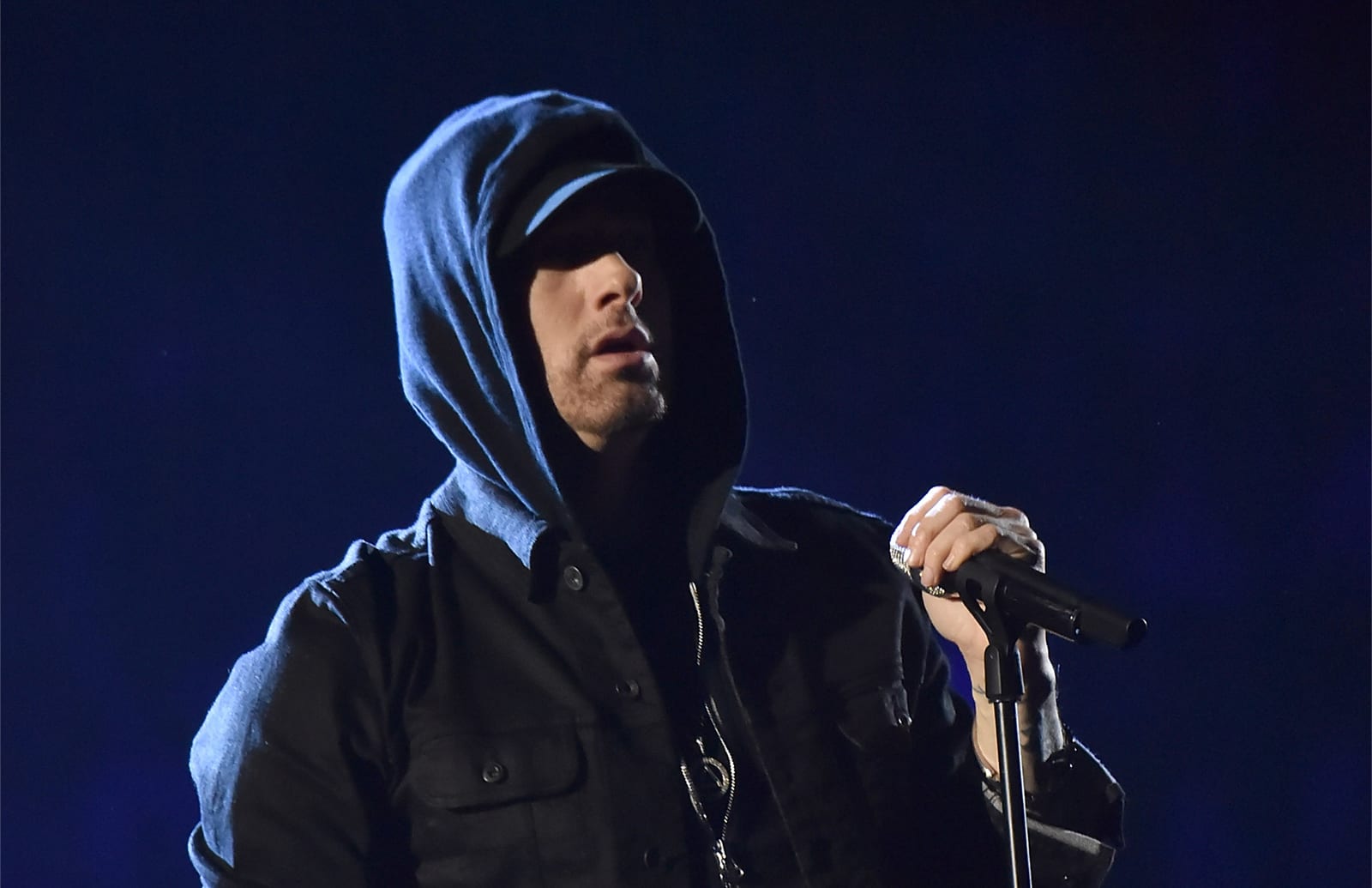 Popular pap albums were also statistically less political in 2017 than 2016.
Next, we broke down the political percentage of popular rap albums. For the purpose of this analysis, the top 10 mainstream albums have been calculated via albums sales figures (sales + streaming and RIAA certifications), due to the fact that sales figures for albums are easier to access and updated more frequently than singles sales figures. This gives us a good idea of which albums were popular for the entire year—not just the week of their release.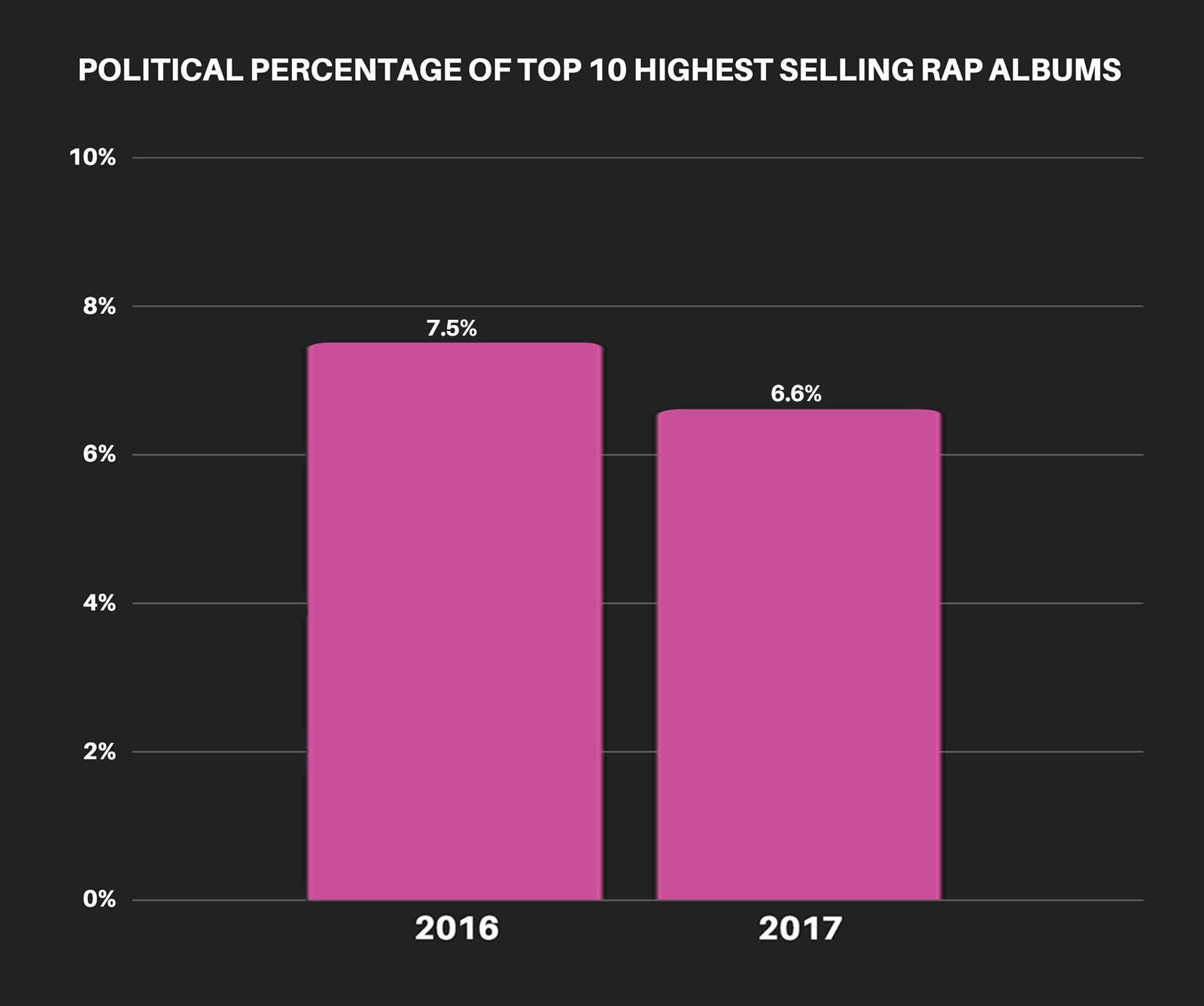 Again, 2016 was more a more political year than 2017 when it came to popular rap albums. 7.5% of the lyrics in the top 10 best selling rap albums of 2016 were dedicated to political messages. This compares to 6.6% in 2017.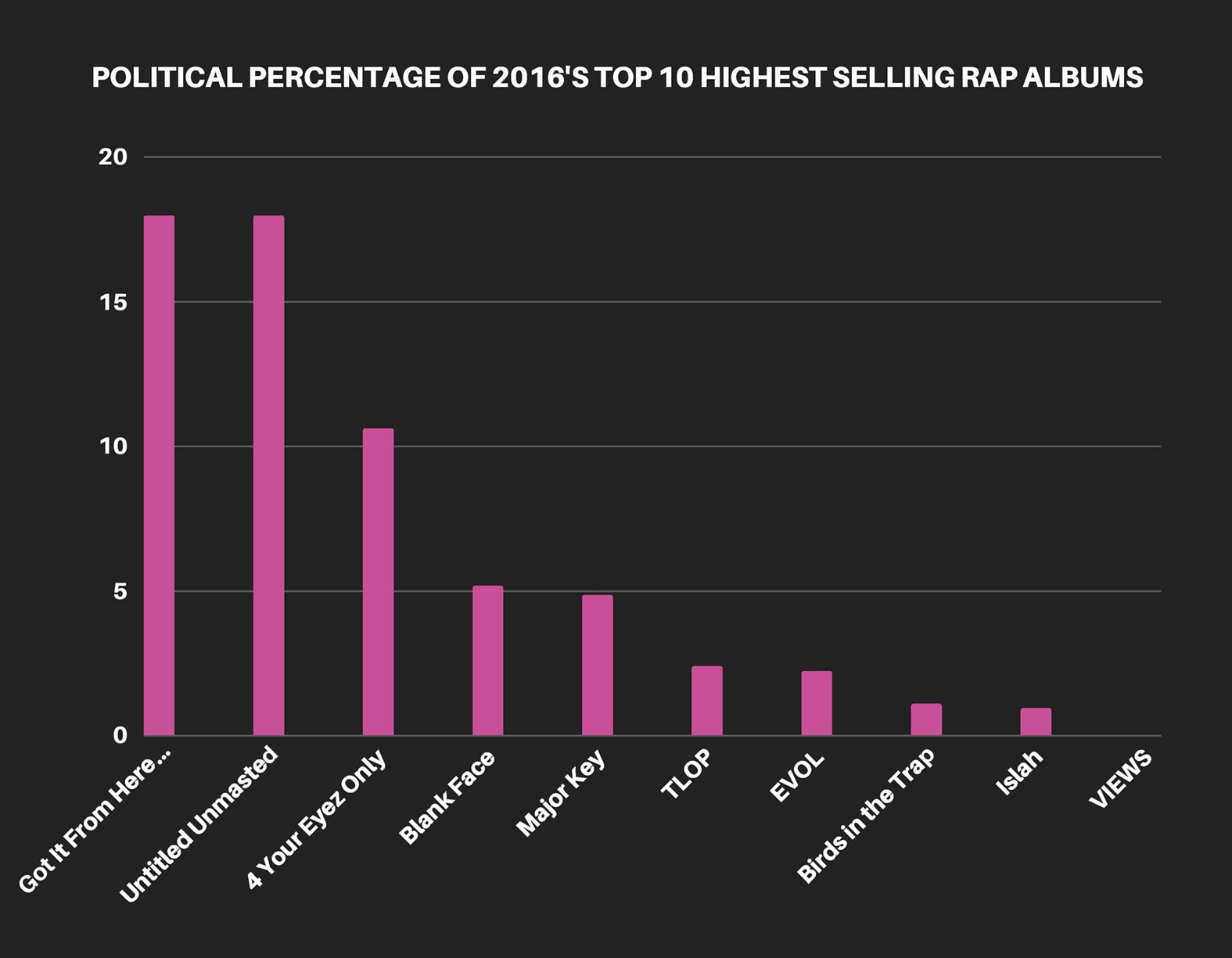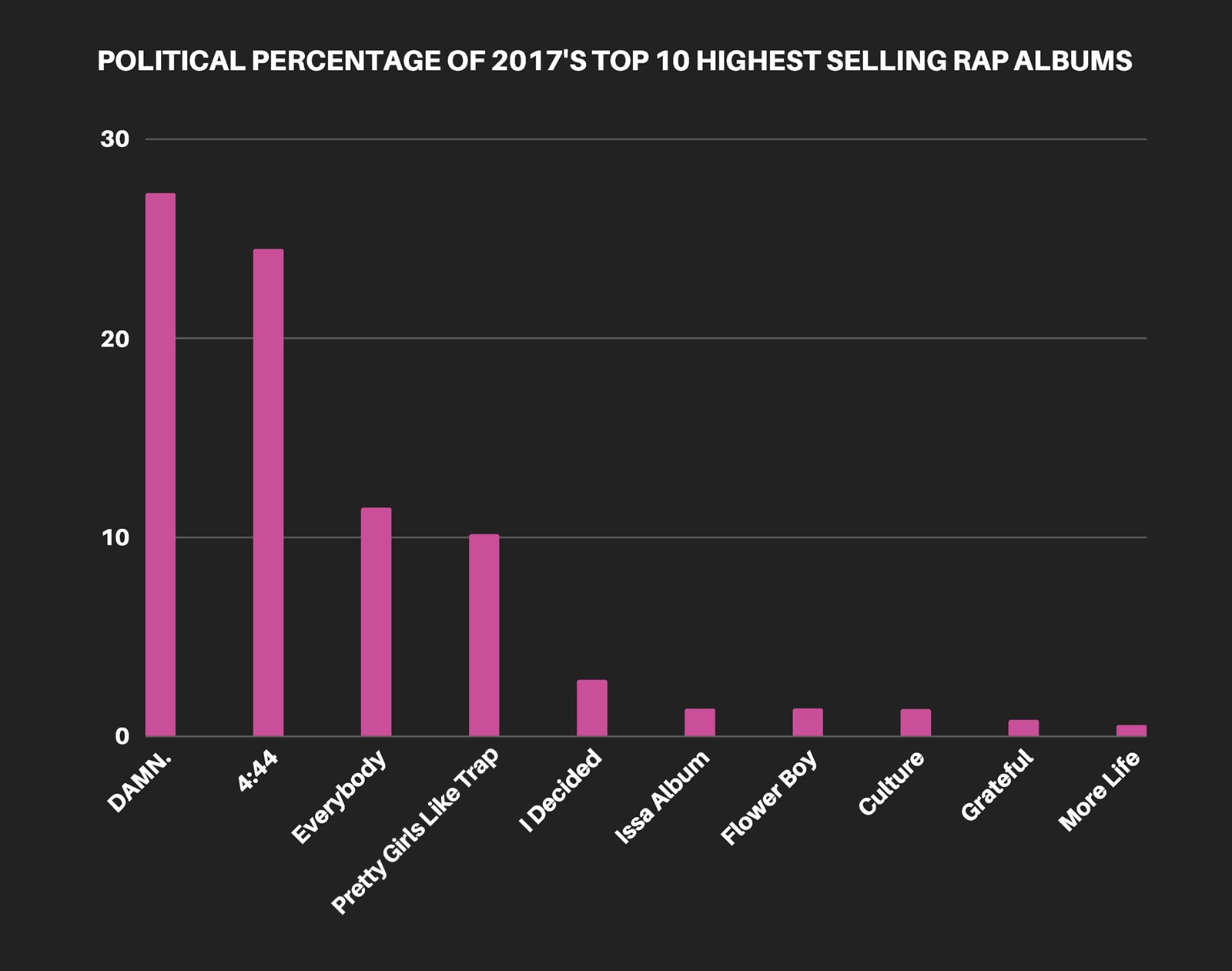 A couple figures stand out from these charts. Drake is one of the most commercially successful rappers this decade, but his 4x platinum 2016 album VIEWS doesn't have a single overtly political line in it. On his 2017 playlist More Life, he delivers just two political lines. DJ Khaled's two albums paint a similar picture. His 2016 album Major Key was 4.84% political, with scathing bars from Nas and Big Sean. The majority of his 2016 guests also turn up for 2017's Grateful, yet there are just 14 political lines on the entire 1,752 line project (0.79%).
Of course, these numbers don't necessarily mean that rappers are purposefully avoiding political content because they fear their sales will suffer as a result. The top of the charts has always been a place for songs that allow listeners to escape from their reality. These figures could also be showing us that listeners are gravitating towards lighthearted content to help them escape from politics and the endless news cycle.
Either way, the stats reveal that many early 2017 predictions were incorrect. The most popular rap songs and albums in 2017 actually included less overtly political lyrics than they did in 2016.
---
Note: The top hip-hop singles were chosen based off their chart peak, while albums were chosen via their total sales. Sales data for singles is difficult to find, and often out of date, as demand for streaming figures and pure sales numbers is less than with albums. The Hot 100 chart combines all of these factors in an official capacity, and thus represents the commercial popularity of a song. Songs also tend to ascend the Hot 100 over time, rarely debuting at number 1 and then dropping out.
Album sales numbers are more readily available, and represent a better gauge of popularity. An album may reach number 1 on the Billboard 200 with relatively low sales numbers, depending on what other albums were released that week. Albums often drop dramatically in the Billboard 200 after their first week as well, so it's necessary to view album sales to ensure the most popular records are selected for this analysis.
Ben Carter digs into the data behind your favorite artists. You can find more of his work at Ben's Big Blog.​​