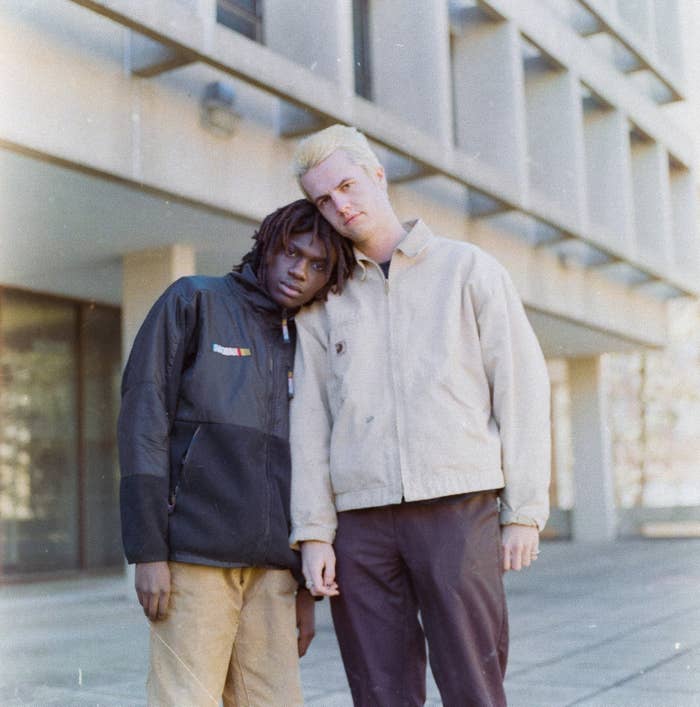 It's been five months since MONEYPHONE, the Toronto duo comprising of high-school friends Enoch and David, have seen each other. With the release of their stunning new EP, however, that all changes, as Enoch finally returns home. The distance between Berlin and Toronto didn't keep them apart, instead bringing them closer together to make one of the year's best EPs.
Pieced together before their extended absence from one another, Athletes sees the pair helping to redefine Toronto's musical perception as a cold metro area capable of only birthing airy, moody rap music. Athletes, unlike a lot of other music that comes from Toronto, is inviting and warm. 
"That's why we chose to label ourselves as pop," Enoch told us last month. "I feel as if there's been a reclaiming of that label, taking it away from its corporate overtones and into something way more personal, something for everybody to feel as if they belong. We feel like it's been missing in the city, and we want to help bring it here."
"Athletes was a really special moment in time for us," the duo explain over email. "It was a period where we were really there for each other as collaborators, musicians, and friends. The name of the project comes from an admiration of the determination and resilience that athletes have. We wanted to work as hard as them, but as musicians. This EP is the product of good ideas and teamwork."
A real smorgasbord of textures, Athletes is a gorgeously layered and expansive EP that gives an indication of just how in tune Enoch and David are. Written in under two weeks and recorded in their home, it's a beautiful release that completely delivers on the promise of "On Lock."
As for what's coming next from MONEYPHONE, they insist that they'll be keeping everything in-house. "Athletes solidified the fact that we can do everything from the artwork, the videos, the record, and the engineering on our own. For everything that we can't do, we can rely on friends as collaborators the same we did on this project. Athletes feels like the start of something special and we don't plan on stopping anytime soon."
Check out the premiere of Athletes below, and listen to it on your streaming service of choice here. To learn more about MONEYPHONE, read our interview with them here.