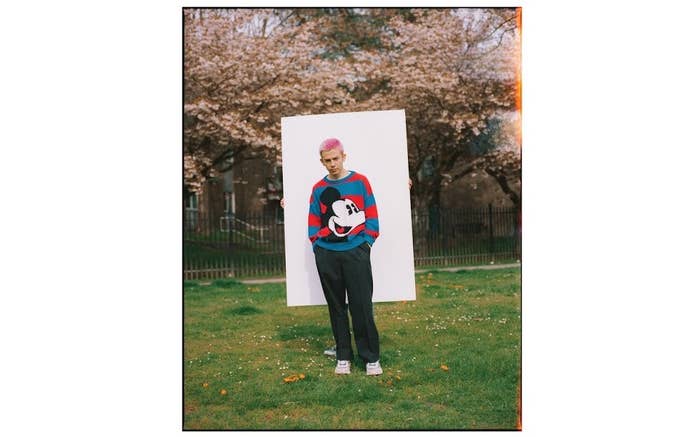 Roy's home. Not home, home. Home-ish. Home's complicated.
The 22-year-old pop artist traveled far and wide in recent months. Many stateside fans cried very happy tears because of this. Roy Blair's supporters dye their hair to match his—a constantly evolving commitment—and tattoo his lyrics on their skin, legally or otherwise. They shower him with gifts at shows and stan hard. Teenage fever? Yes. Inevitable ascent? That too, if you've been privvy since Roy first impressed SoundCloud surfers with loosies while he was still in high school. One of his earliest cuts, "Thunder," just hit 12 million streams on Spotify. It's a nice number, validation to some, but it's not the point. Things are moving because Roy cares, and people care back. 
To a growing corner of the internet, after baby-step releases, creative run-ins with Brockhampton, and a 2017 debut in Cat Heaven, Roy's leveled up to occupy a league of his own, sidestepping the content rat race. With his first national headlining tour in the bag, all that matters is what's next. New adventures, new songs, and, more likely than not, a few rewatchings of Inglorious Basterds and Call Me By Your Name. Timothée Chalamet might even make a cameo, Cudi style, on his next album if dreams come true. Icelandic flights and remote hideaways await him.   
Back in L.A.'s Echo Park neighborhood, 10 miles from the family abode he was forced to leave as a teen, Roy's happy to slip into old cycles. He won't have another chance for a while. Several days' stay allows for brief reunions and quick bites at charming cafes, lakeside wandering and back alley shortcuts. Our conversations repeatedly turn to the interstitial. 
All the radio-ready hooks ("Hazel," "Grand Theft Auto," "Perfume") and color commentary about growing up ("September," "Kansas") on Cat Heaven helped flip listeners into believers. They also anchor their creator to his younger self, like the latest iOS operating in an iPhone 6. Every one-hour set requires internal time travel. Imagine revisiting expired loves and distant stomping grounds, night after night. Imagine having to make it all feel as real as it did the first time. How much distance would 2015 you have to cover to catch the dust of 2019 you? 
It's a small price, but a price nonetheless. Whatever the side effects, Roy's happy to be here.
You've been on tour for a minute. First major concert run. An arena slot with The 1975 in Mexico. Thousands of new faces. What offstage moments are you most fond of?
Man, my team, my band and I, we bonded over shitty hotels. We'd read the Google reviews and freak out before going inside. Comments about places being haunted. We saw one roach. It sadly did not survive the night. I had fun eating good food with Jack Larsen in Chicago, seeing different friends in different cities. Beyond that, it's a lot of downtime on the road. Lots of resting and sleeping. Lots of beautiful views on the highways. We'd see places where you could buy a cool piece of land for not that much money—very few people, isolated. I lost my voice for a minute but that wasn't fun though. 
Artists and their teams need to work so hard to make shows feel like magic for the audience. What went into yours? How do you maintain some sense of normalcy?
We must have rehearsed for 30 days straight before this tour, not to mention getting the design of it all down. We have a phone booth with vocal pads inside it that I'll perform in, and there's an LED sign that anonymously broadcasts DMs we get from fans about fears and secrets they want to get off their chest, so they can exhale through the show. That came from seeing signs like that everywhere in Echo Park [Los Angeles]. The hope was to build this noir, late-night feel that segues into the world I'm trying to build for my second album. Also, Shia LaBeouf inspired it too. 
My friend Tyler Smith and I designed the merch. I've always designed my merch or played a big part. One thing I couldn't figure out was an outfit for myself. I found a shirt I loved for $900, but... it was a shirt that cost $900. That was the straw. [Laughs] You're more anxious at the beginning of a tour, running around, but now it's mostly clockwork. I just get coffee to take my mind off of things. I'm on YouTube on my laptop until five minutes before I go onstage to stay calm. Romil told me that things always go wrong so you can't be mad at it.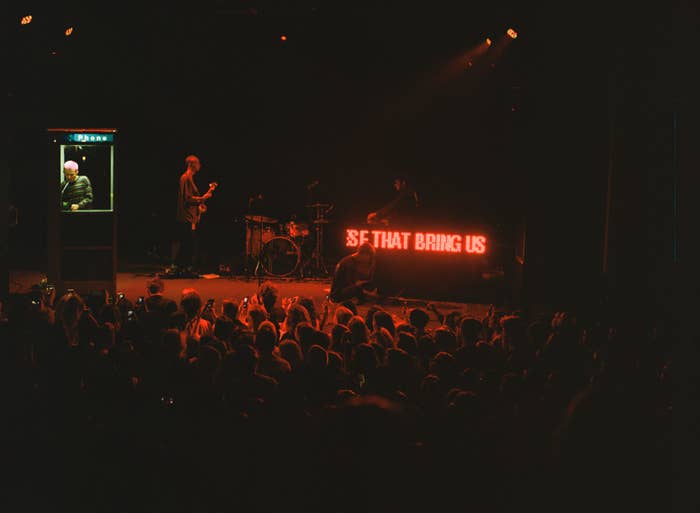 Are you ready to start the next chapter?
Cat Heaven has been special but yeah, I am. I have to move. I've moved every five or six months for the last two years in LA, but that wasn't enough. I grew up here. I made an album here already. At a certain point, I've got to go to a new universe. I can't just be in LA forever. As soon as I went to New York to go record, the music changed for the better. 
Everything I made last year in LA [after Cat Heaven] I hated. I made all this music. Not like a crazy amount, but a good amount. And I don't like any of it. Then that led to writer's block for months. I can't do the "same album, bigger names attached" game, I have to explore, and sometimes that means physically relocating. How many times can you go to the same coffee shops? I like the idea of being hidden when I'm making music. I'm going to Iceland soon to record because, I don't know, it feels right. Instinctual. 
The business of Roy Blair has grown exponentially over the last 18 months. Do you care about that side of things?
I want to be versed in business because I want to know what's what. But sometimes I also feel like the music business is the antithesis of how to be a good musician. So many artists my age already want to give up. We should be as excited as we ever will be in our careers. 
You get thrown into the music industry and you can doubt your instincts. There's lots of people who want to profit off of you and act like they're the stars of the show. I had to dig myself out of that, but I'd rather it happens to me at a young age instead of halfway through my career. Now I know what not to do.
Sometimes you have to turn off. How can you make an incredible project if you're releasing songs every five seconds? I believe in the process of going away for a bit. But in terms of rollouts, marketing, I think about that a lot. Because that done right is as creative as the music.
sometimes I also feel like the music business is the antithesis of how to be a good musician. So many artists my age already want to give up. We should be as excited as we ever will be in our careers.
It feels like the artists who remember what inspired them as fans tend to inspire their own fans the most.
You've got to hold on to that shit, man. You've got to hold on to that shit because you forget what it means to stan. Odd Future, Gambino, Frank, Kendrick, Kanye. The best. I remember things that were really good because they're still good today. Certain albums from those eras, if they came out right now, I'd be happy. 
You've successfully stretched the Cat Heaven rollout farther than most could have. Are all the new eyes on you added pressure or additional fuel?
My fans are my lifeline. I struggle with self-love and every night on tour I'm meeting kids who are so fucking sweet and care about the music. In Houston, there was this moment during "Grand Theft Auto" where a kid in the crowd started crying, screaming the words. It's crazy to me that some of these kids lean on my lyrics like that. It's like what Tyler and Frank were for me. Like gospel or something. 
I try to meet everyone after the show. Sometimes I'm there two hours but it's cool because no one's mean to me. [Laughs] Someone gave me a Cat Heaven cassette with a homemade booklet. Last year, someone made a tribute for my cat Gary who passed, his name's Ben Choe, and now we're friends. Seeing that something you made helped someone else? That never gets old. I'm not a heartthrob. I'm not a baddie, you know? It's the music. I have a punchable face.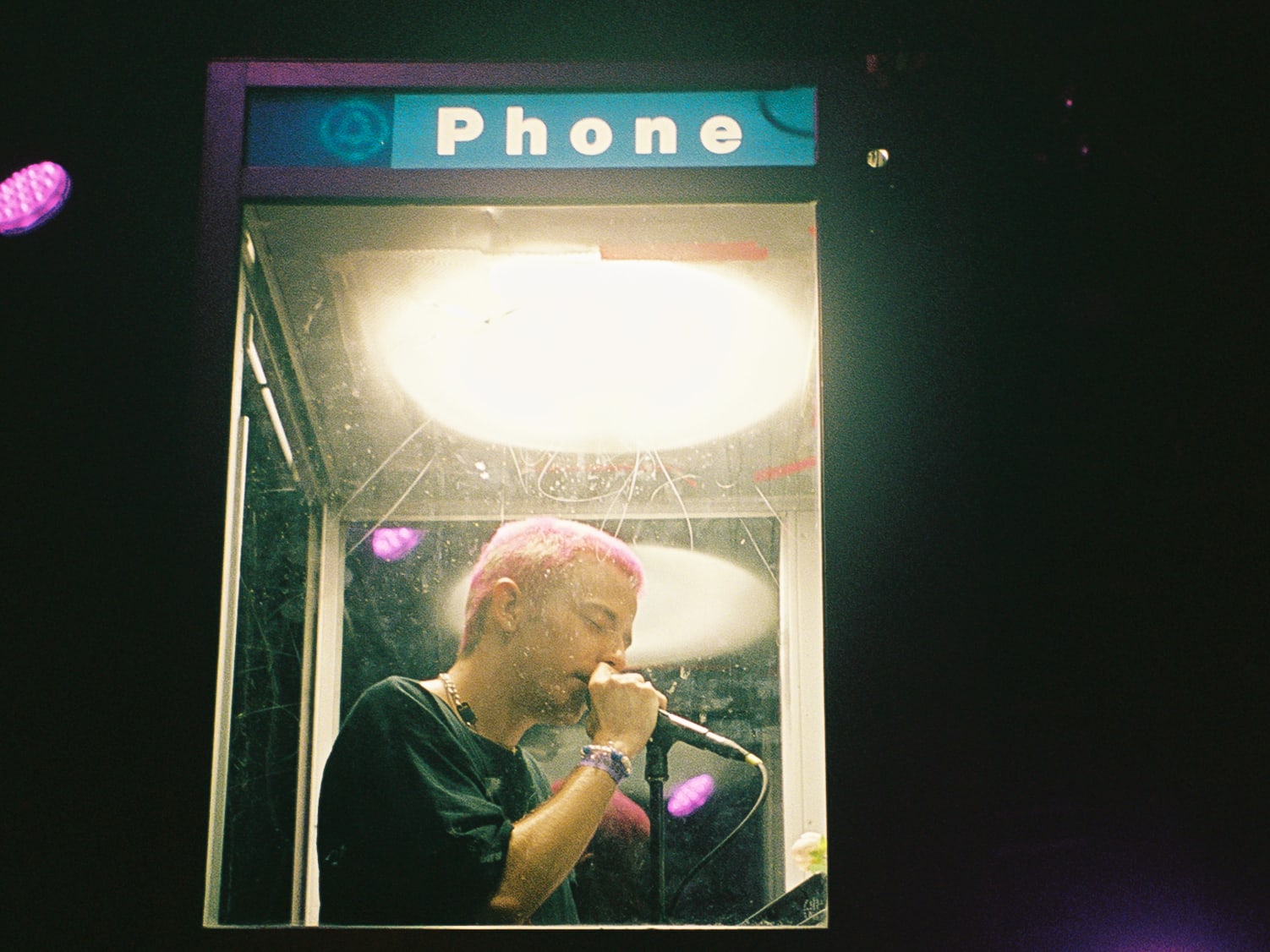 A lot of the lyrics on the darker Cat Heaven songs paint you as misunderstood. Social tension. Has a steady relationship helped you evolve since then? 
There's definitely a difference between then and now. I can still be a little awkward. But I feel comfortable talking with people now. And Enya [Roy's significant other] helped with that confidence. Dating someone who makes you feel like everything everyone's ever told you is negative is actually a strength, that helps. Someone who teaches you that you don't need to be whatever other people thought you were supposed to be. 
That project has always felt like a coming of age story, finding your place. The closing track feels like a light at the end of the tunnel.
I was 19 when I started and 20 when I finished. That album is the closest I'll be to my youth for the rest of my life. [Ed. Note: Roy's still quite young.] I made most of it in my friend [and photographer/videographer] David's apartment, on Genesee and Beverly [in West Hollywood]. Across from the CBS building. I loved that house. It felt like I was incognito. 
I might not be who I thought I was when I first started making music. I don't know if I can be the always-on pop star, the arena artist. I think I could be, maybe. But I just want to make really good albums and disappear. I kind of want to go get a job. [Laughs] See what that's like. Being a musician is floaty. I'm 22 but I feel like I'm a 27-year-old freelancer some days. You wake up when you wake up. I appreciate structure.
When did you set out on this path in the first place?
I had asked for Logic Express for Christmas in 2009 or 2010 to start producing, and it was the most foreign thing to me when I got it. This was still sorta early YouTube—I'm not sure I knew what a tutorial was then. Then I saw Odd Future perform in 2011 and that changed everything. After that, I asked one of my friends with Logic to show me the ropes, and he taught me how to make beats in piano roll. He taught me how to make drum tracks. That same summer, I was on a road trip with my brother and my mom and I used her computer to make beats every day in the car.
I might not be who I thought I was when I first started making music. I don't know if I can be the always-on pop star. I just want to make really good albums and disappear.
So Odd Future catalyzed everything for you when it came to making music. Did you have building blocks? Artists your parents passed down to you?
My dad was a music hobbyist for awhile. A lot of my taste comes from him. He showed me Coldplay and I think they're super under appreciated. People hate them too much, the band's early music. Lots of Bjork, Radiohead, Wilco. He had this huge CD collection, boxes and boxes of them, that he'd play in the car. He just moved somewhere else and we went through them together again. The stuff I didn't like he gave to Goodwill. 
It's funny how much music I became a fan of that I didn't know he loved. Or maybe he played me songs when I was young and then when I rediscovered them as I got older, that's why they stuck with me. He had eight Wilco CDs. [Laughs] My mom and dad, their first house together in the '80s was in Echo Park. He saw Beck before anyone knew who he was. He has a demo CD from Beck. Pretty crazy. 
What artists led you to start discovering music on your own?
The first artist I really connected with was Kanye in 2005, around Late Registration. I think my mom actually showed him to me. I was a huge fan of 808s and loved Cudi. I think the first mixtape I ever downloaded was by Cudi. He had all these bootleg tapes with random songs on DatPiff, and I downloaded everything I could find. Like "Switching Lanes" and "Daps and Pounds." That was the start of me digging, realizing what I could do with the internet. My brother played a lot of J Dilla around me. "E=MC2." The first time I heard that, it was like being high, but I was 12 years old tops. Just hits you. At that stage I hated guitar. That didn't really change until King Krule. 6 Feet Beneath the Moon is going on my albums of the decade list.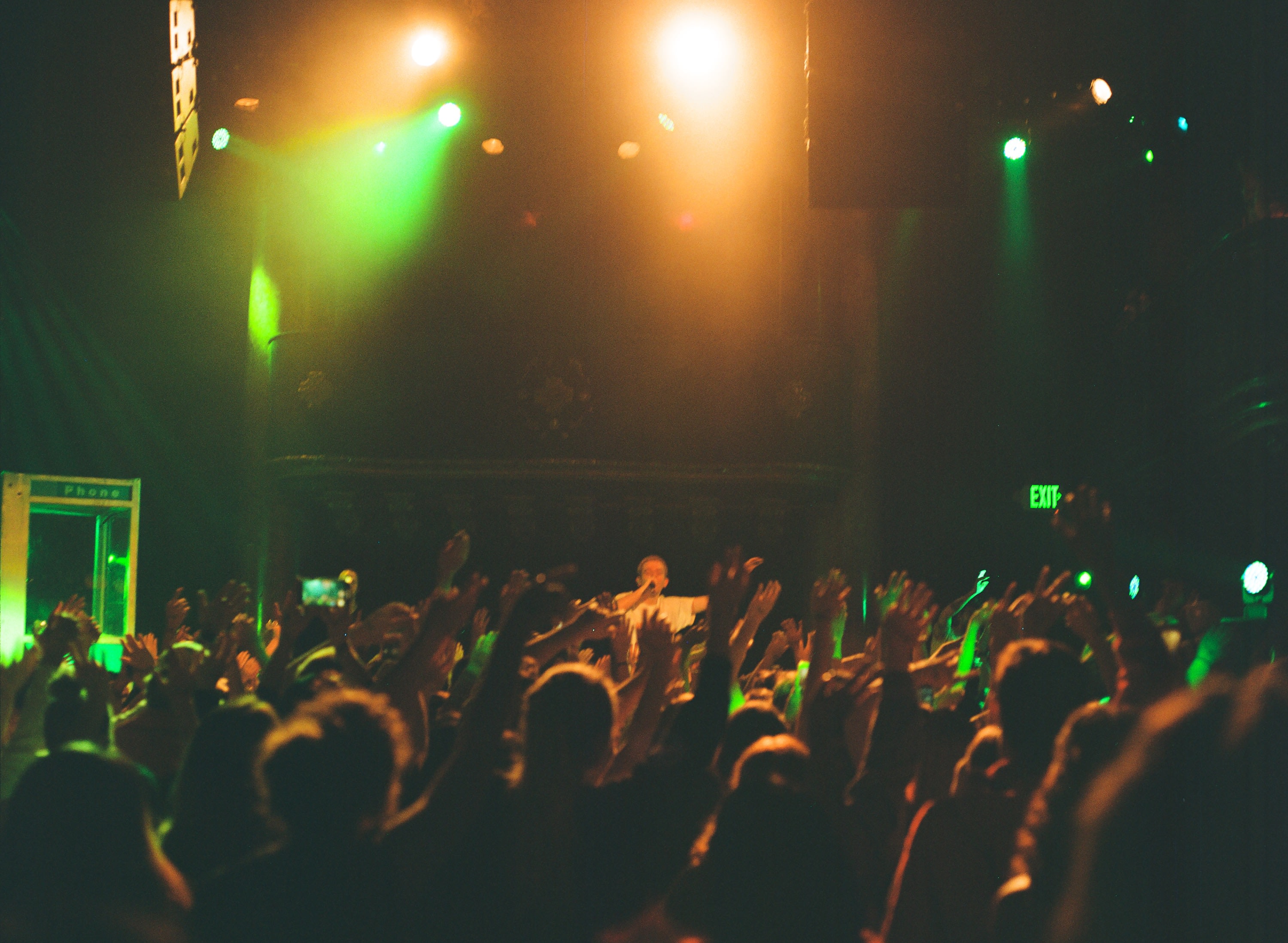 And now you're trying to put yourself in that category. Cat Heaven already is that for lots of people. Seeing 700 fans scream every word of "Hazel" back at you is something else.
Do you know how I made that? The hook was what the bridge is now. "Just staayyy forever." Then I kept flipping the song. It wasn't a 10 out of 10 and I kept pushing myself and my guitarist. It also came out that way, but then we reversed the vocals at the beginning of the song: "I was riding on Beverly by myself / I was working at Yummy, no daylight, hell / You were coming over once a week, wearing my lap / You held me while I cried for the first time in a long time." We flipped that and it forms this melody—nah, dah, dah, nah, nah, nah—and then that led to the lyrics we have now. It's become a fan favorite on tour.
Cars, motion, transitions, they poke their head across the project. How autobiographical are your lyrics?
A lot of it. More so toward the end of the album, which was easier for me to write. "Grow Up" took me two years to finish. Same with "Alex." But "Jane" took a day, "Happy" took two days, "Grand Theft Auto" took a month. "September" was one night. I originally set out trying to make a movie starring someone else, and then I started to write my own life. It's funny though, a lot of people think "Jane" is Enya! They make theories. It's about my dead aunt. Kids are kids. [Laughs] I will say the project's rooted in seasons though. There's a reason "September" is the 9th song. "Jane" was going to be called "June." 
You wrote about feeling disconnected from your family and having to leave home. Grappling with that's a pretty major undercurrent in your work to date.
My mom didn't really believe in music and I had just quit a job to go on tour with Ian [Kevin Abstract]. She felt like she had no other choice but to push me out. We just didn't see eye to eye back then. We're really close now, she pushes me forward and helps me want to be better. She put me on to self-help books and they're actually awesome, they kick you in the ass. But having to leave did hurt. After a year and a half, two years of listening to Kevin and Romil, they were suddenly in my room in South Pasadena, working on music, and to me that was proof something was working out. But you know, having to live on my own made me a lot more mature. I had to grow up, so that's what I did.