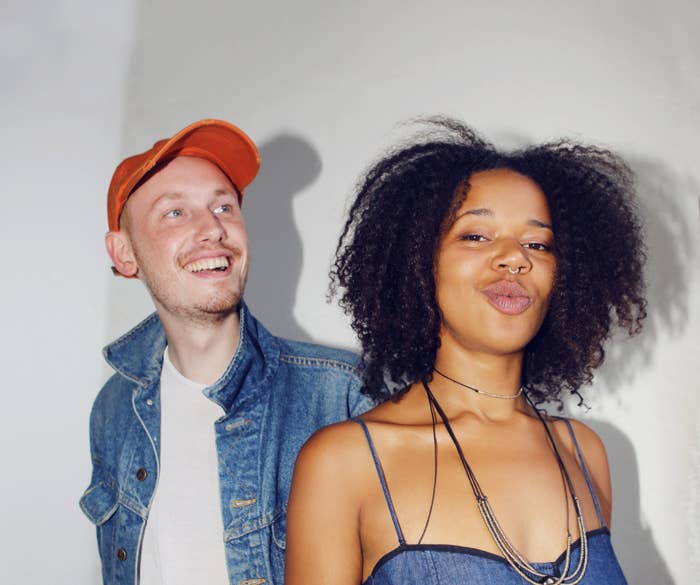 "Tessa and I had a bit of weird meeting actually," Christian, one half of Girlhood says. "I was moored along the canal just up from Notting Hill, smashing a few tins and having a smoke when I heard what I thought was someone's radio. Then Tessa strolls past singing."
There's a lot to unpack there, and as band origin stories go, Girlhood's is rather unique. Christian is the duo's producer, and he lives on a boat in the canals in London, where he also writes and makes music. Tessa is the songwriter and vocalist, and rather than walking on by when a strange man on a boat asked her if she wanted to come onboard and sing on some tracks he'd made, she accepted the offer. It still wasn't all plain sailing from there, as Christian explains, "Stupidly, I forgot to get her mobile number so had to find her on Facebook a few weeks after."
The universe brought Christian and Tessa together, and they're making the most of it as Girlhood, having released four songs and not put a foot wrong yet. There's a vintage feel to some of the songs, moments when you wonder if you've stumbled on an R&B or neo-soul gem from the '90s, while certain choruses seems destined for pop radio and giant crowd singalongs.
Tessa's warm vocals and classic songwriting have found a perfect match in Christian, who knows when to keep things to a simple, crisp drumbeat, and when to switch up the production and bring in anything from electric guitar to keys to saxophone. He cites The Avalanches as an influence, and their shapeshifting, sample heavy approach to music making manifests itself in subtle ways in the music we've heard so far.
Girlhood is one of the most exciting new groups to emerge this year, putting their own spin on classic sounds, and their future is extremely bright. Listen to their music and read an interview with the duo below. 
What do you each like best about working with each other?
Christian: I love the fact I can generally send a demo instrumental her way, get something back the same day, and Tessa literally lets me do what I want (to a degree) with her top line. Our tracks generally change a hell of a lot from the first recording to the final master. I have a very clear idea of the general aesthetic of Girlhood, but it's also great to work with someone who knows when to tell me where I'm going is actually shite, even if I don't appreciate it at the time.
Tessa: I like that Christian makes tracks that I'm not used to working with. It's a cool exercise to write to something different and new. I like that he also gives me full artistic reign when it comes to writing lyrics. There's nothing I can't say.
Tell me about the narrowboat—how do you think it impacts your creative process and what is it like as a place to write and record?
I THINK THE BOAT'S PERSONALITY DEFINITELY CREEPS INTO THE MUSIC; THE SWAYING AND THE GLITCHES AND THE JOLTS OF SOUND.—TESSA
Christian: The narrowboat was funnily enough the entire reason I started the project before meeting Tessa. I had grown tired of live instruments and producing the same way I had been for years on an iMac in my bedroom, so sold all my gear and just bought an iPad to completely take things back to basics. I had read Damon Albarn had written the Gorillaz album The Fall entirely on an iPad whilst on tour, and I romanticized about the way I didn't have a clue what I was doing. It really kept things fresh and the songs sound like nothing I had worked on beforehand.
Tessa: I think the boat's personality definitely creeps into the music; the swaying and the glitches and the jolts of sound. In terms of recording the sound changes depending on where you're moored and the time of day, but in terms of writing its so peaceful. I find I always write near bodies of water, the canal, by the sea, in the shower… the trick is remembering everything and writing it down before your thoughts drift away on the water.
Did you have any goals or aims when you started recording together?
Christian: Just to create wonderful, beautiful songs that we would want to listen to ourselves, and hope people outside out little world feel the same. 
Tessa: I think we both just wanted to make something new and different. In terms of goals… I think the only goal is to make something that we're BOTH happy with. I personally just love to sing so I'm always looking for ways to do that.
A lot of music being made in 2017 sounds very of the moment but you have a much more timeless sound. Where do you think this comes from? 
Christian: That's a very easy question to answer! I begin nearly all the songs around an old sample, which I take as the initial inspiration. This usually ends being buried or removed from the final mix. I am wholly inspired by sounds and production methods from countless genres and eras, and they all sneak their way into my own songwriting and creation. I don't have any rules when putting a song together, apart from not using synthesizers (unless I've built the sound organically). 
Tessa: I think Christian and I differ in what we listen to but we always manage to meet half way and create something together. Maybe it's the two backgrounds merging that make something different
What artists and music inspires the Girlhood project?
Christian: Moby, The Fugees, CocoRosie, and The Avalanches
Are there music videos on the way? What would a Girlhood music video look like?
Tessa: There most certainly ARE videos on the way, but I don't want to spoil any surprises! Girlhood videos will (hopefully) feel personal and relatable. It's not just about us, it's also about you and how the tracks make you feel. So I think we're aiming to get ya right in the feels