The day after this interview, Hope Tala is graduating from the University of Bristol in England. There, the 21-year-old has spent the past few years indulging in the greatest works of literature, immersing herself in the romance of prose and poetry. Her passion is obvious; it comes through in her work. Fittingly, her new EP is called Sensitive Soul. It's an exploration of vulnerability, which, growing up, Tala was safe to explore
Openness and joy was something instilled in Tala from early on. As a kid, her liberal household was filled with fun, eclectic music that her Jamaican father and British and Irish mother would play. "Happiness was always the most important thing to my family," says Tala. In her music, she shares that sense of freedom with the world—freedom to express who she is, and freedom to blend styles and sounds into her own version of modern, melodic pop. The West London based singer-songwriter's music is bossa nova soul meets indie pop, and it's all about love. 
Hope Tala has an incredibly bright future ahead of her, whichever path she chooses, and a new EP, Sensitive Soul, out today. Here, the emerging artist opens up about discovering music through the classics, the hopeful upbringing that inspired her, and her ongoing journey of self-discovery. 
Even though you talk about things like heartbreak, you present it in such a hopeful way. Where does that come from?
I'm generally an optimistic and confident person. Even when I get upset about things and I'm heartbroken, I quite naturally just lean to hoping for better things. I don't really like to dwell on the bad things too much. I always like to take the positive and the silver linings out of situations. I kind of feel like everything happens for a reason. I hadn't really thought about that-—it's good that that communicates through my music and my sound.
Is that an attitude you fostered growing up? 
I had a pretty amazing upbringing. I have a stable family, and I was always encouraged to do what I wanted to do. There were equal amounts of discipline and love in my household. I wouldn't change a thing. Both of my parents are very positive people and they always wanted me and my younger brother to be happy. It was always music in the house and dancing and joy. 
How did you discover your musical talent?
The first time I played music was when I picked up the clarinet at 8 years old. I would go to the music school every Saturday morning for about ten years, just around the corner from my house. I'd go for a few hours and do a mixture of my clarinet lessons, orchestra, and classics. I also did the double bass and then gave up because I was really rubbish. Then I also played the oboe for a bit. 
There was an incredible music department at my secondary school, and I had an amazing teacher called Miss Raven. There was a Christmas concert every year and a summer arts festival and it would be full of orchestras and steel pan groups and people singing. Being involved in that was really amazing for my love of music. One teacher can just make all the difference to how much you love something. That's what I had with Miss Raven and music.
I had never sung before, and then when I was about 15 or 16, I sang for the first time at my school because of her suggestion. I loved it! I ended up doing a composition as part of my A level—equivalent to your SAT—and I did songs and learned how to use Logic, which I then would use later on to produce stuff that I put on SoundCloud. 
I'm still very informed by my background in classical music—being able to read a line of music and understand theory is useful to my own processes of writing. I don't produce my music anymore but when I work with producers, I'll suggest piano lines here or a guitar line there.
When did you realize that you could make it a career?
At the end of 2016, when I had just started University of Bristol. I had put the music on SoundCloud and then I submitted some of it to this Instagram account called Art Hoe Collective. Then a guy called Mikey Alfred from a brand called Illegal Civilization was going on Pharrell's Beats 1 radio show OtherTone and he had been looking on Art Hoe Collective to see if there's any music he could play. He found my demo, played it on the show, and then I got a few emails from people in the industry.
It's so early in my career and very few things have materialized just yet but I love it so much. Everyone knows it's so hard to make a living out of making music, but I'm a life-is-too-short type of person and I never want to have any regrets. My degree is a backup if I need to get a real job. 
What's your back-up career plan?
English Literature is such a passion of mine. I've been such an avid and voracious reader since I was really young. I was supposed to be starting a Masters Degree in Cambridge in English Literature this autumn, which I've now decided not to do, but hopefully I'll get to it at some point in the future. Being able to study English for my degree has really helped inform my lyrics and develop my lyricism. If I wasn't into music, I might've pursued academia—maybe become a professor. But I'm not really sure how much I love having a proper job. 
Who are some authors that inspired your work?
I like a lot of contemporary literature, 21st century stuff. I love the Ruth Ozeki. I love Chimamanda Ngozi Adichie. I love Zadie Smith. A lot of women writers and POC writers in particular. I really love the 20th century French authors, like Françoise Sagan. I really like JD Salinger. Without Shakespeare, we'd be lost. Even though his plays are so old, the narratives are so relevant to today, and they're everywhere in film and TV. I'm fascinated by why that is. Who else? I really like Chinua Achebe, a Nigerian author. There's loads. I told you some of my main ones.
Going back to Shakespeare influencing you, would you say you're a romantic?
Definitely. I love the idea of romance. I will never not write love songs. A lot of Shakespeare's love stories just appeal to me. His stories are so versatile that many people and theater companies spin his narrative in different ways. I saw an amazing production of Romeo and Juliet a few years ago on the South Bank in London. There was a whole POC cast and sometimes they abandoned Shakespearean language and used modern language and sometimes technology. They had LGBTQ storylines as well. 
I write about love between women, as the idea of changing a story in terms of gender really fascinates me. My song "Eden," which is from my first EP called Starry Ache, is based on the Adam and Eve story, but it's about a lesbian relationship. It interests me how you could change universal stories to fit your experiences. So yeah, coming back to your original question, I'm definitely a romantic.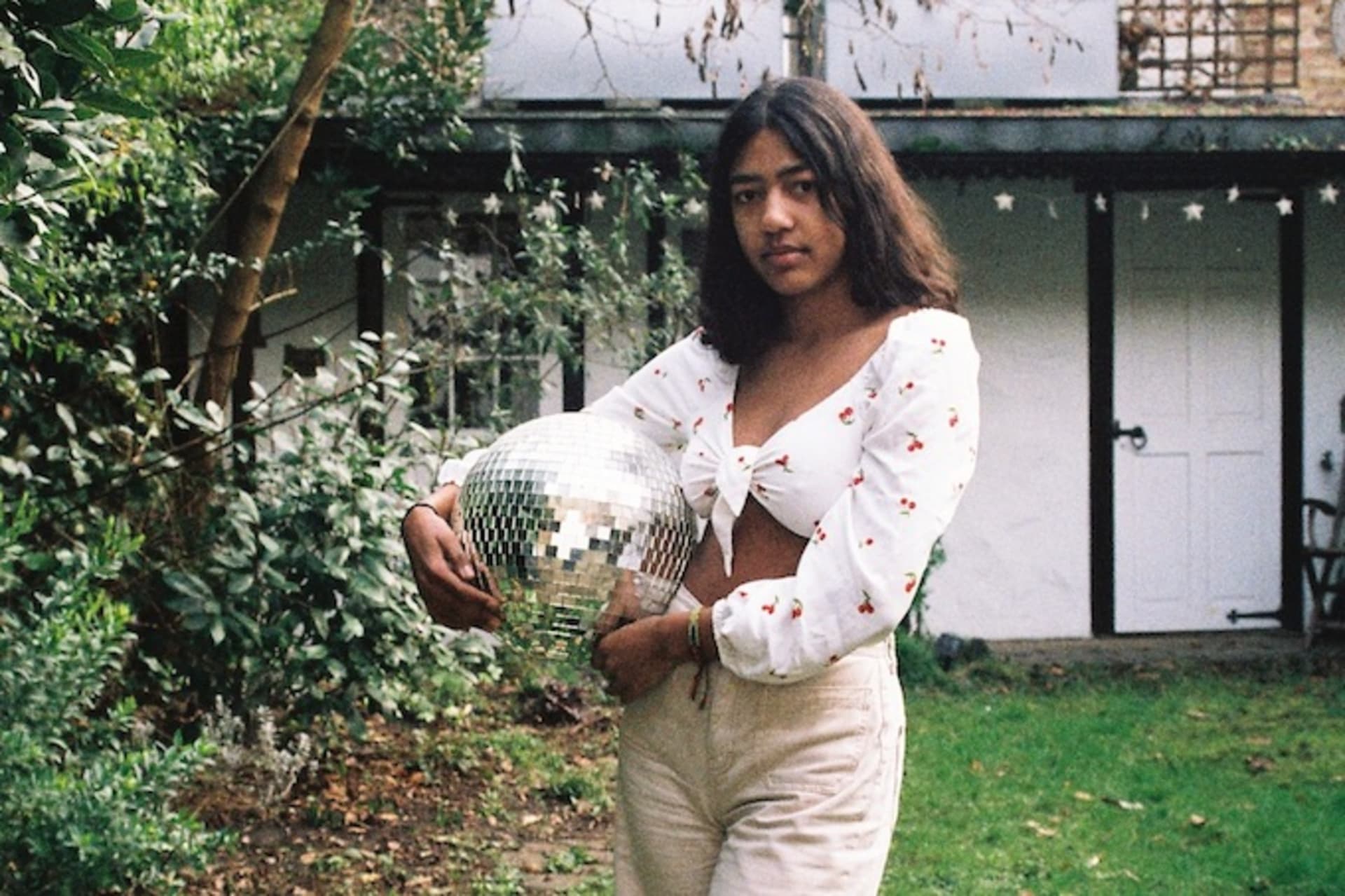 For queer kids, it seems like we grew up inserting ourselves into these narratives even though they weren't the right pronoun.
That's the thing. I've always been really conscious of that. I didn't realize I was gay until 14, but as a teenager, I always wanted to listen to music that has female women singing female pronouns. But also, sometimes I just want to make songs that don't have any pronouns so that anyone can listen to it and relate to it and not feel displaced or alienated in any way. On one hand, I want people to make music that has female pronouns so that it becomes normalized, but I also wish that we don't use pronouns at all. As my career progresses, I'll probably just use a mix of both depending on how I'm feeling.
You mentioned that you came out when you were 14, was it something that you struggled with or were your parents really supportive?
I think I definitely had a much better experience than the vast majority of people who had to come out to people around them. I grew up in London, which out of everywhere in the world, is quite a good place to be gay. My parents loved and supported me no matter what. But I still think that for anyone who is gay as a teenager and has to come out, no matter how liberal your surroundings are, no matter how nice people are about it, it's still difficult sometimes.
Your sense of identity can feel terrorized, even if people aren't being vindictive about it, just because of the fact that you don't see yourself or your experiences in mainstream media, music, or literature. I can't complain. It's just that in the past at various points, I still felt quite out of place in certain situations. But I'm quite lucky.
Your sense of identity can feel terrorized, even if people aren't being vindictive about it, just because of the fact that you don't see yourself or your experiences in mainstream media, music, or literature.
Where is your family from and how did that inform you?
My dad is black. His parents are Jamaican and they moved to London in the '60s. Then my mom is white British—English and Irish. I consider myself black or mixed race. I just use those terms. In terms of growing up, the space we moved in as a family was quite liberal and mixed. I never felt too out of place. 
It's quite unique having parents of different races because sometimes you feel caught between two cultures. Both sides of my family are quite different from each other culturally. As a child, you have to learn to navigate and inhabit both spaces. You have to be flexible within yourself in that way. Even the way that I speak is different in those spaces. Zadie Smith wrote this great essay called "Speaking in Tongues." She's also mixed race and she talks about how, when she was a child, she grew up in this area of London and had a certain accent that was a bit more working class. Then, when she went to Cambridge, she had this really posh voice.
I really relate to that when I'm back with my family. I talk a different way sometimes because it's a natural empathy thing. You want people to feel comfortable, you want to feel comfortable, and you kind of just change your voice to fit the environment you're in. I remember I turned up my first year of high school and I spoke a certain way and people, particularly black students, were looking at me and saying, "You're black, why do you speak like you're posh?" Then I changed my voice to make it a little bit more accepted. Unless you have a really strong sense of self, you can find yourself changing little things here and there. I've become conscious of that growing up and it's not necessarily a bad thing, it's just more natural when you grow up a mixed race person. 
Is there a certain message or theme that runs through your new EP?
So the EP is Sensitive Soul and all of the songs express a sense of sensitivity. I'm just really fascinated by the idea of sensitivity. Some people say, "You're being so sensitive" as a really negative thing, like a weakness. Then other people will use the word in a good way, in terms of a really thought-provoking, sensitive piece of music. I'm interested in the good and bad projections of sensitivity. I don't think I've necessarily come to a concrete conclusion, but I'd say on the whole, sensitivity is a good thing.
The last song on the EP is an outro. It's just these women I know talking about sensitivity. I just thought it would be cool to get POC women of similar age to me expressing their perspective on it. And it's all framed around soul music. 
We spoke a lot about duality, and so it's interesting that you make neo-soul music. Inherently with your identity, but even in the way you approach your music and your work, it always seems like you're considering every side of things and holding space for all of it.
That's really good. I'm happy to hear that. I'm interested in doing something in particular with this EP; I've used the influence of more indie, pop, and alternative sounds, and I think of it as neo-soul music and neo-soul R&B. I've also accepted the fact that I come from quite an indie space and so not limiting myself by genre is really helpful in how I grow. Considering all aspects of things is what I'm trying to do.