ComplexCon returns to Long Beach Nov. 6 - 7 with hosts J. Balvin and Kristen Noel Crawley, performances by A$AP Rocky and Turnstile, and more shopping and drops.
Secure your spot while tickets last!
French designers Nicolas Damiens and Julien Sens have launched a project called Songwriters Fonts, which creates free downloadable fonts based on the handwriting of rock legends like Kurt Cobain, David Bowie, John Lennon, and Leonard Cohen.
Of course, projects like these always bring up questions like, "Would these guys actually be happy with something like this? Is this cool or creepy?"
The creators of the project explain that the fonts were based on handwritten letters by each musician and are intended to spark inspiration for aspiring songwriters. "The Songwriters fonts have been created to give musicians inspiration," their website says. "Writing lyrics with the handwriting of influential songwriters helps imagination to develop. Being in the mood of Bowie, Cobain, Cohen, Gainsbourg, Lennon, might be purely imaginative… but that's precisely the point."
Damiens and Sens say the fonts can only be used for personal use, so professional graphic designers can't use these on paid assignments, but personal art projects are fair game. That seems like it might be a more appropriate use for these than attempting to get in the mindset of a rock star, anyway. If you're interested in checking it out, you can visit their website here or see the "Kurt font" below.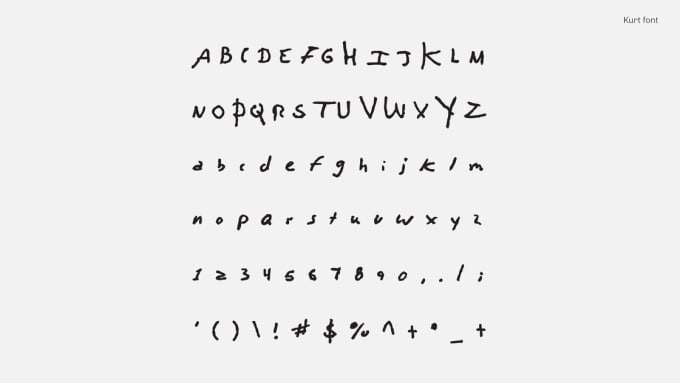 Image via Songwriters Fonts/Nicolas Damien