There are two sides to the Buffalo, NY rapper who goes by Bill $aber. Off stage, he's James. His mom is his manager, he works out of his bedroom, and he spends most of his time in the gym, working on his creations, and studying the industry. When he's on stage, he's Bill $aber, a commanding force of nature with hair braided into front-facing horns.
"On stage I'm $aber, and $aber is a wild motherfucker," he tells us calmly. "He's doing shit that I would never do as James. I don't like watching myself on stage because I don't even want to think about how I do that stuff. I say a prayer, black out, and take it for what it is and just go up there and kill it as $aber."
Whatever he's doing, $aber never takes short cuts. He's not trying to catch buzz off a viral moment—he'd rather put in the time and effort to set himself up for long-term success. For his music career, that means staying in his hometown of Buffalo, learning everything he can about the music industry, and maintaining ownership and creative control over everything he makes.
Looking back on $aber's young career so far, some things may appear to be luck. As the saying goes, luck is just what happens when preparation meets opportunity. Whatever opportunities present themselves to $aber, he's ready. He was ready when, for his first-ever live performance, the headliner didn't show up and he had to step in. He was ready when Marilyn Manson randomly reached out one day. He was also ready when Manson realized he had a show in Buffalo that same day and invited $aber to join him on stage.
The music industry moves faster than ever, and some artists get their big breaks long before they're ready. We've seen this far too often, and we've seen how small the windows of opportunity can be in an age when something goes viral one week and is old news the next. For now, Bill $aber is still building. His "Creepin N Lurkin" video is approaching two million views, but he's only got one song on Spotify and he lacks mainstream media coverage. That said, when his big break does come, it's safe to say Bill $aber will be ready.
Watch the premiere of Bill $aber's new "Come With The Force" video below, and read our interview under that.
I've got a bunch of questions for you, but first of all I have to ask about the hair. When did you start styling it like that?
I opened up for Pouya and $uicideboy$ in February of 2016, and that was the first time I braided it to the back. I didn't always braid it to the front. As I was progressing and trying different stuff, someone made that avi that I have for all social media now. I was going to Philadelphia to open up for Xavier Wulf and my mom was like, "Try your hair braided to the front," because she thought the avi had the hair braided to the front. It was really supposed to be going to the back, but it's hard to tell in the picture. So I just braided it to the front in the end of 2016.
Do you ever wear it like that in your everyday life, or is that your stage look?
That's my stage look 100%. I like to separate Bill $aber from James. It would be cool to walk around like that, but it gets annoying at times, and I like feeling like James sometimes. I don't always want to be $aber.
What's the difference between James and $aber?
In my everyday life, I realized I have goals that I wish to accomplish—that I'm going to accomplish, I should say—and that I'm the mastermind. I believe in law of attraction, and controlling everything around you. You can't control some people, and there are things outside of your control, but you can decide what you want as a part of your life and what you don't. So with Bill $aber and this music shit, this is what I see the most progress with, this is what I'm most passionate about, I wanna do my best to master this craft. Wherever it takes me, it takes me.
Can you explain the name Bill $aber?
I'm from Buffalo, New York, so we have the Buffalo Bills and the Buffalo Sabers. I was homeless multiple times, so this was either the first or the second time I was homeless, and I was at my grandma's playing Xbox and I told my boy, "Yo man, I got this crazy idea, you take the Buffalo Bills and the Buffalo Sabers…" He kind of downplayed it a little bit, and then we played a couple matches—I think we were playing Call of Duty or some shit—and he was like, "Yo bro, I'm about to change my gamer tag to that." Once I saw him gravitate towards the idea that quickly, I knew I had a product that could be marketable. This was like 2013. I realized I wasn't going back to college because I couldn't afford it, so I just started putting up videos as Bill $aber and never looked back.
What were you doing before that? Did you have other goals to have a career outside of music?
I believe that you could do whatever you want to do. I still believe I could have my NFL days. That was the grind before the music. I always did music in high school and all that, but I played football. But I just didn't like the system, I didn't get along with the coaches. I was a big kid in high school, so I go there and they got me playing defensive line. So after that I was in a [division three] college and I'm like, "Nah, I'm not playing defensive line. I'm not that tall, like I'm 5'9" and that's not going to pass in college." They wouldn't let me switch to fullback or running back so I just lost all the weight, got super cut, and did it myself. Essentially, I made them give me that position change. That was when I realized I could get anything I wanted. They weren't going to give me that position, I just took it. I didn't actually want to play fullback or halfback, I just wanted to show them I could do it.
I don't want to be grouped with a bunch of rappers who make people say, 'We hate this generation, all these SoundCloud guys.'
A lot of your music is pretty dark and heavy, but in the talks we've had, you seem very humble, appreciative, and positive. Can you talk about that contrast between your personality and your music?
I believe in balance. A common misconception is that I'm Satanic—I'm this, I'm that. People don't know what the hell they're talking about. I'm not religious by any means. I 100% believe in energy, positive and negative, and I believe that you get what you give. If you're putting out positive energy, you're gonna get positive energy back. You put out negative, you're gonna get negative.
With art, you can do so much just by playing with certain concepts. I have a very bright and warm spirit, and with my music, I feel like I can lead people toward the light. Not on some savior shit, but I believe there are levels to people. As much as I wanna show people the light, I think it's very cool that God has blessed me with this voice, and it's pretty deep, and I can use it in a dark manner. It's my art. At the end of the day, I'm bringing light to my city, but I'm dark. And I am very dark. But I don't like to live my life as a dark person. I like to be light as James, and dark as $aber.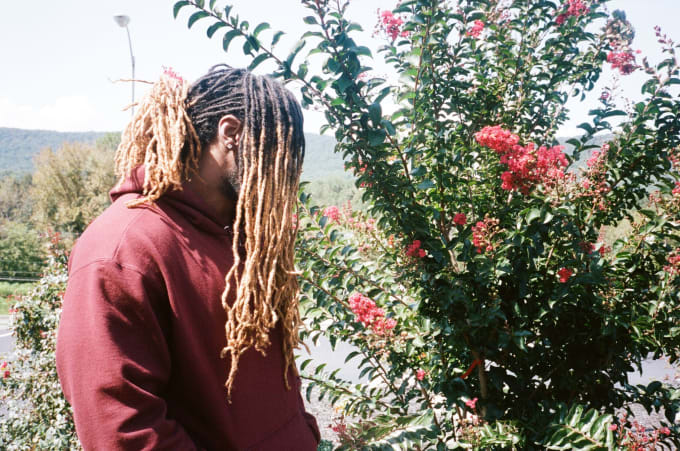 Can you explain the Marilyn Manson connection?
From his side, I believe he saw Mom and Dad [ed. note: $aber's song "I Know That You Pussies Dont Want It" is included on the soundtrack to the movie], he Shazamed me, then he looked me up and he was fucking with the song, fucking with my image, fucking with everything. He realized I was from Buffalo, and that he had a show in Buffalo the same day he looked me up. So he reached out. When I met him, he kept saying "synchronism," and that everything is syncing up. Like I said, I believe in the law of attraction.
From my perspective, I was watching a lot of horror films and some of his documentaries came up as recommendations. I hadn't gone down that road yet. I knew his name, I knew a couple songs, but let me see who this person is. When I was watching, I was like wow, this is amazing. They kept talking about his live shows, like you can't miss it. That's something I wish to recreate. Like alright, we don't know what he's going to do at his next live show, so we have to go. I woke up one day, and a fan told me Marilyn Manson had followed me, and then he reached out and he made it happen.
What can fans expect from a Bill $aber performance?
I always say I go into a show with zero expectations. When I go into a show, I don't know who fucks with me, I don't know who knows the words, I don't know who's a real Animal and who's not. I just know that I'm turning up and if you do too, then so be it. So when I go to a show and everyone's turning up and they know the words, I'm taken aback. If I go to a show and they don't, then when I get off the stage everyone can say, "Man, you still killed that."
I like aesthetics and I like moments. I don't want to say what the next rapper says like, "Oh, we gonna rage, and there's gonna be a mosh pit." I pride myself on this—every show I've ever done, I've never told anyone to start a mosh pit. It's cool to open up that mosh pit, but only mosh if you feel like you should mosh. Take your shirt off if you feel like you should. Push this person if you feel like you should. I call it Animals for a reason. I just want it to be a place to escape and to release from whatever society is telling you is wrong. Just come release that shit at a $aber show.
A common misconception is that I'm Satanic—I'm this, I'm that. People don't know what the hell they're talking about.
You're still independent. Is that something that's important?
This music industry is very sheisty. I know my worth and I think eventually down the line someone is going to be on the same page, but if no one ever gets it, that's perfectly fine. I didn't come here to make a bunch of money. I know my purpose in life, and I'm supposed to be an influence. I'm supposed to be an example that you can look like this, you can sound like this, and achieve this. You can be indie and Marilyn Manson can know about you the next day. Anything can happen. That's what I'm a symbol of. Of that music industry stuff is second. My mom is my manager right now.
I'm 25, so I see these 20-year-olds, these 18-year-olds, whatever, they sign to a label and then they instantly complain about it. But they don't own everything, and I think ownership is very important. So independent? Ehh. But ownership is everything. And can you have ownership if you sign to the right label? You definitely can. So if people wake up and they want to be a part of what I'm going to do, cool. But with or without you, I'm going to achieve everything I want and more.
Where did you learn about the industry? 
I don't know any musicians, especially successful ones, especially coming from Buffalo, New York. Not a shot to the city or anything like that, because you do have Conway and Westside Gunn who are signed to Shady, I believe. I don't personally know them, but I study. If you want to go do something, you better do your fucking homework first, because you're going to look stupid when it's test time and you don't know what you're doing. You're gonna fail, you're going to flunk, in front of everyone, and it's going to be embarrassing.
So what did I do before anyone wanted to see me live? Who had the dopest show? In 2013, it was Chance The Rapper, Travis Scott was coming up, so I'm watching these guys and I'm like, "OK, these guys have the best live shows, and I can do better than that." This guy has a good brand, what can I learn from his brand? His story is not going to be your story, but what can you learn from that person and apply to what you're doing? What can you do to get people to call you the GOAT and a legend? It's a loose term and people throw it around, but they don't call you that for no reason. 
You've got a really dedicated following, but it's such a weird time in music. There's still a gap between underground and mainstream even though it's getting blurry. What is your take on that?
I feel like good music will resonate with the people. There's a guy who can make a song and then tomorrow go triple platinum, and it's like, "Well what the hell, he came out of nowhere and skipped all the steps." But I believe in my time. I believe in my grind, I trust my process. I know my God is looking out for me. I pray too much, you know what I'm saying? I'm going to be whatever I am.
People always say underground, but I don't know what that means. Does that just mean you're not as big as whoever's the biggest in your head? Or mainstream, what is that? Because I'm not on the radio? I'm in a movie with Nicolas Cage and Selma Blair. Marilyn Manson knows who I am. But like you said, people will put these labels on you. You're this, you're that. I look at my numbers, and I know what it is. I have yet to hit a million on a single song. But at the same time, I haven't done any of the antics that a lot of my contemporaries do, and I have rapid growth. I would never do that, but I can only imagine if I snippet this, do this with this guy who's growing on Instagram, whatever. But I want everything to be as organic as possible, and that's my goal.
On stage I'm $aber, and $aber is a wild motherfucker. He's doing shit that I would never do as James.
Did you see any turning points when you realized things were picking up, or did it all happen little by little?
It was last year, around March. There were a couple things where I was like, "Oh ok, this shit real now. These motherfuckers actually fuck with your boy." I had just got done with a couple tour dates with Robb Banks, Ski Mask, and Ronny J. There were a couple of things circulating on the internet at the time. One was the Pigeons & Planes 5 Rappers Who Make Your Ears Bleed, and then I joined two Facebook groups. I think that combination of the video and me joining the group did it. Everyone was @ing me, calling me demonic.
Everyone who had something bad to say about me, I just son 'em. I just son 'em, and everyone started to realize like, "Yo, he knows what he's talking about." On top of that, I was just responding to everybody. They realized that there's five other rappers who they love who don't have half the followers as this guy, but they won't respond to me. 
When Adam 22 first started live streaming he'd play your song for 20 dollars. I told my mom like, "Mom, I'm about to do it, it's 20 dollars." We had just paid rent, she didn't want me to do it. She's like, "Boy, you just told me you didn't have no money." I was like, "Trust me, this is 20 dollars, this is the come-up." I just wanted to play my song and read the chat or whatever. What I didn't expect was his reaction. When people saw that it's like, "Oh shit, now Adam 22 fucking with you!" Around that time, it became very surreal. I thank God for that moment.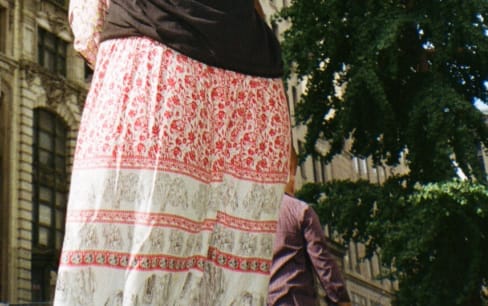 I know some people from Buffalo and it's crazy to see how much they support others from the area. Do you see that as an advantage, or is it an obstacle being from a place where you're not around the industry and other artists making moves?
It's why I am who I am, but it's a bit of both. It's going to be a beautiful thing when it's all said and done. After I'm gone off this earth and I did what I had to do, people can look back and they can say that I was one of the first. If I inspire more people to do this shit, then so be it. If not, hopefully Conway or whoever can do it and inspire people, because we don't have a lot from this city. At the same time, it is a little bit tough. I know damn well if I just went to Florida for like three months and just showed up and someone Snapchatted this or that, things would be going different.
At the same time I know that when everything comes together, it's gonna be like, "Damn, he did all this from Buffalo. He never left. He never went to fucking Los Angeles or Florida or Atlanta. He really stayed there and he made this shit happen from his motherfucking room." I think that's really going to resonate with people way more than going to LA and showing up in an Adam 22 blog. That's the norm now. The norm is to go travel to where people are at, but you've got the internet now. You could do it. It's gonna take longer, but you can do it if you've got patience and faith. I talk about faith a lot. My definition of faith is believing in something that you can't see. What I see for myself right now is not there when I open my eyes, but when I close my eyes, I really believe everything is coming to me. I just trust it.
What was young Bill $aber listening to and doing?
Oh my God! [Laughs] As a child, my mom played a big role in my life, so it was whatever she was playing. She loves R&B, but she loves street, hood rap shit too. Mary J Blige, Destiny's Child, 112, all that R&B stuff. Jeezy, Ruff Ryderz, Jay Z. My mom knows music so if it was hot, she was playing it. A lot of people ask me for influence but listening to my music, it's hard to tell because I just want to make it hot, and I want my own style, and I want to make it fresh. What influenced me was just my mom playing everything and being like, "This is good because of this, this is good because of that." She played everything, oldies and all. As a child, you take that in. I could say Lil Wayne, that was when I thought this rapping thing might be the thing. I just thought he was the hottest n***a ever to do it, and I still believe that.
When you first started rapping, was it different than what you're doing now?
Absolutely. As a teenager, I had my little Cassidy, Juelz Santana thing. Loved Dipset, loved G-Unit. So I was looking up East Coast shit and they were doing a bunch of battle rapping, so I did a few battle raps. That's what I was doing, trying to be super lyrical and all that stuff. It didn't go so well. The early makings of Bill $aber, I was trying to be as lyrical as possible, listening to TDE and Joey Bada$$. Ab $oul was my favorite rapper in 2013.
my first show was my first headlining show. You could say it was a coincidence or whatever, but that don't happen to everybody.
Do you remember your first performance?
Oh yeah, absolutely. It was the littest shit ever. Cool story about that, I was opening for a Canadian act named Son Real. He was supposed to come to the Waiting Room in Buffalo. The whole day was weird. I used to wear these bandanas that said Bill $aber on them, and I got them made at Lids. So I went to Lids at the mall, and it was closed for whatever reason. This old lady comes up to me and says something in scriptures or some type of shit. I don't know what she said, I don't know if it was a spell or something. I was just like why is this happening?
So I went to the show and Son Real couldn't make it, so whoever sold the most tickets was direct support. I sold the most tickets, so my first show was my first headlining show. You could say it was a coincidence or whatever, but that don't happen to everybody. After my first show, I was like, "Yeah I'm made for this, I'm supposed to be the headliner." After that, I went into every show with that mindset. That was like 2014, and after that every time I opened for someone I was like, "Fuck that, I'm the headliner."
Are you comfortable on stage? Was that something you had to learn?
I just take it for what it is. On stage I'm $aber, and $aber is a wild motherfucker. He's doing shit that I would never do as James. I don't like watching myself on stage because I don't even want to think about how I do that stuff. I say a prayer, black out, and take it for what it is and just go up there and kill it as $aber.
You set really high goals for yourself. I saw one tweet where you talked about one day collaborating with Kanye, ScHoolboy Q, and A$AP Ferg. What goals do you have for yourself now?
Whatever people say, I'm gonna one-up you. For example, people say I should collaborate with $uicideboy$, that's a frequent one. So I think, what would be better than a $uicideboy$ collab? What's the stupid saying, aim for the stars and land on a cloud? I say aim for another universe and land somewhere in outer space. That's what I'm always trying to do, land on the next universe. What the fuck are people not imagining? And it's funny, because then I wake up and Marilyn Manson is fucking with me.
What are you working on right now?
I got so much shit. I got all the Ronny J songs. I still want to do to Blank Body project. Me and Manson talk. I'm not going to go that far into it, but we talk. Right now, most of the acts that are popping, their antics online are kind of distasteful, at least to me. And I don't want to be grouped with a bunch of rappers who make people say, "We hate this generation, all these SoundCloud guys." I'm grinding every day, working on my tour, working on my body, working on merch. I have a street brand that I'm working on. That's not even going to be released for like 10 years, but I'm still working. I'm working on animé, that's for 20 years down the road. I really be in my room working. Whenever I feel inspired, I'll drop whatever I'm doing. I do want a project out within the next month, though. I want a project and at least five more videos before I go to Russia. And "Come With The Force," so six videos.
We're premiering that "Come With The Force" video on Pigeons & Planes, so can you tell us a little about that one?
I can't wait to be at the live show and just be letting loose with that. The video, there's a real story with this one and it's on some True Detective shit. I can't wait for people to figure out little Easter eggs and put shit together. My goal for video—unless I'm just aiming for something with a cool aesthetic—is to try to make people ask questions. People ask about the horns, and the trench coat, and this or that, and it's like yes, just keep asking questions. As long as you're asking questions about me, I get to keep asking questions about the world and figure out everything I want to get out of life.