In 2018, artists can communicate with their fans through social media in all kinds of ways that have never been possible before, but there is still nothing quite like in-person interactions.
With this in mind, Bishop Nehru decided to do something special before the release of his Kaytranada and MF DOOM-produced album, Elevators: Act I & II. The New York rapper went on a private multi-city pizza party listening session tour where fans could come and listen to the album in its entirety before anyone else. Bishop also came out and treated them to pop-up performances in secret locations.
The album is finally out tomorrow and these fans were able to hear it before anyone else—even media—so we asked some of them about their experience.
​A big common thread among the answers is that Kaytranada and DOOM lived up to the high expectations and delivered excellent production throughout Elevators.
"The album is lush AF," a Toronto fan named Raveena Rai told us through email. "You can totally hear the differences in production between the DOOM and K." A New York fan named Brandon St. Jean added, "The production met his bars perfectly and the length of the project was great as well." That sentiment was echoed by Toronto fan Keeg, who said, "Kaytranada and Doom's styles are really complimentary to [Bishop's]. Kaytranada's production is 10 out of 10."
Describing the project's feel, Toronto fan Kyle Wakenhut said, "It's a perfect album for just relaxing and chilling out at home." Joshua Habtwold agreed: "This setting is perfect for more relaxed and intimate establishments, such as hotels, cafés, one's home, and even shopping centers." Brandon St. Jean added, "I feel the perfect setting for this album is early morning train rides, chillin' in the car with your friends in the spring or summer."
Picking out a highlight, Liam Damato mentioned, "My favorite track was 'Roller Coaster' for sure," before adding, "I don't know any other artist who would do something like this. It's a great experience for fans who get to come through and meet the man and check out the sounds. It's crazy!"
Appreciating Bishop for connecting with his audience like this, one fan said, "Artists don't usually do this for their fans. Bishop came through and he should love and answered all our questions and we had pizza it was a good time! Tomorrow is going to be fire." Daniel Hiterer mentioned, "The listening party was an amazing event and I would like to take the opportunity to thank Bishop Nehru and his team for giving me the opportunity to be a part of it!"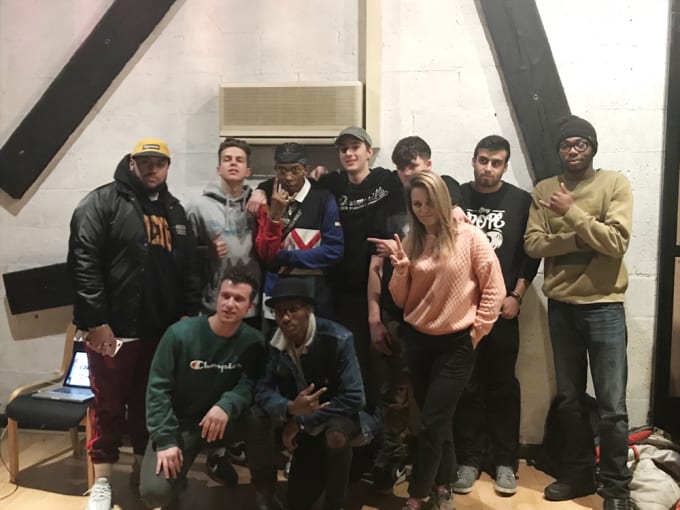 So, how does the album compare to Bishop's previous work?
"I feel like that there's more of a balance between his original sound and with the recent styles and production from today's top-tier lyricists and producers, which was never mentioned much in his past projects," Habtwold said. "It is also more refined and cohesive than his previous work." Hiterer says, "Elevators is perhaps the best Bishop Nehru's album yet. The incredible production by Kaytranada and MF DOOM spreads the album over multiple levels and vibes, yet still managing to fit the common theme of the record. It also feels as though Bishop's flow has improved and he succeeds to ride the beats smoother than ever."
Putting it simply, JamieLee Reardon explained, "The beats and the bars were hot! I'm excited to get it on my phone so I can listen to it."
Elevators: Act I & II is out tomorrow.