Ugly God says his whole Instagram account was deleted this week. But it wasn't hacked or taken down for copyright reasons or anything. Ugly God says his account was deleted because of a post about flat Earth, human understanding, and religion.
Without the use of his Instagram (which is now back up and running), Ugly God took to Snapchat to share a screenshot of the post that got his account taken down. "This is what I posted on my Instagram," his caption reads. "After about 30 minutes, my whole account was deleted."
The post itself doesn't go as far down the flat Earth rabbit hole as guys like B.o.B. have. Instead, most of Ugly God's message is about human understanding.
"The Earth is supposedly round, but we're not allowed to visit the two poles of the Earth (the ONLY thing that will prove/disprove this)," he writes. "I believe in God, but God didn't write the Bible. Man did. If everything we worship/believe is based off of the Bible, then what did people base their beliefs on before man wrote the bible?​"
Ugly God continues, "Not one person on Earth is smarter than another because at the end of the day, everything we know is only based off of what another person is telling/has taught us. So before you call somebody dumb or stupid, you only feel that way because people have told/taught you just stuck more than it has to the 'dumb' person. Everything is fake and everyone is ignorant in a sense."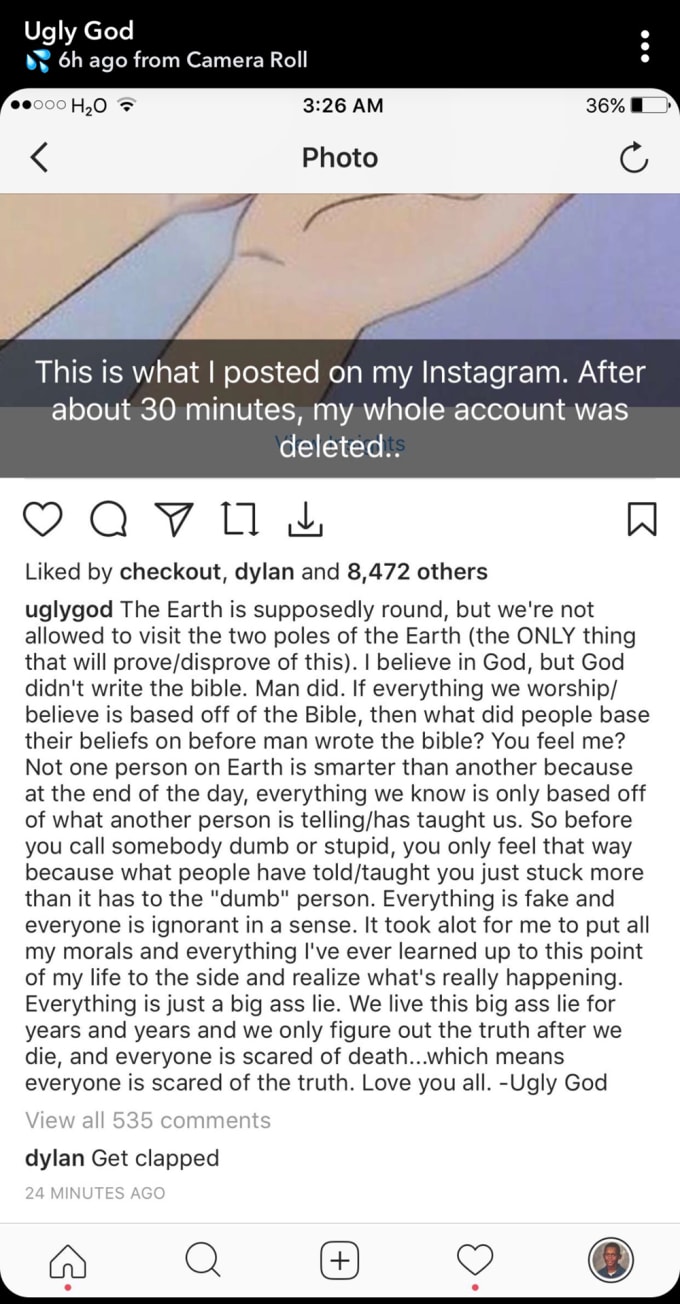 After the original post was deleted, Ugly God used his alternate meme Instagram account to post a follow-up message that said, "The government really be watching I feel like and they don't want y'all ni**as to know the truth."

Later, he defended himself from people who said he was doing all of this for attention and followers.
"For you dumb, basic, stupid ass ni**as who think I'm doing this for Snapchat followers: For one, I never use Snap and this update is ass. And two, if I really wanted Snapchat followers, I would have just shouted out Snapchat on my main Instagram," Ugly God wrote in a follow-up Snapchat post.
In a second post, he finished, "Just because y'all would do some basic ass shit like that for attention and Snapchat followers doesn't mean I would."